Many companies have already pledged to help raise money for the fight against Duchenne Muscular Dystrophy by making a one off watch and donating it to the charity auction 'Only Watch' which is occurring on Saturday the 7th of November, in other words, not this Saturday coming, but the following Saturday, assuming you're reading this article during the week starting Sunday the 25th. Enough with these slightly confusing dates because Chronoswiss has taken up arms and joined the fight.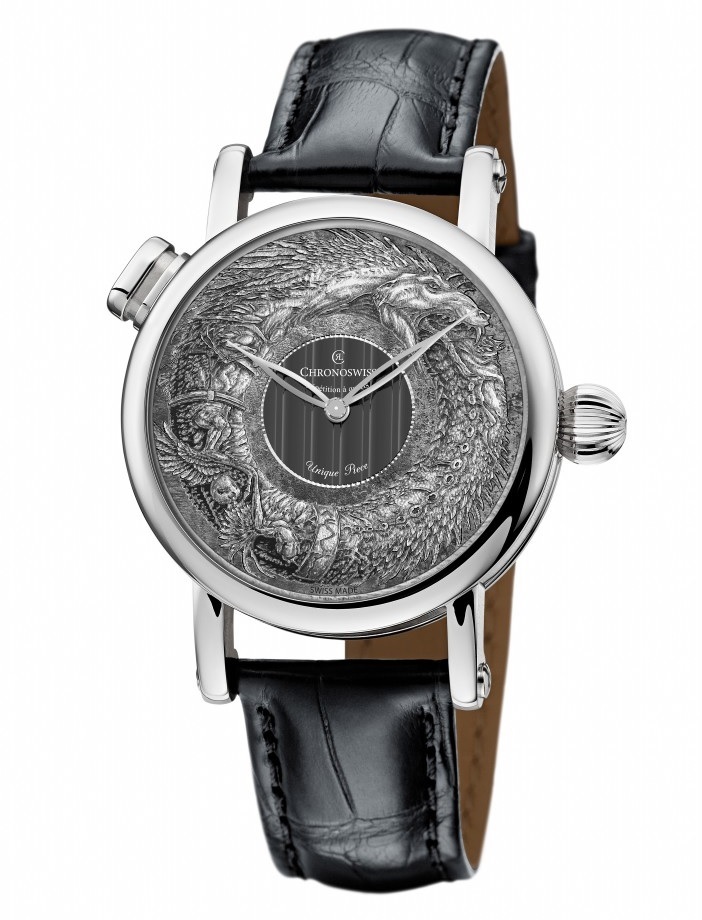 Chronoswiss is an independently owned watch manufacturer based out of Lucerne in Switzerland. It was founded there in 1983 by a man called Gerd Rüdiger Lang and his wife who sort to make affordable yet innovative timepieces which utilise the Swiss art of watch construction. Nowadays it's owned by the equally independent family Ebstein which is also from Lucerne. Over their lifetime, Chronoswiss has earned a huge following of dedicated fans who believe it is a very underrated watch company (you should check out some of their watches, they really do pack a punch if you know what to look for!). So, naturally, it was only expected that a company of this nature, in particular, would be up for making a special edition watch which will be sold on for charity.
The watch in question is called the Ouroboros and is made of 18k white gold for the 31 part case and dial, the case also contains some palladium. The dial has been hand decorated with the Ouroboros symbol, a snake eating its own tail. This design is considered to be a representation of the infinite cycle of time and has been such since the Egyptian times with this symbol being found in a shrine in the tomb of Tutankhamun, however, it has also found its way into Asiatic and Nordic mythology too. The serpent was carved from a solid piece of white gold completely by hand over a very long period of time, but the result is a very elaborate dial design which also has a certain depth to it, making it a stunning piece to look at. The white gold circle at the centre of the dial has been embellished with Côtes de Genève waves on it in anthracite, which matches the colour of the alligator watch strap.

The movement of the watch also has a lot of attention applied to it. The automatic Chronoswiss calibre C.126 has a unique function to it, by depressing the pusher at 10 O'clock the watch will chime the time through the use of a quarter repeater. This is a system which will chime the quarter hours and hours only unlike a minute repeater which chimes minutes as well. Chronoswiss states that it is the only manufacturer which uses a pusher to activate the time, making this quite an exquisite piece. For more info, please visit chronoswiss.com

HARLAN CHAPMAN-GREEN – CONTRIBUTING EDITOR
A keen bass guitar player, Harlan enjoys all the perks modern watchmaking technologies the industry has to offer. Although you might catch him sampling Omegas or the Rolex, Harlan loves all things Haute Horology, with his three favourite brands being Breguet, A.Lange & Söhne and Vacheron Constantin. He hopes to study timekeeping more in depth someday and will never be able to thank his father enough for introducing him to the industry. Read his articles here.