An unfortunate side-effect of having a rich history is that watch companies rarely get to announce something truly new. A new chronograph or complication is always exciting but lacks the punch of being the first chronograph. Vulcain can never release their first alarm watch again, nor Breitling their first chronograph, and now Angelus can no longer release their first dive watch again with the announcement of the U50 Dive Tourbillon.
The historic brand of Angelus was founded in 1892 by Albert and Gustav Stolz in Le Locle. Their production was focused on chronographs for pilots and the closest the brand ever got to making a dive watch was providing the movement for the Panerai Mare Nostrum, a waterproof chronograph for Italian deck officers.
So this is how in 2018, Angelus can release their very first dive watch despite having been around for 126 years. In true Angelus fashion, the U50 is no ordinary diver as it has both a skeleton dial and a one-minute flying tourbillon. No-one will be putting either of these features high up on a list of 'must haves' for any dive watch, but ever since their resurrection in 2011, Angelus has focused more on the esoteric and eccentric aspects of watchmaking. Sometimes brands can lean too much into their history at the cost of innovation (Ahem, I'm looking at you, Longines) but ever since La Joux-Perret bought Angelus in 2011, the brand has switched tack to create some spectacular pieces of Haute Horlogerie.
The 45mm case size is standard for a modern dive watch but the skeleton dial is not.
If I were to entertain the notion that someone would actually want to dive whilst wearing a $31,000 watch then the question of legibility has to be raised. Skeleton dials are known for being beautiful and intricate, but not easy to read. Angelus know this and made sure to make the hands and hour markers extremely noticeable by painting them vibrant shades of blue and yellow, and adding in a hefty application of white Superluminova. A matching inner, rotating bezel (controlled by the additional crown on the side hand side of the watch) is painted in matching blue and yellow and provides some semblance of functionality to this dive watch. Yet all of these touches can't alter the fact that this is an Haute Horlogerie piece with a skeleton dial and a flying tourbillon.
The Caliber A300 is an alluring skeleton movement that attempts to balance the need for excitement and frivolity with the understanding the U50 is a dive watch. It doesn't really succeed at masking the ludicrousness of the watch (rather it amplifies it) but I wholeheartedly admire the attempt Angelus made to make the skeleton dial more practical. The last time I wore a wet-suit was over a decade ago so I'm hardly the best person to judge the qualities of a dive watch; despite this, I have enough knowledge to say that tourbillon is a delightful, if unnecessary, addition.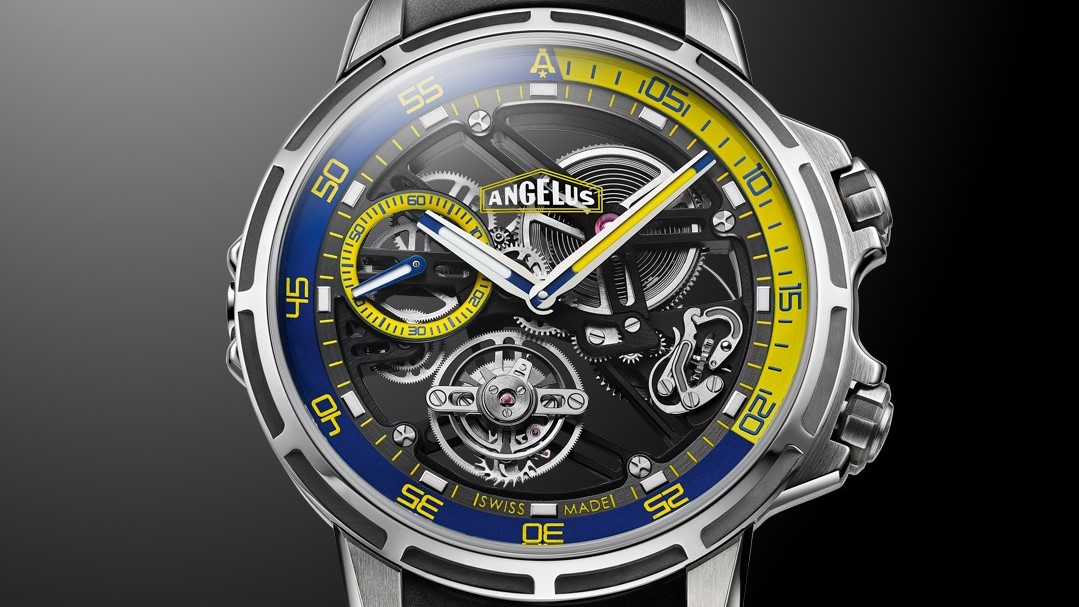 I doubt anyone at Angelus believes that any of their clientele will actually wear this whilst diving. The 300 meters water resistance will undoubtedly save the watch when a clumsy waiter knocks over your bottle of locally sourced, small-batch, gluten free water, but I think that's the closest your standard U50 will get to diving throughout its life. For more info, visit Angelus Watches online.