As always with Baselworld, it takes time for the big players to release their updates watches. One of those which likes to take its sweet time (no doubt for the suspense) is Rolex. This year it was no different, no sooner had I finished writing about the new Patek Philippe Aquanaut Chronograph did a notification come along on my screen telling me that there was a new Rolex watch released. So, naturally, we stopped the presses to bring you information on the new GMT Master II collection of watches.
A little while ago, Rolex teased us all with some footage of a Jubilee bracelet and a little hint at a caseback of a watch which was definitely not a DateJust, the watch everyone thinks of when they see the Jubilee. As a lot of people expected, the new GMT Master II is on the receiving end of this royal treatment. It's not the first time that the Jubilee and the GMT have come together, Rolex sold a number of their older style GMT Masters with this bracelet.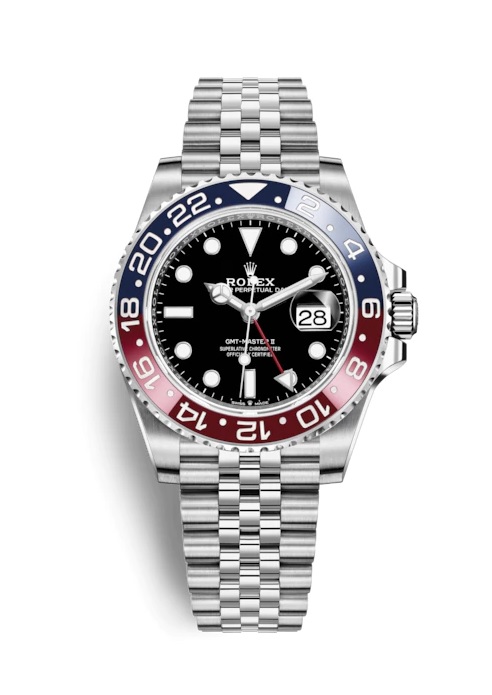 The Jubilee bracelet isn't the only change to the watch, though. The bezel has changed colours as well, it's now red and blue, the famous 'Pepsi' bezel has made it onto an all steel GMT Master II watch. Before it was limited to the white gold version, and the size of the ratcheting underneath meant that it wouldn't fit on the steel watch if one tried to change them around. Now it's there all the time. The retail price is £6800.
Overshadowed slightly by the Oystersteel GMT Master II on its Jubilee but no less important comes a black and brown bezel option, this is similar to what most collectors call the 'Coke' bezel, which is made of black and red, this configuration is called 'Rootbeer'. Unfortunately for them, though, the new bezel GMT Master II is so far only available in solid Everose gold or two-tone Everose and steel. This no doubt means that the bezel is once again not interchangeable with the steel watches, sorry folks. The case sizes haven't changed, either, though I don't know why they'd need to. Pricing for the two-tone 'Rootbeer GMT is £10,350 and £26,950 in Everose gold.
Inside all these lovely new watches is the 3286 movement, a brand new piece with ten patent applications filed for it. It promises to offer increases in durability and performance with the Rolex exclusive Chronergy escapement and, taking a page from Omega's book, nickel phosphorous construction, meaning it is unaffected by magnetic fields. Well, that'll keep the fans at bay for a while.
For more info, visit Rolex online.