The Code 11:59 by Audemars Piguet had a difficult birth. Its marketing built up hype that many felt the watch didn't deliver, and there was no end to the comparisons between the 11:59's design and that of less expensive watches. However, like a fine wine, it's aged well, and it seems that the ugly duckling has grown up to become a beautiful swan, especially if this latest iteration is anything to go by.
The 41mm x 11.8mm 18k white gold case is full of architectural detailing, like the thin bezel and hollowed lugs. My favourite part continues to be the centre of the case, blackened in this case, which is an octagonal piece that's sandwiched in to remind you of Audemars Piguet's brand DNA: the collection has been 90% Royal Oaks for years now.
The dial is crisp and black. There's no frilly detailing here, no reminders of the Swiss identity – a mishmash of French, Italian and German designs – here. The polished onyx stone surface of the dial is almost forbidding in its blackness, but it doesn't have the same light-absorbing capabilities as Vantablack. It's still very black, though, which means the gold hands and applied Audemars Piguet logo stand out here, as do the minute markers on the elevated chapter ring and the ring around the tourbillon, which has a black cage.
The movement is the in-house-made calibre 2950. Well, it wasn't going to be an off-the-shelf one, was it? The self-winding calibre with its golden skeletonised rotor is a modern marvel in appearance. The finishing is of very high quality, and it seems to have a lot of depth to it, even in press renderings which tend to be the least flattering images. Unlike most tourbillon calibres, the Code 11:59's modernity stretches to the workings of the movement. It has a 4Hz beat rate, for example, while most still use 2Hz, and it's got a 65-hour power reserve from its barrel, the top of which is visible at 12 O'clock in the caseback picture.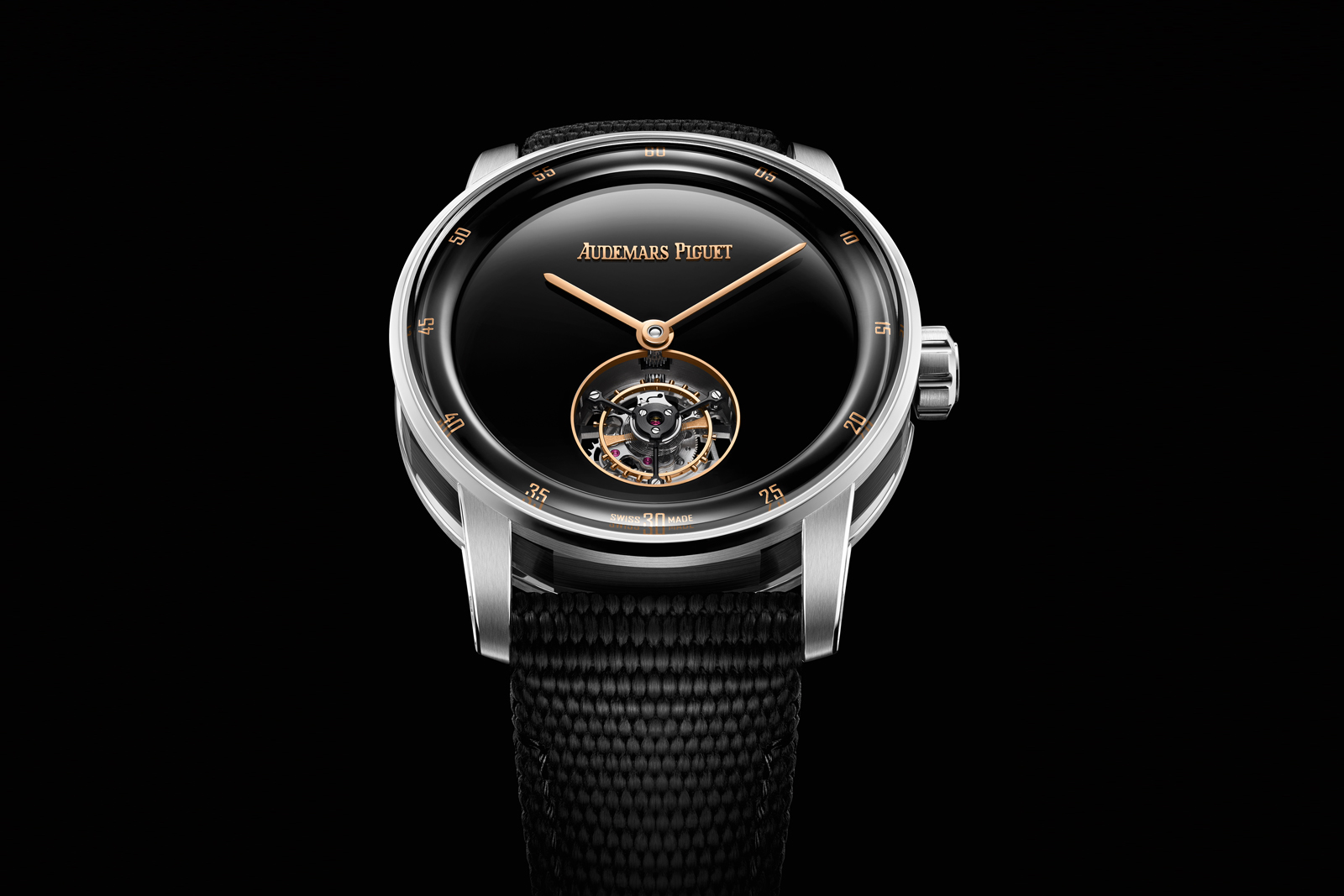 Presented on a black fabric-effect rubber strap with an 18k white gold folding clasp, this watch is not a limited edition and costs CHF146,700.
Visit Audemars Piguet here.