One of my favourite watches from Audemars Piguet, and one of their most interesting from a technical perspective, is the Royal Oak Double Balance Wheel Openworked. It's been around for quite a few years now, but it doesn't appear to have aged in the slightest. These watches use two balance wheels that are superimposed with opposite balance springs to even out the delivery of power and make the watch more accurate. In other words, it's another method of making a mechanical watch more accurate without bumping up the beat rate to obscene levels. Now, it comes with a rainbow.
Rainbow watches are always a little hit and miss for us. In fact, any gent's watch with diamonds applied is a hit and miss situation. You guys weren't all sold on the diamond versions of Patek Philippe new Aquanauts, which were the last diamond watches we covered, if memory serves correctly.
The 41 mm version in yellow, white, and pink gold
Audemars Piguet offers the new Royal Oaks in two sizes, 37mm and 41mm, of which there are three derivatives based on the metal of choice: white gold, rose gold or yellow gold. All versions of the new watch come with Audemars Piguet's frosted gold finish, created in conjunction with Italian jewellery designer Carolina Bucci. This technique requires a diamond-tipped tool to remove tiny amounts of gold from the case, creating a fine hammered effect that seems to sparkle like gold dust under the light. The signature Royal Oak octagonal bezel is finished with 32 baguette-cut gemstones, including rubies, sapphires and emeralds of various colours, to create the unique rainbow appearance.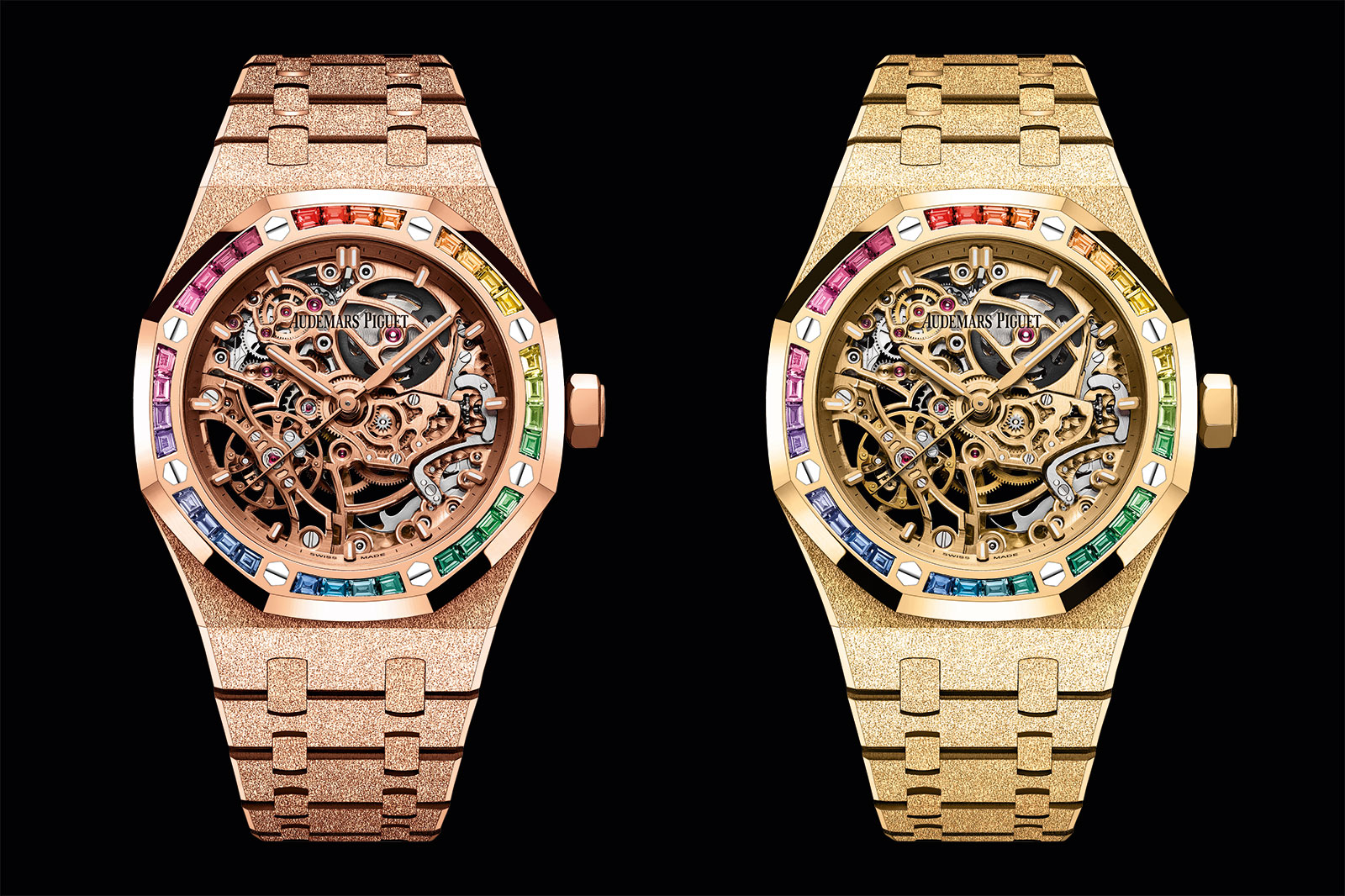 The 37 mm model in pink gold and yellow gold
The movements haven't changed. All watches use the calibre 3132, a self-winding movement with the double balance wheels I mentioned earlier, a 3.5Hz beat rate and a power reserve of 45 hours. All movements receive the best skeleton finishing in the business. Skeleton finishing requires every single part to be polished to perfection, demonstrating Audemars Piguet's command of the arts while simultaneously pushing the price up. The movements are also the primary way of differentiating the watches, at least in these press pictures. In the 37mm piece, they're plated the same colour as the case, pushing your eye's focus to the rainbow bezel first. While both watches are technically unisex pieces, I suspect that Audemars Piguet made this design choice to amplify the appeal of the 37mm pieces to women.
Prices for these watches are high, and they're only going to be available from Audemars Piguet's boutiques starting in October. The price sits at CHF118,500 before taxation. At least they're 50m water-resistant, though, and also not limited edition. Gotta look at the positives, right?
Visit Audemars Piguet here.