The Seiko 5 is the entry-level of Seiko's mechanical diving watch range, which extends right up to Grand Seiko's incredible diving pieces. However, entry-level doesn't mean you're being shortchanged. Seiko 5s are renowned for their versatility, ruggedness and endless adaptability. It's not uncommon to see people modifying them by changing straps or even more components in some cases. 
Seiko isn't a company that sits on its laurels, and it never has been. The 5 range got a revamp a few years ago, but Seiko is always working on new models and new designs, like these two new urban camouflage watches. Designed to blend in(sort of), these new watches look ready for a rough time and are itching to get going. With 42.5mm x 13.4mm cases capable of diving down to 100m, the new reference SRPJ37 and SRPJ39 models don't skimp on the specs, and a Hardlex crystal on the front and back allows for ample viewing.
The SRPJ37 features the green camouflage dial along with a day and date. I'm not sure of the actual effectiveness of the camo here, given that the rest of this chunky watch is black, but it should be interesting to see in person. This is coupled with a black aluminium unidirectional diving bezel and black textile strap. Powering it is the automatic calibre 4R36, which has a 41-hour power reserve, 3Hz beat rate and 31 jewels. It's self-winding and has a hacking function, Seiko hasn't listed the accuracy this is regulated to, but Seiko 5s tend to be around +/-30s per day from memory. The price is €330.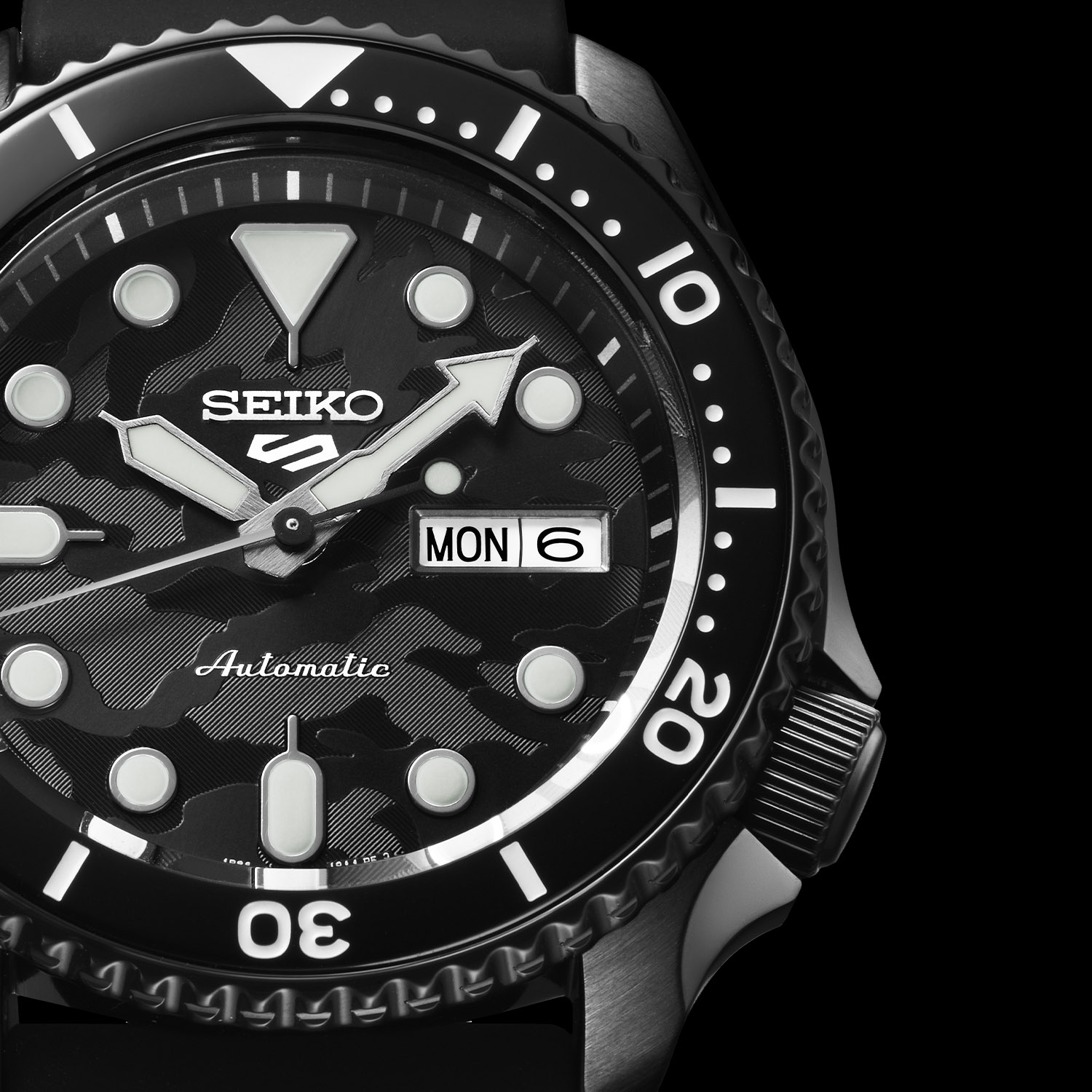 The SRPJ39 is slightly different in a couple of ways. The camouflage dial is black rather than green. That's thanks to the input of world-renowned skateboarder Yuto Horigome, who, at just one year younger than I, is making me wonder what I'm doing with my life. Born in 1999, Horigome won the world championships for the first time last year, and we wish him luck for the future. There isn't much else different to this Japanese streetwear-themed watch. It, too, has a hard black coating on the case for extra resilience and good looks. It is limited in production to just 6000 examples worldwide, while the SRPJ37 is a permanent addition to the collection. The price is €340.
Visit Seiko here.