Charles Girardier isn't a brand we've really covered before here at WristReview, except for giving it a mention in our list of the 2020 GPHG winners (Charles Girardier won the Ladies' Complication category with their Tourbillon Signature Mystérieuse « Fleur de Sel »). That's mostly because there hasn't been much to talk about until recently. The brand was only started in 2018 by Patrick A. Ulm, a private banker who loves watches.
For Only Watch 2021, the bi-annual charity auction raising funds for sufferers of Duchenne Muscular Dystrophy, the brand has created a one-off watch called the 1809 Tribute to Jackson Pollock. Jackson Pollock was an American painter who was at the forefront of the abstract impressionist movement, which was influenced by surrealism and influenced modernism. It began around the end of WWII and seemed to have disappeared by the late 1960s, although the active artists in that era have since become wildly successful in today's world. Jackson Pollock is most notable for his works that resembled splodges of paint on canvas. It was up to anoraks in glasses to decide what that meant. If you've seen those memes about a dropped hat that people thought was an exhibit in an art gallery, this is that sort of thing.
The watch features a flying tourbillon at 6 O'clock and a hand-decorated enamel dial, a rarity for such a new company. This newness comes through in the tourbillon, which looks technically excellent if a little two-dimensional, but it's not a particular detriment to the watch.
Inside the 41mm pink gold case is the CG1809/6 movement, a flying tourbillon movement with a peripheral rotor, another rarity in today's world. There's also elegant finishing, though it seems a little clean. I would've loved to see some excellent stripes. I can clearly see excellent bevelling on the edges, though, so it seems the movement has had plenty of attention put into its details.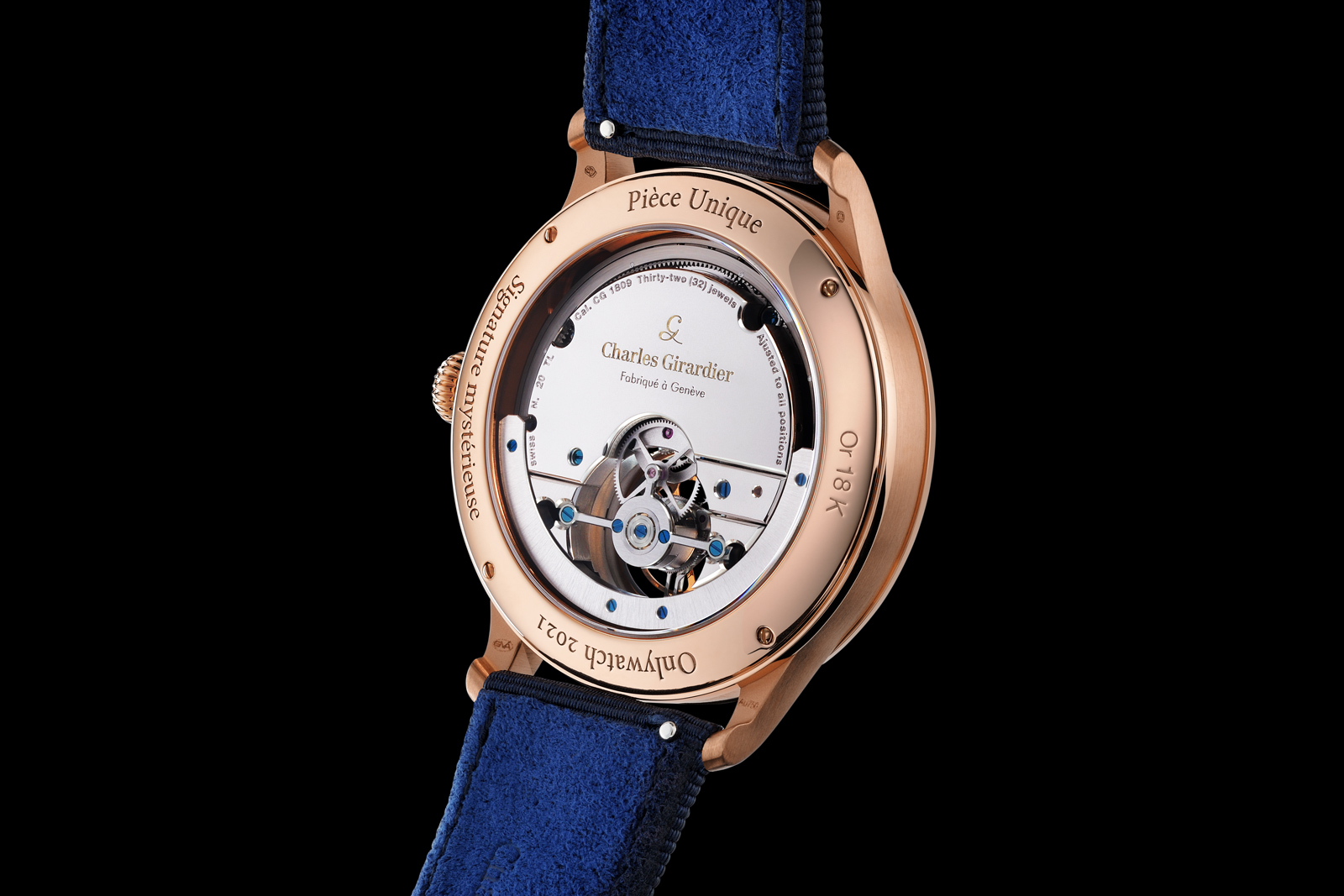 For a one-off watch from a new company, this watch sets the bar for following Charles Girardier watches very high indeed. When a new company can spend six days hand-enalleming the dial of their new flying tourbillon one-off, you know there's more in store.
The estimate for this watch is between CHF75,000 and CHF90,000.
Visit Only Watch here.