URWERK is without a doubt the foremost innovator in modern watchmaking, Just one glance at nearly any one of URWERK's timepieces will reveal the company's passion for outer space and Star Trek-inspired style. They already created the innovative satellite-cube hour indicator, and they have only continued to improve their atypical time displays. Although the ideas for the timepieces vary greatly, the futuristic representation of these inspirations serves as a defining characteristic of the entire brand's collection, for example, their most recent swiveling-prism hours inside a glass cylinder. The ideas like these are a feature that are fundamental to the brand's identity. The Vulcan salute and all it stands for are now literally displayed on top of the mainplate with the introduction of the new URWERK UR-120.
The UR-120 "Spock" is actually an evolution of its forefather the UR-110, the radical legacy of utilizing orbiting satellite complications to tell the time which was carried on by the UR-110. It had a unique take on its characteristic wandering hours that features the recognizable triple satellites on a carousel. Still, each satellite is really a pair of cubes that gradually separate, spin, then converge to display the hours.
The next generation UR-120 "Spock" retain similar overall aesthetics, but in function, each arm of the UR-120's unique "open satellite" system is tipped with two revolving cubes that, when placed side by side, individually display a numeral. The dormant displays detach, rotate on their own axes, and reconstitute to alter the numeral displayed before being used to display the time once more. The Vulcan salute from Star Trek is the inspiration for the entire gesture, hence the nickname Spock.
The watch has a modular design with upper and lower components that interlock each other. The case is forged from sandblasted steel with titanium and measures 44mm x 47mm with a height of 15.8mm. The UR-120 boasts a sleek design that makes it legible despite its atypical appearance, admittedly it could take some getting accustomed to while reading the time. Curved sapphire crystal with anti-reflective treatment protects the dial.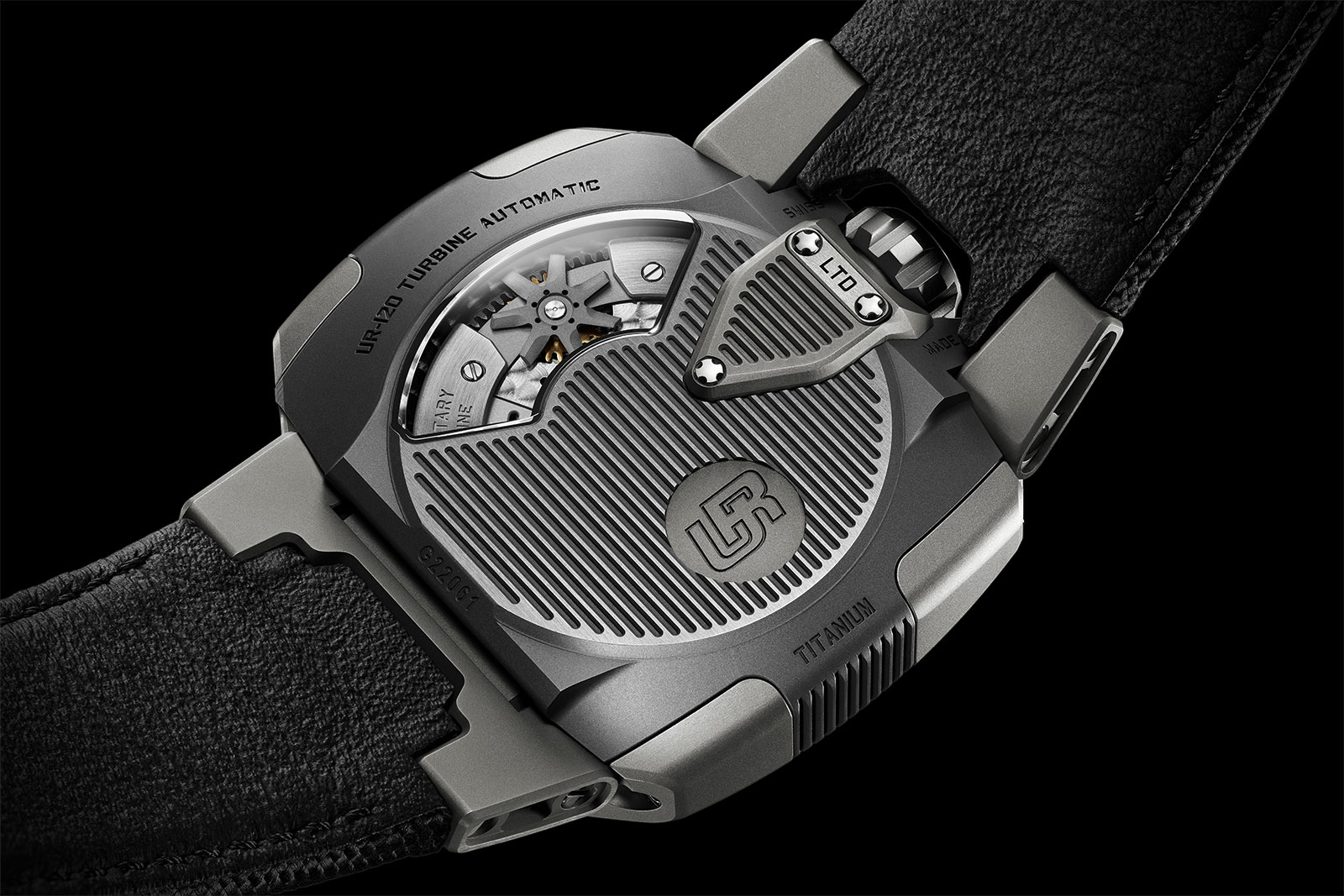 The UR-20.01 automatic calibre powers the UR-120 "Spock" while beating at 4 Hz (28,800 vph). The movement has circular and straight graining, sandblasting, Côtes de Genève, and polished screw heads as decorative features. The UR-120 "Spock" isn't limited in edition, but only in production. Available at URWERK retailers, it has a price tag of CHF100,000.
Visit URWERK here.