Ever since I started my watch collection hobby, Ball is one brand that has yet to drop into my treasure trove. The lack of interest is not because of quality, technology or even designs issues (which there are none). In all honesty, my nervousness was purely due to the prolific nature to which Ball been able to come out with many designs in the shortest possible time. To me (I know it is irrational thinking), Ball is more akin to Swatch Watch or Casio G-shock.
I am glad to say that my skewed feeling about Ball is slowly unwinding towards a full acceptance of the brand. The timing and choice of watch types launched recently was a contributing factor to this change in perception. The latest, the Ball Engineer Master II Pilot GMT Watch literally blew me away.
The watch was designed for Ball by Ms. Magali Métrailler, who also created the Ball for BMW watch collection, as well as design work for Jaeger-LeCoultre.
Dedicated to all aviation heroes, it follows the design cues of vintage GMT watch with modern finishes. The multi-level structure of the dial gives the model a sense of 3-dimensional perspective and depth to the watch. The 43.5 mm-diameter dial and large numerals allows for excellent legibility.
Famed for its artificial illumination technology, BALL has equipped the Engineer Master II Pilot GMT with luminescent micro tubes containing H3 gas. This state-of-the-art Swiss technology is 100 times more effective than conventional luminous paints yet requires no exterior light or energy source. Despite the presence of the micro tubes, Ball also incorporates SuperLuminova luminous paint on certain parts of the dials and hands. The hours, minutes and seconds hands are colored orange, while the GMT hand and the indexes on the rotating bezel have been painted luminescent green.
Another unique design of the dial that is worth mentioning is the placement of the micro-tube. Instead of on-the-dial which is typical in most of Ball's watches, the tubes are sunked into the dial. This has the benefit of making the dial looks flatter and less clustered than usual.
The watch has a bidirectional rotating aluminum bezel. With gradations over 24 hours, the bezel allows for rapid setting of the GMT hand on the second timezone display. A date window is available at the 3 o'clock position.
Protected by sapphire crystal glass, Ball has also done a display case-back with the same type of crystal. This allows one to view the Ball Caliber RR1201, a refined ETA 2893 automatic GMT movement.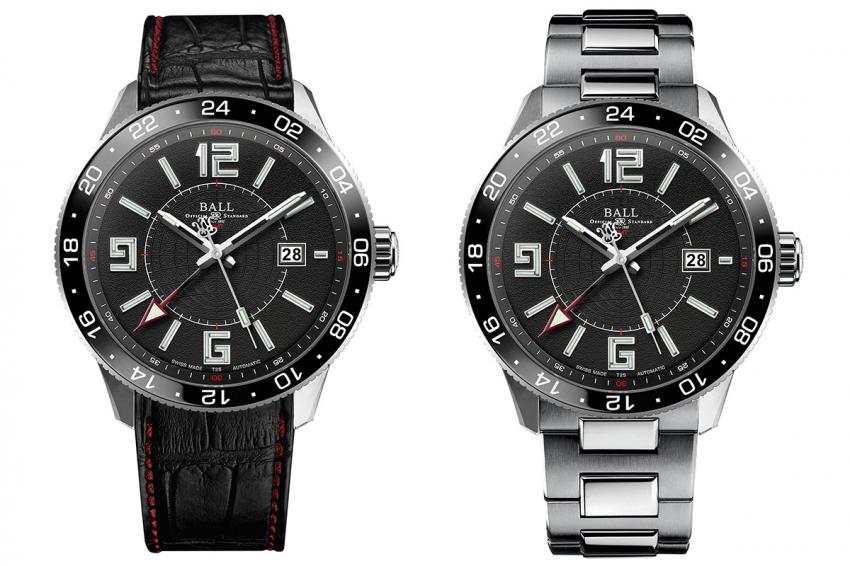 This watch comes either with a stainless steel bracelet or a crocodile strap. I love to see the watch on leather strap. However, being a practical person that I am, I will recommend that you buy the stainless steel bracelet version and then switch to leather. For more info, please visit ballwatch.com