SalonQP takes place every year in the imposing Saatchi gallery which is more friendly than the large Baselworld and much more accessible than SIHH which is invite only. This is a show that puts other big corporate lead shows to shame, it is quintessentially British with it's non pretentious feel. This show is a must for anyone with a love of Horology. The opening reception evening of SalonQP always drew a lot of journalists, writers and bloggers together with watch collectors and aficionados with this year drawing a record 1,700 people to it for its opening night champagne and canapés.
In my opinion the daytime is the best time to go and leaves me feeling like a child at Christmas. I returned the following day and the show had a totally different feel to it with a more relaxed atmosphere, once through the doors you are greeted by so many watches from many many companies you don't know where to start.
With the likes of Jaeger-LeCoultre, TAG Heur, Bell&Ross, Vacheron Constantin and HYT to name a few, I cannot possibly mention every stand or watch company that was exhibiting there as that would take me weeks to write and I'm sure you would get bored reading many pages so I will just give you my personal highlights from the show starting with Tudor who having re-released the brand in the UK to great applause. On show were some truly stunning pieces from their past including 1950s and 60s submariners with beautiful snowflake hands. Also the Heritage Black Bay was in appearance, of which I'm a big fan.
One special piece I had to see after writing about it recently was the gorgeous Montblanc Metamorphosis II with its two dials that change to show time and sub seconds and I must say it's so much better looking in the flesh.
All the winners of the Grand Prix d'Horlogerie de Genève where on show for the first time together.
But I have to say my favourite of all the winners is the Urwerk EMC Black which looks very stealth like.
The British watch renaissance continues to go from strength to strength and this year's show was no exception with many of them unveiling new pieces. The Pinion Watch Company showed at SalonQP for the second time with their new Revival 1969 which is their first chronograph and features a 100-watch limited edition hand-wound chronograph built around the Valjoux 7734 movement. Scholfield watches also released a new piece called the Beater, Schofield's third release, has adapted 1970s ETA movements which are some of the most robust movements ever produced. The Beater is designed by founder Giles Ellis to be a rough-wearing time-only watch, and in his own words it "helps you get past the bubble of anxiety that comes with any luxury purchase – it's something you're happy to scratch and mark." I'll be writing a review of it very soon.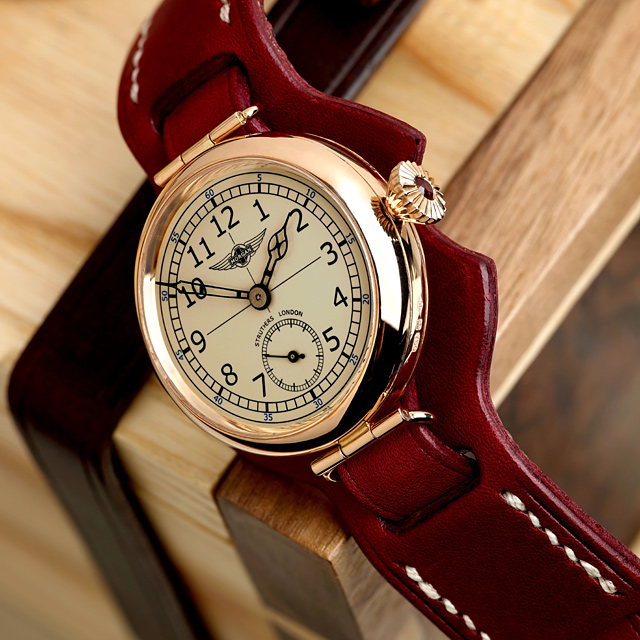 Making their debut this year are Struthers of London which are showing their collaboration with Morgan Motor Company called the Struthers Morgan. With it's large crown and leather cuff strap it has a definite hint of old pocket watch to it.
But the most outrageous piece from this show has to be the totally mad MB&F HM6.
The HM6 Space Pirate is inspired by bio-mechanical sci-fi creations from Japan. At the front, two spherical sapphire dials display the hours and minutes, while at the back corners are two rotors, designed to regulate the movement against excessive speed.
At it's centre is a sapphire crystal dome housing the flying tourbillon.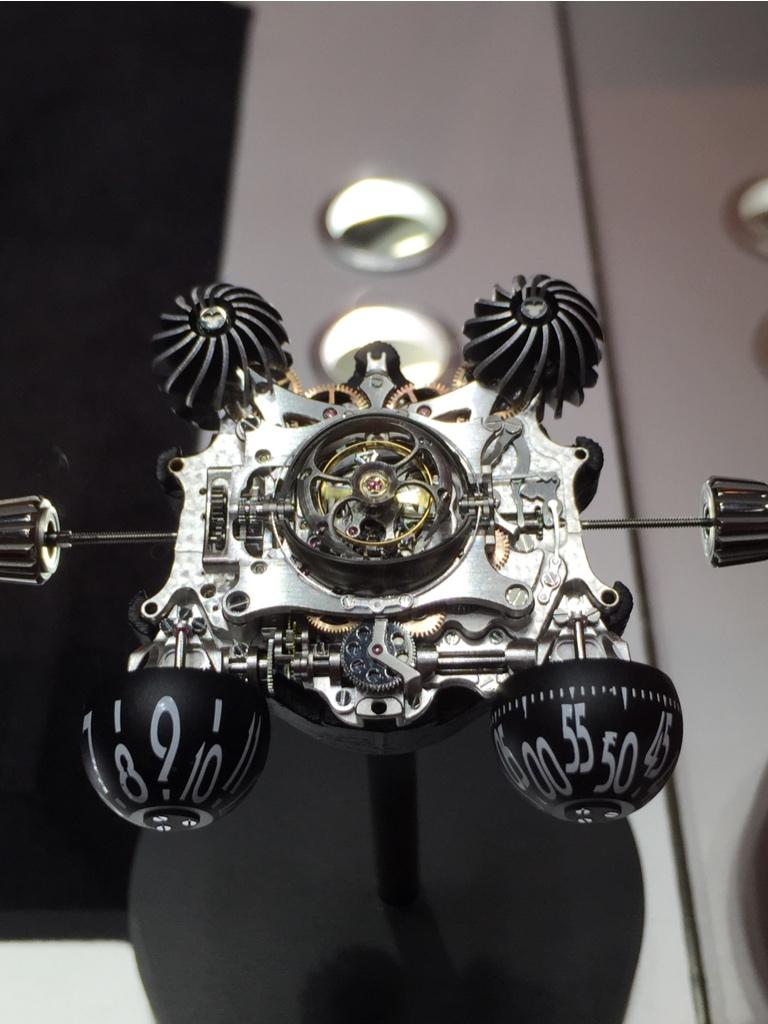 Totally mad but very cool to look at especially like this in just movement form. You can read the full review of this watch by clicking here.
Conclusion
SalonQp draws to a close again for anther year with it's many seminars, stands and brands. It's easy to see that this year's event was a horological wonderland and I'll have to look forward to Baselworld in March for my next fix of watch shows. For more info, please visit salonqp.com

John Galt – Contributing Editor
John Galt caught the horology bug 4 years ago on his first visit to a London watch show and has snowballed since; John has become an avid writer and blogger of timepieces of all kinds, from everyday timepieces to modern Luxury Haute Horology, his favorite brands being HYT and Greubel Forsey that push the bounders of modern watch-making. John keeps a keen interest in the UK watch scene with their many emerging brands and timepiece's. John Galt currently contributes watch related articles for online publications in the UK and USA. You can follow John on Twitter @johng73 Read his articles here.