So, this is an unexpected turn of events for Swiss horology legend Patek Philippe. I really wasn't expecting them to make a slightly more functional watch for their Calatrava range. I say slightly because it's still made of white gold and is a Patek so it'll be very fragile. The fact remains however that it's simply jaw droppingly beautiful.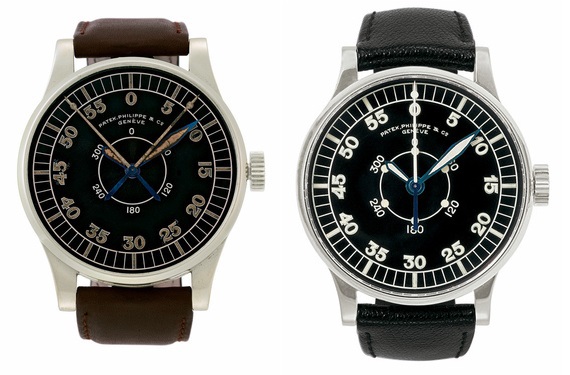 Now, having said that it's an unexpected turn of events (which it still is), I must mention that Patek Philippe did in fact make a model of pilot watch beforehand. Back in the 1930s they were made to be very accurate and be used with a sextant for fast, precise navigation. They were a very un-Patek like 55.3mm across, however they are still Pateks and as such one sold a few years ago for over $1.5 million.
Don't be fooled into thinking that this watch is in fact a tribute to one of those watches. It's not. I wouldn't bother trying to use a sextant with this piece, as it's not designed for that purpose. It does however have a GMT hand which takes the form of a white coated skeletonised hand stemming from the centre of the dial. As the name suggests this watch has the same set-up as the Nautilus travel time, where there are two small 'Home' and 'Local' indicators on the dial, allowing you to check the time in two different places. This watch joins the Nautilus as being a watch designed for the modern travelling man who visits many places on his travels around the globe. Albeit a very minted young man, as we all know that Patek Philippe pieces are extremely expensive, and for a good reason too.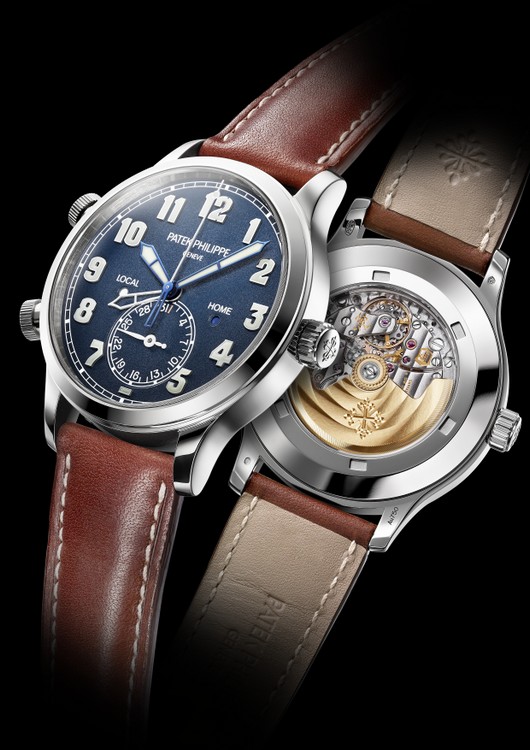 To help this young man on his travels, this watch is given the coveted 'Seal of Patek Philippe', which can only be awarded to Patek Philippe pieces and ensures the timepiece is of the highest quality and runs within -3 seconds and +2 per day which is very accurate indeed.
The dial of this watch is a deep and rich blue, covered with Superluminova applied arabic numerals, the date indicator on this piece is a rotary type with the intervals at 3 days. In case you were wondering, the pushers on the side lock down so that you can't accidentally adjust the time. Speaking of the case, it's 42mm in diameter and 11 thick. It comes with a contrast stitched brown leather strap that has a white gold buckle. and is expected to cost around $55,000. Well done Patek, we love it! For more info, please visit patek.com

Harlan Chapman-Green – Contributing Editor
First introduced to horology with the Patek Philippe Calibre 89 by his father few years ago, Harlan enjoys his passion for fine horology. He prefers to spend his time in the boutiques of upmarket brands, trying out new pieces constantly. His preferred 3 brands are A. Lange & Söhne, Breguet and Vacheron Constantin. Although not much for the smaller brands, he still finds the complications intriguing and wishes to own one watch from each of his three favourites. Read his articles here.