Wait, what? A sensible looking Defy, are they nuts? Actually, no, as much as I like the crazy Defy watches from the mid naughties not everyone felt the same way about them. Most saw them as ugly and cheap designed by monkeys with no hands. I do have a little soft spot for the crazy Defy watches, though, I think they're pretty neat. In these hard-nosed times though it's trickier to make crazy watches like that and get away with selling a load as since the financial crisis of 2008 people don't seem as willing to spend their money anymore
But, say what you like about this new design there's no question that the current CEO Jean-Claude Biver is a great personality for such a company and the Defy El Primero 21 watch is a good way to really introduce him if you were living under a rock when the special edition watch for the Range Rover Velar was unveiled. There are still some quirky twists to these watches, my favourite being that skeleton dial that keeps the colours and layout that we know and love on the El Primero watches.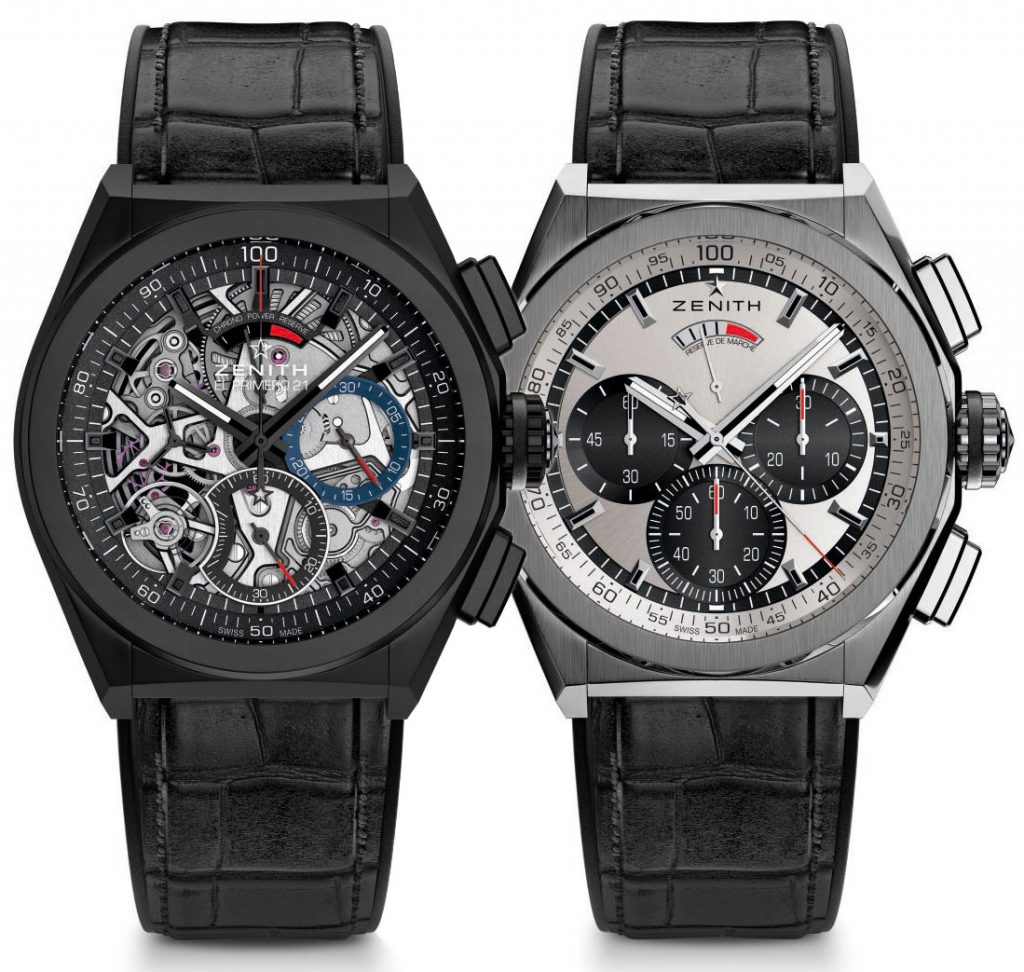 There's also the 1/100th second chronograph which, apart from being a little bonkers and pretty much pointless in today's world, is still a really cool idea which isn't put into many watches at the moment. How you properly use it is beyond me and would definitely require a hands-on, but the idea that your chronograph is mechanically superior to all those 'normal' Datographs and whatnot is still an intriguing one, with base prices at a smudge over $10,000 it's a real bargain to boot.
The trick with the chronograph is an extremely high operating speed. 360,000 vph to be precise, or 50Hz. The thing is, like with the TAG Heuer Mikograph watch which also had this complication (and is also owned by LVMH), the power reserve of that chronograph is going to be very short, only 50 minutes. The speed is achieved by LVMH's development of something called Carbon-Matrix Carbon Nanotube, which is a fancy way of saying carbon basically. Interestingly the speed that it runs at means it needs its own power reserve indicator to tell you. Either way, it's still pretty cool isn't it, and the automatic movement should ensure that it doesn't take too long to become rewound again.
I would kind of like to see the real mad case with this movement in, I think it could sell quite well. I'd have one anyway, anyone got a screwdriver? For more info, please visit zenith-watches.com