2022 has been a wild ride of a year, from losing some of the most famous celebrities and a Monarch who has been a part of so many of our lives, to some of the deadliest conflicts since WWII and wild weather causing havoc. 2022 has been, well, a year, but it's been a pretty great year for watchmakers, both large and small, who have picked up after the recent slump in innovation. Today, we're looking back at ten of our favourite new watches from the year. We hope you've enjoyed our coverage throughout the year and will continue to follow WristReview into 2023. 
10 – Tudor Pelagos 39
In 2022, Tudor released a new model of the old Pelagos model from 2012. Following that release, Tudor also released a more compact 39mm model of Pelagos. While its big brother was more focused on instrumental use, if the helium escape valve is any indication, the Tudor Pelagos 39 also focuses on urban excursions. The Pelagos 39 is a flexible timepiece that sits at the nexus of urban refinement and technical diving. It's crafted in grade 2 titanium with a rapid adjustment system for the clasp and a diver's extension. Equipped with manufacture calibre MT5400, the movement has features such as variable inertia balance, which is held in place by a sturdy traversing bridge with two points of fixation.
9 – TAG Heuer Aquaracer Superdiver 1000
The new Aquaracer Superdiver 1000 is perhaps the strongest entry for TAG Heuer for 2022. Known for relentless durability, the Aquaracer Superdiver 1000 made its debut after 2021's reimagining of Aquaracer. The new Aquaracer is an even more extreme and robust edition, the 45mm Superdiver is built to withstand all situations, something that the Aquaracer line is known for. This grade 5 titanium watch with ISO 6425:2018 certification is made for saturation diving and has a 1000M water resistance rating. The movement is a COSC-rated calibre TH30-00 automatic movement of Kenissi origin with 70 hours of power reserve.
8 – Grand Seiko Spring Drive 9RA2 "White Birch" SLGA009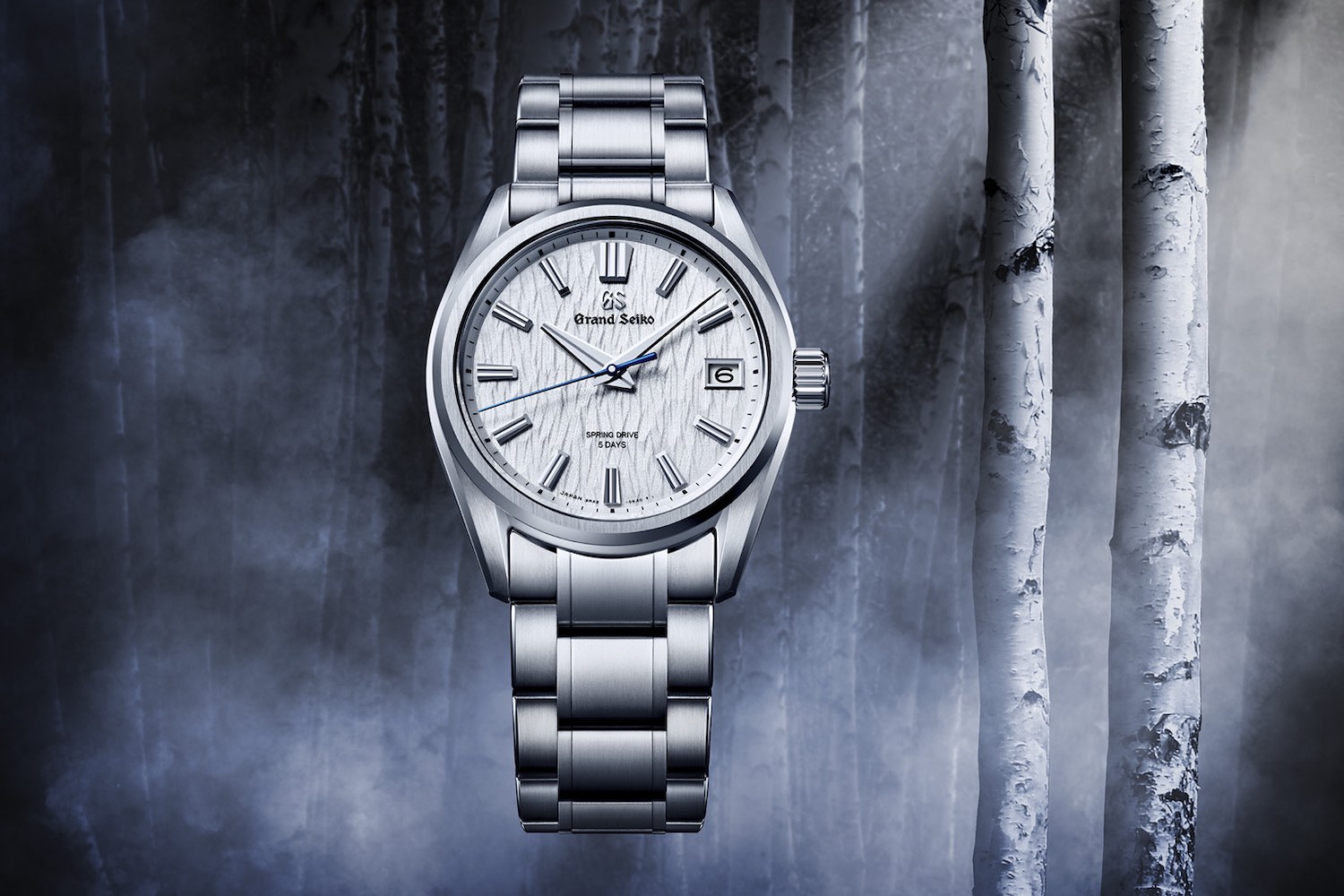 If one thing that was written in the stars for 2022 is that the White Birch will make it into the top watches list. The exquisite dial is mainly responsible for that assessment, as it was for the "Shirakaba" version that got to no.4 on last year's list. As all Grand Seiko Spring Drive watches are made in the studio in Shinshu, the dial of the SLGA009 perfectly depicts the serene atmosphere of the white birch tree woods nearby, which serves as the source of inspiration for SLGA009. Powered by the Spring Drive calibre 9RA2, the movement offers remarkable accuracy of +/-0.5 seconds per day or +/-10 seconds per week and is wrapped in a 40mm x 11.8mm case.
7 – Breitling Premier B21 Chronograph Tourbillon 42 "Gaston Breitling"
I think it would be fair to say that Breitling has been fighting an uphill battle to overcome its identity crisis from a few years ago. The three-handed Navitimers looked plain, and the less we say about the rainbow Superocean Heritage, the better. Breitling has been winning us back, though. Without wishing to sound like a broken record at this point, a Breitling got to no.3 on our Top 10 list last year, and the Premier B21 Chronograph Tourbillon 42 is our choice for this year. While the complications are excellent (this is the only tourbillon watch on our list), the fact that Breitling has succeeded in making a historically-inspired watch with traditional watchmaking techniques that looks great. Even with all this heritage and a 42mm x 15.2mm white gold case, this still costs around $57,000, which, while not being a bargain, is much more affordable than some watches with the same complications.
6 – Oris ProPilot X Calibre 400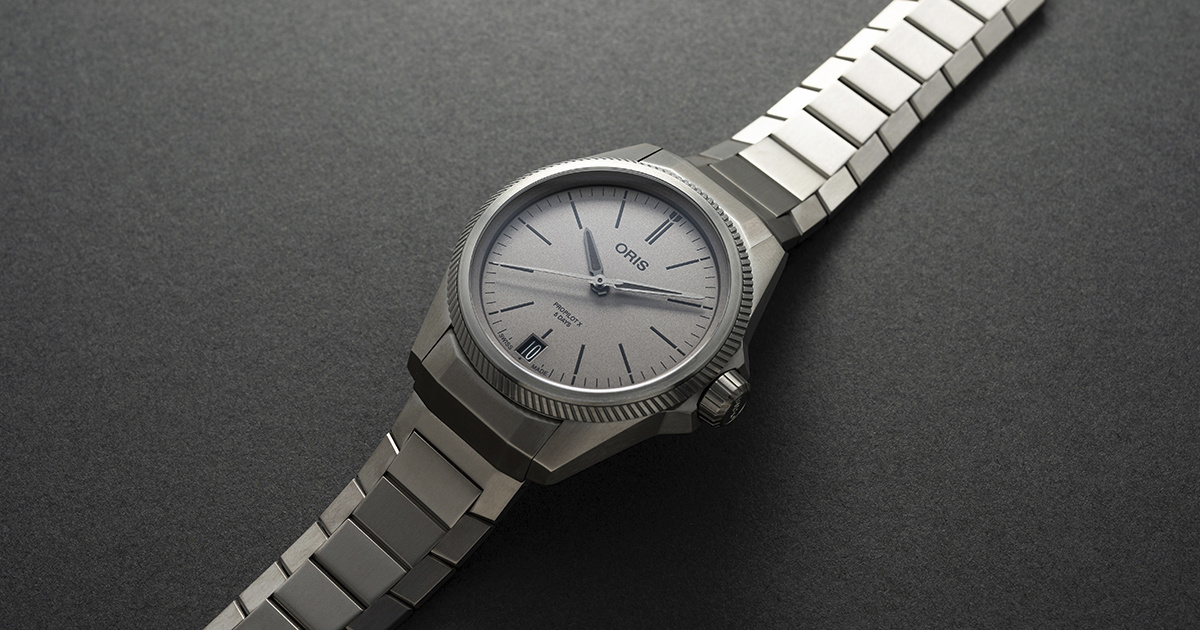 The ProPilot X is already an impressive pilot watch from Oris. When Oris debuted the new Caliber 400 in the ProPilot X, it turned more than a few heads towards Oris, given the stable rate results, high power reserve, reliable antimagnetic protection and long service intervals of Calibre 400. Oris ProPilot X Calibre 400 is crafted entirely from titanium and comes in a compact 39mm x 12mm size profile, suitable to fit most wrists. The case has hard angles, and the water resistance is rated at 100 metres. Calibre 400 enables ProPilot X to have a modern stop-seconds mechanism whilst exceeding COSC accuracy standard at -3/+5 seconds per day with a full 5 days power reserve (120 hours).
5 – Christensen by NOVO Peacemaker
No, to be clear, Christensen by NOVO didn't pay us to add this to the list; we're just really excited by the idea behind this series of watches. Canadian watchmaker NOVO is used to making bespoke timepieces for clientele but agreed to work with Cultish (an emerging online market for speciality makers of unique objects) to create the Peacemaker, dedicated to those who live in Ukraine and are fighting for their lives. Despite there going to be 250 examples of the Peacemaker, there are still unique touches such as the 'Plowshare'-shaped hands, the two-tone lume in the colours of the Ukrainian flag and the dial, which is made of pieces from broken Ukrainian artillery pieces and destroyed Russian tanks. With a 42mm case and a recent reduction in price, this is one to check out seriously, and we recently interviewed the team behind this watch on NOVO's Instagram page. It's worth a watch (no pun intended).
4 – Sherpa Ultradive
Another entry on our list from a new and emerging brand is the Ultradive from Sherpa Watches. Inspired by Nepalese explorers and the Enicar Sherpa watch, the Ultradive brings a modern re-interpretation of a historical watch done the right way. The main selling point (other than the appearance) of this watch is that it's a true super compressor diving watch. This might be an old idea, but it's been lovingly revived here and gives the 40mm Ultradive a 200m water-resistance rating. Inside the watch is an automatic movement which wishes good feelings for you with its engravings from a Tibetan prayer wheel. We know that nice watches give us a great feeling, but no others actively encourage it. We got to meet the brand's founder, Martin Klocke, in London a couple of months ago and ask him some questions (and see the watches, of course), and we'd recommend you read that when you've finished reading this list.
3 – Glashütte Original SeaQ Chronograph
Glashütte Original unveiled the SeaQ Chronograph watch in 2022. It was not only the newest timepiece to the Spezialist line but also the first diver's watch from the German watchmaker to have a chronograph feature. All of that happening in the watchmaking spectrum where diver-chronographs aren't that common, to begin with. This unusual entry from the German brand excels at being both a diving watch and a chronograph. It has a stainless steel case measuring 43.2mm, a unidirectional rotating dive bezel with dark blue ceramic inlay and a 60-minute scale. Water resistant to 300 meters, it's powered by calibre 37-23 with a flyback chronograph and 70h power reserve.
2 – Grand Seiko Elegance SBGY013 "Omiwatari"
Coming in second place on our list is another Grand Seiko. We decided that the "Omiwatari" showed true elegance and what a high-end Japanese dress watch was all about. The watch's steel 38.5mm x 10.2mm case is timeless and finished well, and we liked the classy bracelet too. The dial, inspired by a rare phenomenon from a lake in central Japan, is beautiful and restrained, capturing the detailing of snow without overdoing it on textures or indicators. This simple, three-handed dress watch also features a Spring Drive movement, which is finished excellently and is a technical marvel. It's a little pricey, but it's one you'll want to keep forever.
Honorable Mentions
Before we go to the top spot, here are two extra watches from the year that we loved:
A. Lange & Söhne Odysseus Titanium 363.117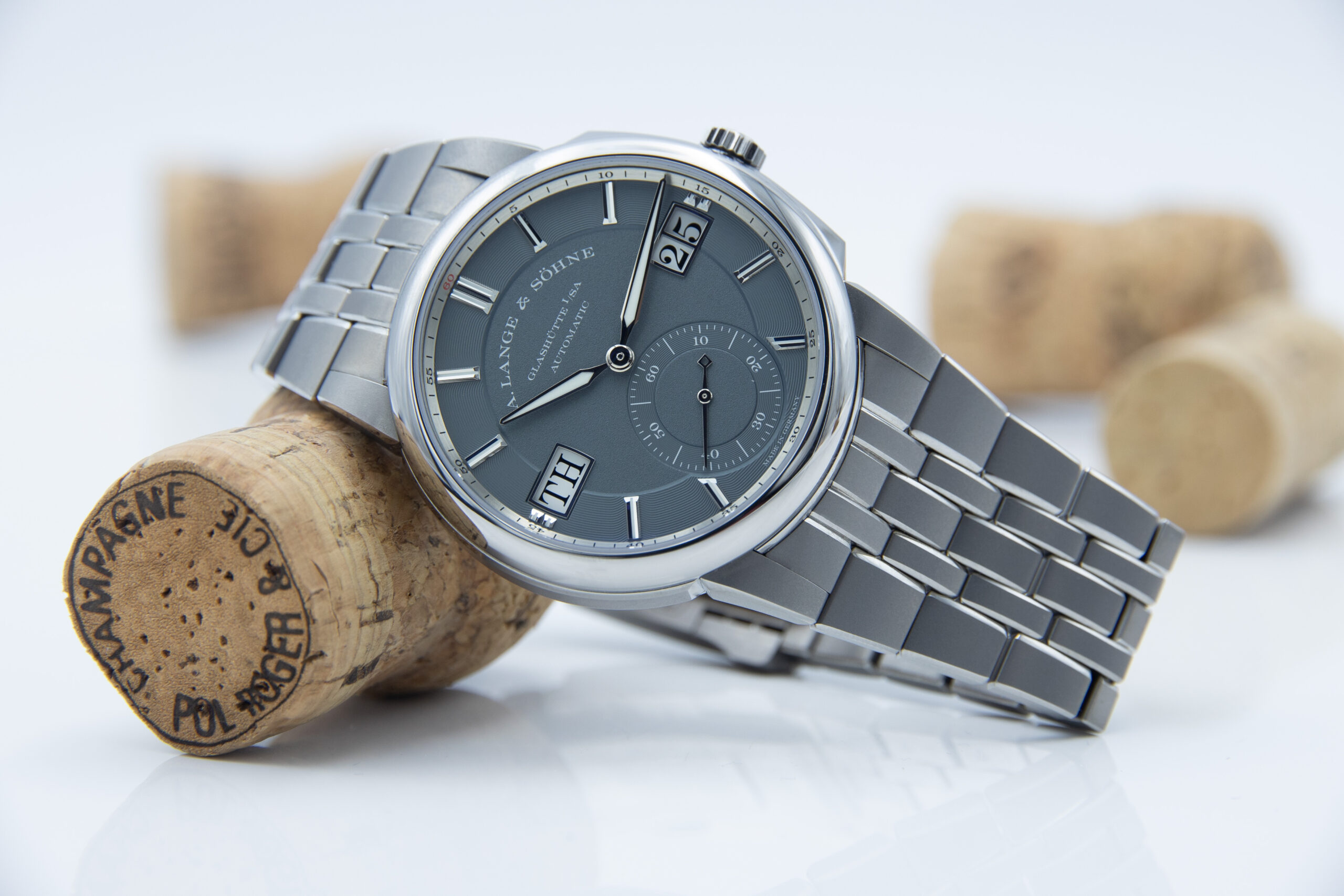 It's hard to believe that the titanium version of A.Lange & Söhne's only sporty watch appeared earlier in the year. It feels like it's been around for longer than that. Nevertheless, it seriously impressed us when we got our hands on it for A Fortnight Review which you should check out after finishing this article. The Odysseus is as divisive as it gets for the Saxon brand, but we loved the way it sat on the wrist and the way it sparkled under the lens. It's a good size at 41mm x (roughly) 11.4mm, but the titanium case and bracelet made it super lightweight at 105 grams, and it paired really well with clothing. This is one you should check out.
Breguet Classique Calendrier 7337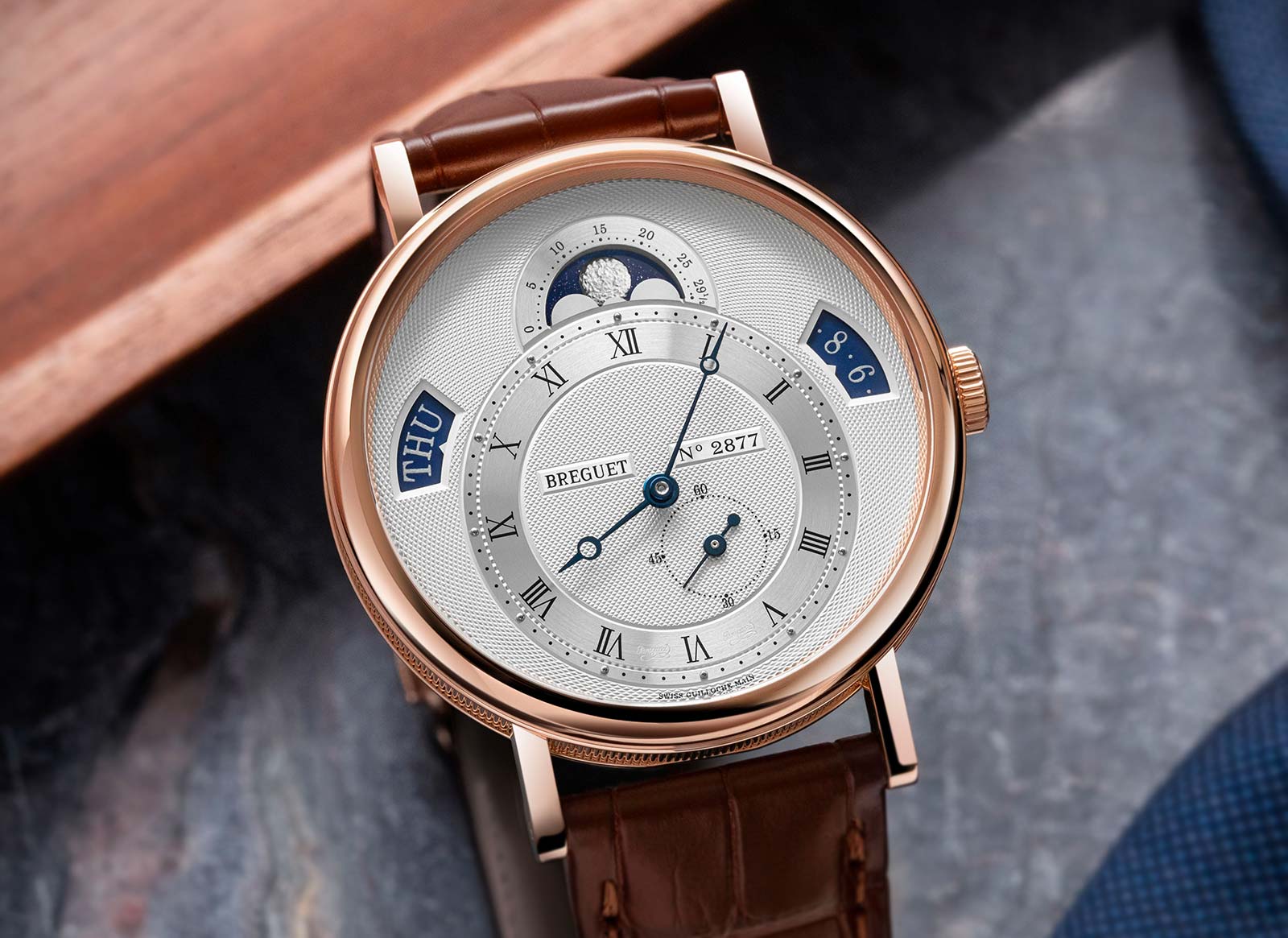 The Classique range is Breguet's main line of watches. While the sporty Marine pieces will probably appeal more to the masses, it's the Classique that embodies most of Breguet's heritage and is seen the most in forums and other watch groups. This watch's dial layout isn't new, it was originally designed by Abraham-Louis Breguet himself in the early 19th century (offset dials became quite commonplace for his later watches), but it still looks thoroughly modern in 2022. The watch got some different guilloché on it for this year, and the name plates moved so they were no longer connected to the ring with the markers on. With a 39mm x 9.95mm case in gold with a day date and moonphase, this could be all the dress watch you'll ever need.
1 – Omega Speedmaster Chrono Chime
Last year, an Omega Speedmaster got to no. 9 on our Top 10 Watches of the Year list. However, there's no way that our number one pick for 2022 could be anything but the Speedmaster Chrono Chime. This watch caught us off guard the most; I mean, we had absolutely no idea it was on the way. Since Omega founded their Atelier d'Excellence, we've wondered what they were up to other than fiddling with the 321 calibre and, well, they've been busy. The Chrono Chime is the first example we've seen of a minute-repeating watch where the minute repeater chimes the time recorded by the chronograph rather than the time displayed on the regular hands. It's also got a 5Hz beat rate rather than 4Hz which is the standard, so it's more accurate, and the chronograph uses a column wheel with a vertical clutch and has a rattrapante to allow the wearer to split the chronograph seconds. It is 45.5mm across and nearly 18mm thick, and it costs nearly half a million dollars, so it's out of the way of nearly all of us, but the Speedmaster Chrono Chime deserves our number 1 spot for 2022.
We hope you enjoyed our list. Please let us know your thoughts in the comments section below. From all of us here at WristReview, we wish you a happy and prosperous 2023.