Joshua Jones is the passionate and enthusiastic creator of Bosk, a budding watch company attempting to get Kickstarted starting on Monday, January 19th. He has been tweaking his watch designs and everything that has to happen behind the scenes for months now and is ready to share his version of luxury wood watches. I'm lucky to have a first look into his collection and give you a heads up on the great deal. Unique designs and a great price. What more could you ask for?!
Keep in mind that these are available for only $89 on Kickstarter right now…there aren't many deals like this out there. Consider supporting Josh by backing his project and getting a great watch out of the deal too. His transparency is very evident on the Kickstarter page…no inflated prices!
Specifications
• Case diameter: 48mm
• Thickness: 7.5mm
• Case material: 904L surgical steel (the grade of steel used by ROLEX)
• Face diameter: 40mm
• Face material: 100% real wood
• Face window: Crystal sapphire glass
• Straps interchangeable: No
• Clasp material: Stainless steel
• Band width: 20-22mm
• Back Plating: Stainless steel
• Movement: Japanese Miyota Quartz Movement
• Display: Analog
• Date Function: Yes
• Water Resistance: 3 ATM (3 meters)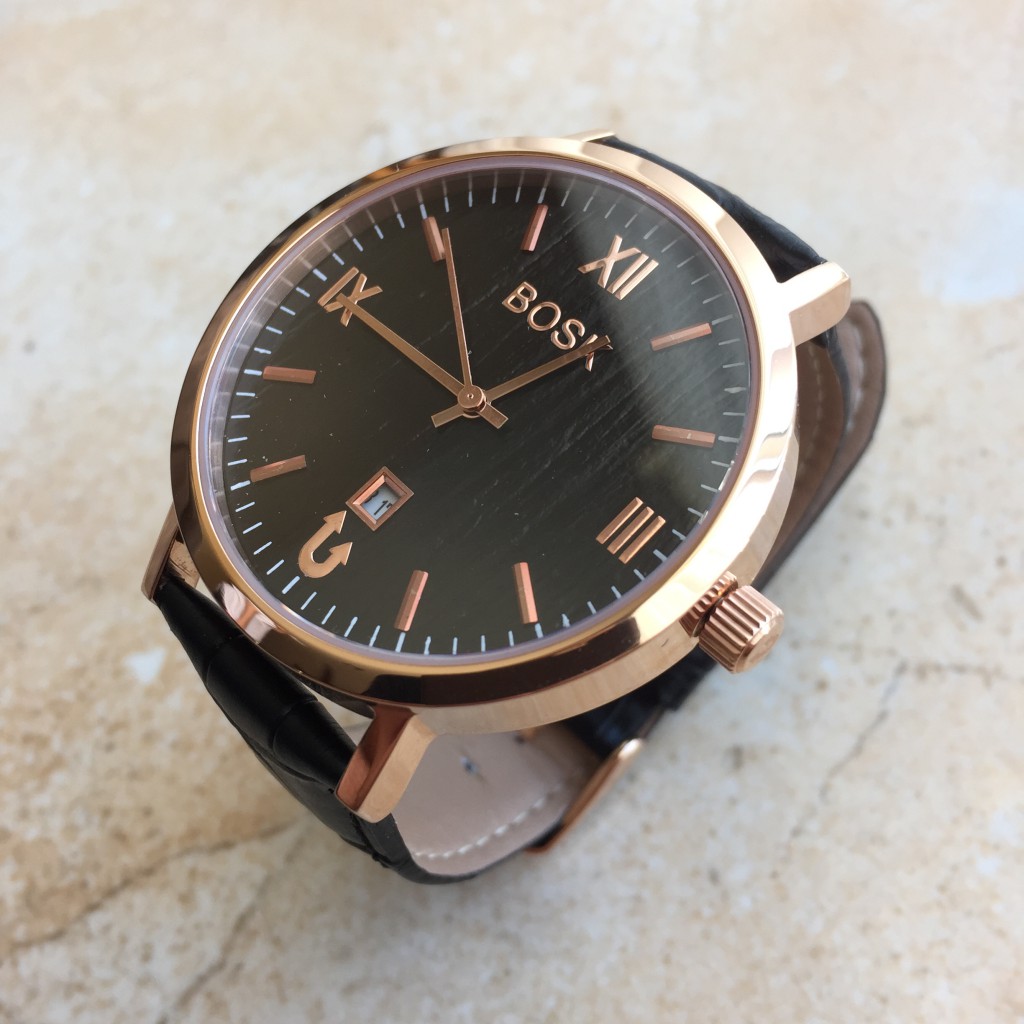 Design
The market has been flooded with wood watches recently…and most of them no good, to be frank. The only good wood watch Ive seen so far is Original Grain due to its integration of stainless steel to give it some heft, contrast, and structural support. Bosk must have felt the same way because they didn't go with an all wood design, instead they integrated wood into the dial of watches that look much more luxurious than other wood watches. The one I have has a dark wood face with a matching black leather strap and gold case. Gold and black always look good together. Add the style points from 100% natural wood and you've got a great story resting on your wrist.
One of a kind is right up my alley…and anything wood is just that! Nature is beautiful because it's nature so why try to design something beautiful when we can just step outside for inspiration and then integrate it into everyday products. Great idea and great designs. Visit their Kickstarter page to see more than just the model that I have. Everything is made with quality materials as well. The quartz movement is Japanese, which means durability and reliability. The 3ATM water resistance is enough to keep the rain out from underneath the sapphire crystal glass.
Options
Bosk is offering 4 models to give you some decent style options. Let me go over them:
4 watch models ($89)
• The Bennett (gold case, tan leather strap, similarly
colored wood face)
• The Lowe (silver case, stainless steel bracelet,
maple colored wood face)
• The Tatum (pictures throughout this first look)
• The Wright (silver case, navy and red two piece nylon strap, brown wood face)
*Since I did not take the photos for these various options, I will point you to the a Kickstarter page for those photos (I don't want to take credit for what I didn't do!). The photos in this exclusive first look are of The Tatum model.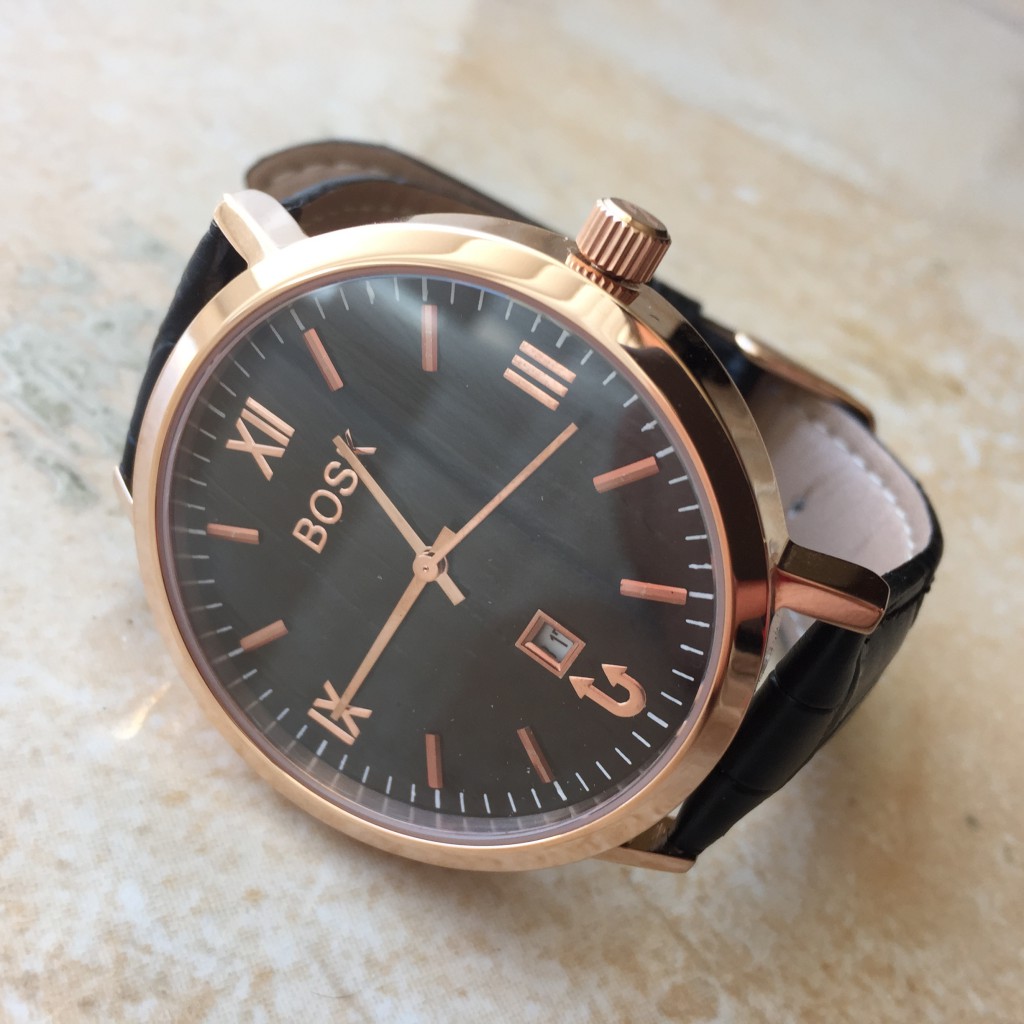 The Verdict
I always want to shoot myself in the foot when I hesitate from getting a great deal on a watch…and then don't. $89 is a great price for a wood watch that is mixing up the category in such a refreshing way.
Mark Wisdom Phillips – Contributing Writer
Mark largely collects practical watches, but never hesitates if he can snag a deal good enough to call it an economical decision. He loves taking photos of his collection and participating in the tight knit watch community on Instagram. You can see his photos and follow him here. He is highly opinionated and expects nothing but the best and at the cheapest price possible. In his eyes, a watch needs to have superb and bold design to be worthy of anybody's wrist. To him, organization creates valuable time and so you should expect it from him in his reviews. Wisdom is his middle name and he is here to share it with you. Read his articles here.