Not long ago, I covered one of Hartig's timepieces and I practically fancy about their unusual source of inspiration which is about ninja stuff. I loved ninja inspired movies as a kid and I think it never goes away because as an adult, I still love ninja stuff and its significance with my daily activities like trying to bring perfect equilibrium between work and life. In my opinion, Hartig tries to remind every likeminded individual with this practical philosophy through stunning timepieces that separate from the norm. I personally like this idea.
Yet again, Hartig releases a particular timepiece built on the foundation of a modern Japanese martial art. How they come up with the idea is quite obvious but being able to infuse such ideals in a timepiece is something else. You must be a loyal fun of zen to be able to come up with Kendo's poetry – a rugged mechanical masterpiece. If you are not aware, Kendo uses bamboo swords which is a far cry from the metal blades used by the Samurai. However, what really makes Kendo an interesting martial art is its core discipline primarily based on "the way of the sword."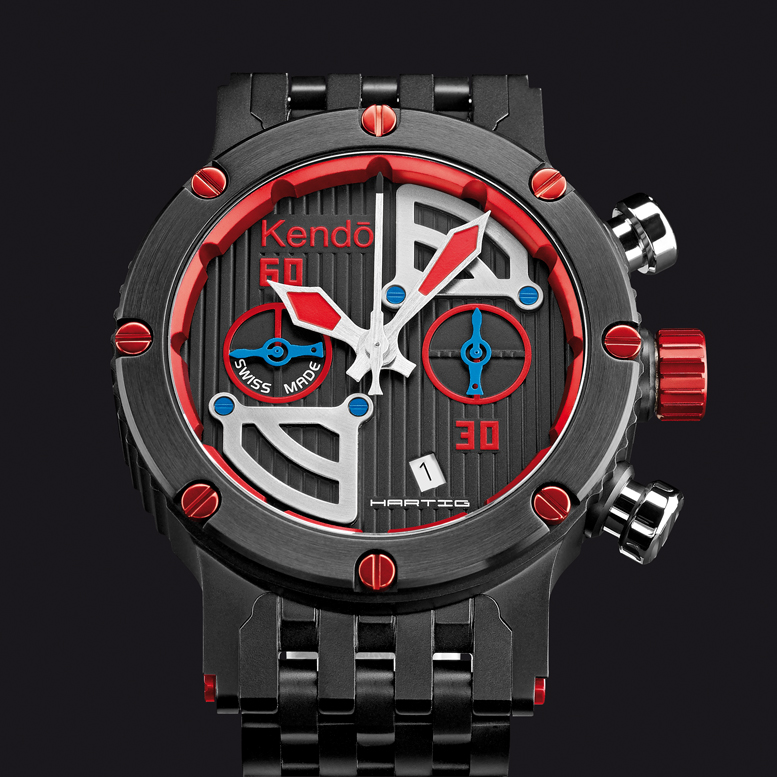 Well, so much for history, let's go and check what's really in store for us with the Kendo timepiece which by the way comes in three models; ROT (red), GELB (yellow) and BLAU (blue). The signature rugged Hartig design is clearly evident and so far, I've only seen obvious changes in colors. For a distinct model, I will expect some fundamental changes in the dial or case but with Kendo, everything is the same sans the colors.
If you squint hard enough to look for the bamboo inspiration, you'll figure out that the the crown and the two pushers in the Kendo resemble a protruding weapon. Other than that, you'll be surprised that Kendo is just a name for the timepiece; well, aren't they all. Hartig certainly knows how to make a fancy watch and although I may not really see the inspiration with the Kendo, it still stands out as a unique "ninja" timepiece.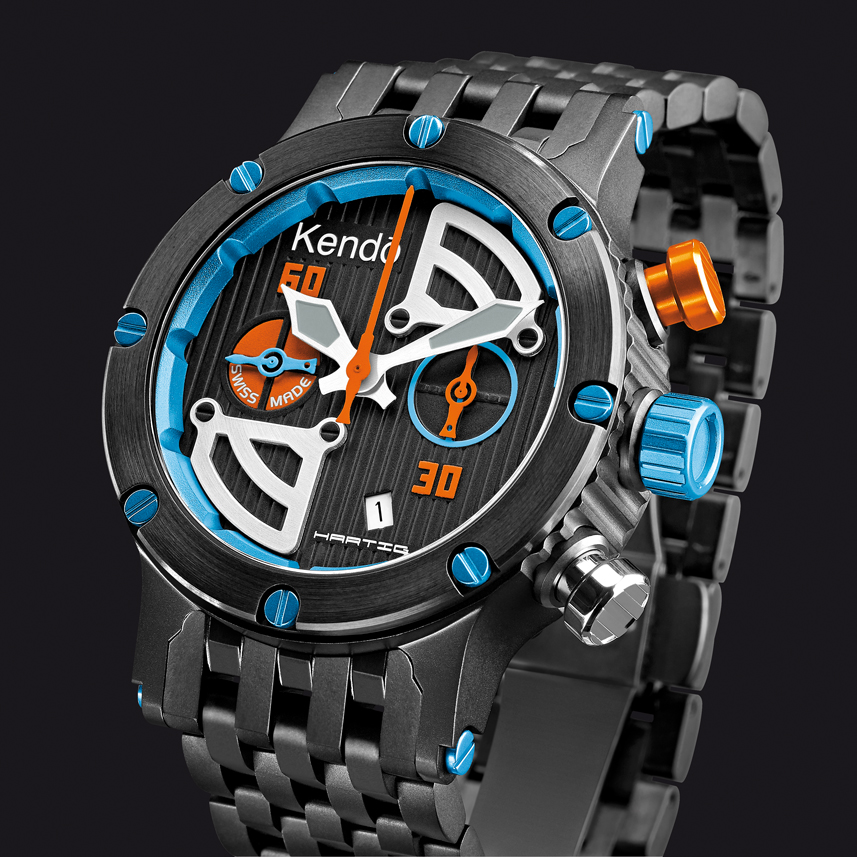 Everything in the Kendo is radical, like the bold lines and the extra large mechanical protrusions populating the dial and the 2 sub-dials at 9 and 3 o'clock positions. The date is unusually placed at the 5 o'clock position but is actually the best position because of the radical changes in Hartig's designs.
The case is 44mm in size and made of black ion-plated 316L stainless steel. Certainly, it is made to look rugged and made more masculine by the screwed bezel and the robot-like lugs. The timepiece is using a scratch-proof sapphire crystal to cover both the front and the exhibition caseback.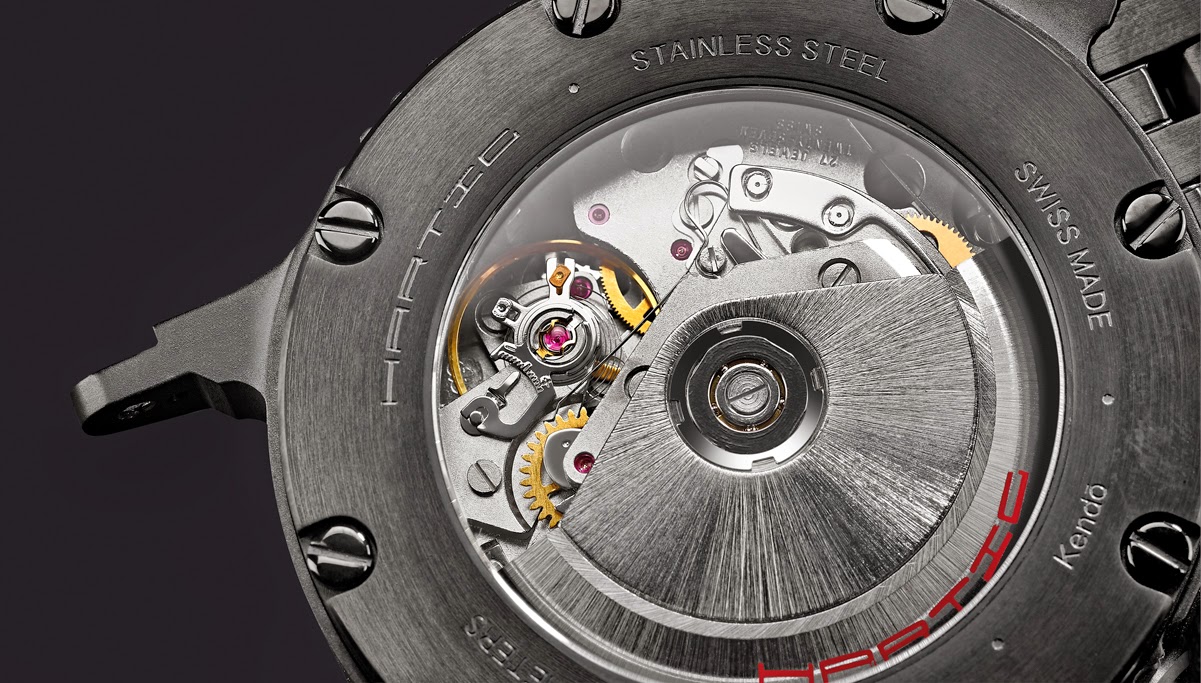 Power is provided by a swiss made ETA 7753 automatic movement with chronograph features and is capable of lasting up to 42 hours. The Kendo is also 100m water resistant and made even more rugged with IP coated stainess steel bracelet but on formal occasions you may want to wear the genuine black leather strap with buckle instead. The price starts at 4950 Euros at least. For more info, please visit hartig-timepieces.de
Jovan Krstevski – Founder, Proprietor & Executive Editor
Watch collector, aficionado and an Event profile in the Swedish nightlife. He launched Watchgeek back in 2011, which is now known as WristReview and is one of the most widely read watch blogs on the Web. He quotes 'WristReview is a site to help people find, explore, discover and enjoy wristwatches.'  His passion jump started in his early teens, when he was given his first mid-range wristwatch which was an Omega Seamaster. Since then he has always been in love with wristwatches! Besides WristReview, he also writes for a number of publications. Read his articles here.