First things first, Andersmann watches actually are Swiss Made so it is nice having them in your collections. The main selling point of Andersmann as I emphasized it before is their quality and price point. We are all looking for the best value for our money and fortunately Andersmann has an answer to that. For CHF 2480 you get a serious divers watch with 3000m water resistance. You also get free shipping and extra straps of leather and rubber material. Plus it is pretty much standard these days to be able to transact with Paypal so yeah with Andersmann, you practically win the deal.
The new Deep Ocean ANN0982 comes in DLC Matte Black Titanium which is the same high grade 5 titanium we covered before but this time in a stylistic DLC Matte. This solid titanium may not be new but I do like the DLC effect, it is simply cool to look at and very serious. The 47 mm case looks rough thanks to the DLC but being a divers watch, it all means real business. Viewing the case on its side is like looking at a militarized object, it is quite clean to look at thanks to its bezel in ceramic and titanium featuring an anti- clockwise unidirectional rotation with 120 clicks. Its grooved texture would certainly feel comfy at hand when you are making adjustments. The screw in solid titanium case back also adds tough divers attitude to the watch.
Going to the dial, we can see the same grained finish except this time it comes with luminous Arabic numerals and hour markers. If visibility is your priority, this combination of time elements is simply superb. The design is neat and pretty much allows you to record time with ease in all diving or dry land conditions. The double curved sapphire that is 4.5 mm thick with anti-reflective coating also adds unique attitude to the watch which is very useful underwater. I know that most of the times curved displays easily interact with any surroundings due to its protrusion but being high quality sapphire, it is pretty much impervious to any scratches.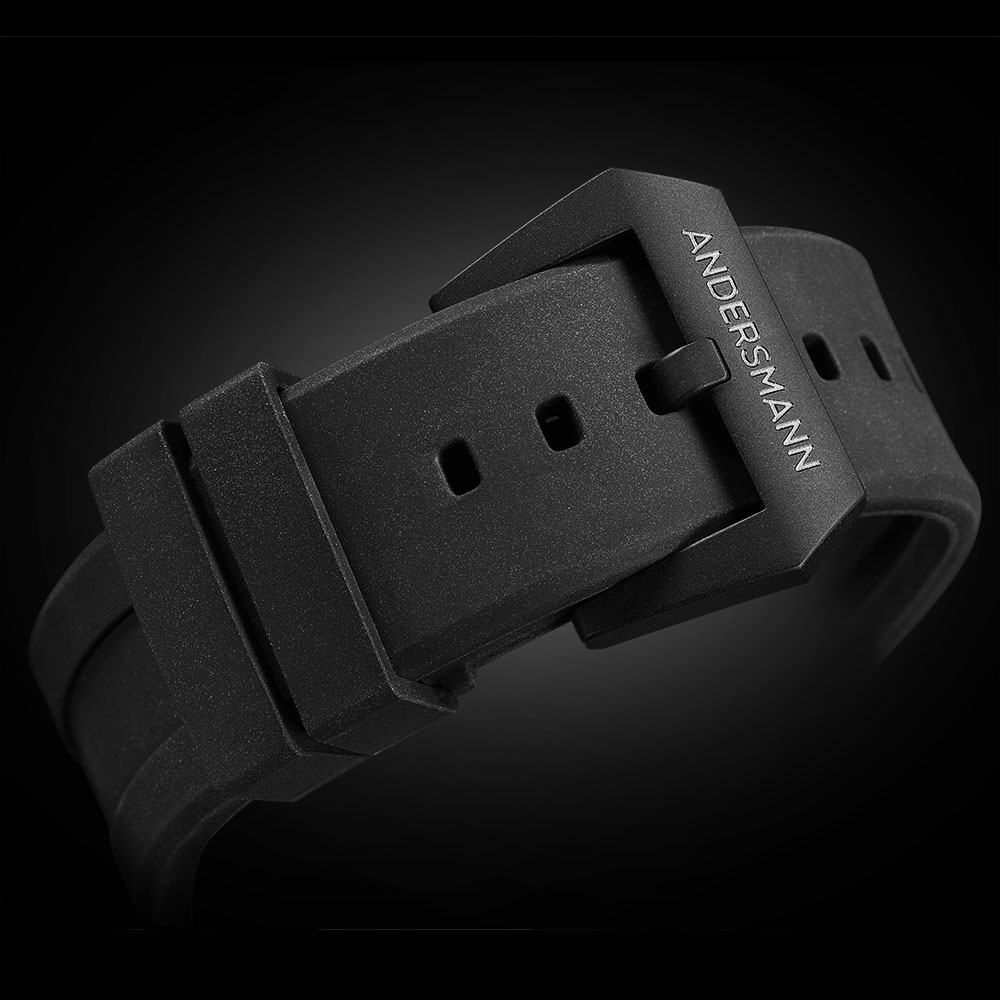 Now going to the movement we see the same Swiss automatic movement ETA 2892-A2 sporting a good 42 hours of power reserve. This is okay but we really could use some more considering its basic functions but oh well this is a divers watch and considering the extreme conditions it is subject to, it does quite a perfect job. For pro diving, this movement pretty much hits all the good points, being super reliable and of course durable.
I have mentioned in the first paragraphs the value of the watch which is really amazing. Wearing the new Andersmann Deep Ocean ANN0982 in personalized rubber strap or matte titanium simply adds new meaning to being cool in divers watch universe. We know this combo exists already but the Andersmann touch is unique and very unassuming in short you get what you pay for or the two strap options for the price of one. The new watch has a limited production of 100 pieces so grab yours now by visiting andersmann.com