The Breitling Top Time was a chronograph model introduced in the 1960s and, last year, remade for the 2020 model year. Deus Ex Machina is an Australian lifestyle brand founded in 2006 (it's also a plot device in a story that abruptly solves the problem, but that's something to talk about in your English Literature dissertation). Unlike its competition, Breitling has been relatively quiet in 2021 so far. In fact, this special edition which marries the Top Time design with Deus Ex Machina's flair, is their first major release of the year.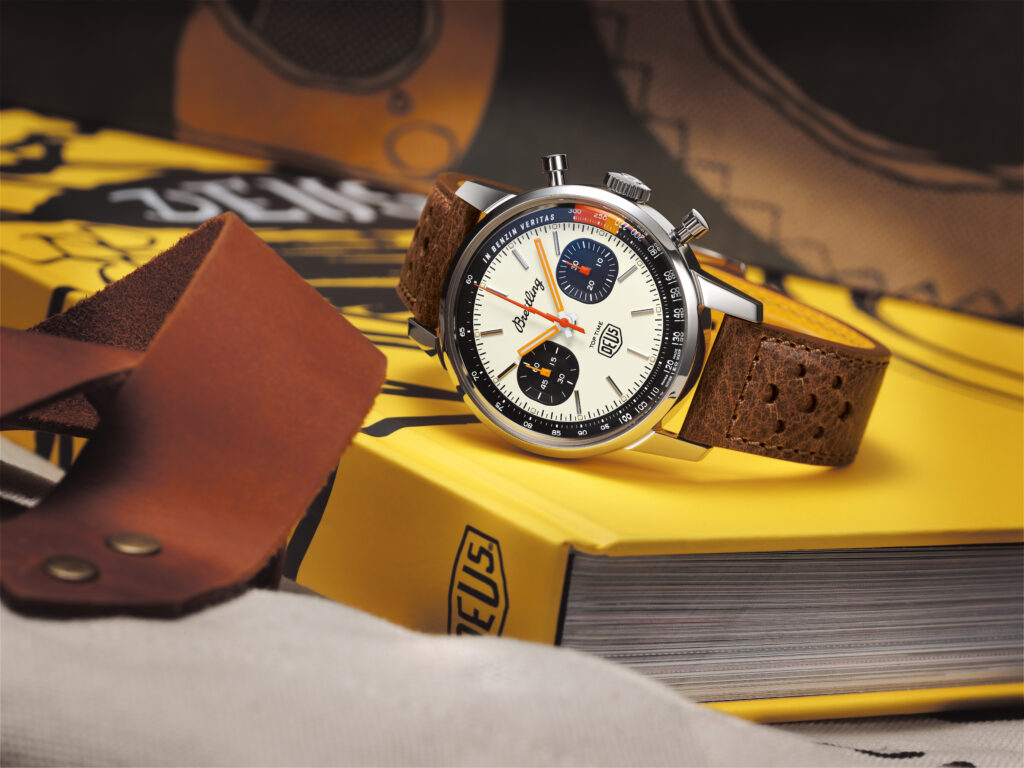 This watch has some serious vintage vibes going on in its design. The dial is the most prominent in that regard, so let's start there. You get a vintage-inspired cursive logo instead of the usual Breitling 'B' seen on the normal range. That's been coupled with long and thin stick markers and narrow hands that appear to have some lume on them. The watch has two black subdials with rounded corners to make a soft square shape reminiscent of 60s and 70s designs.
I like that the orange hands for these subdials have a squared base around the pinion they sit on; that's a neat little touch. Below the centre of the dial are the words 'Top Time' and the Deus logo underneath. Surrounding the beige-coloured dial is a contrasting black tachymeter bezel with the words "In Benzin Veritas" written on it. This translates to "In petrol (gasoline) Truth". Given that Deus Ex Machina is Australia's answer to Barber International and both duke it out on the biker scene, I think that's a nice touch.
The steel case also has some vintage inspiration going on, albeit less so than the dial. Long and narrow lugs connect the brown perforated leather strap to the watch, while the thin chronograph pushers stand tall and surround the flat but wide crown. The case measures 41mm in diameter and is water-resistant to 30m. Inside it is the calibre 23, which is based on a Valjoux 7750 ebauche. That gives it a 48-hour power reserve and a 4Hz beat rate.
I like the 60s touches going on here, bringing in some of that vintage motorcycle appeal that so many people love today. The open road and a powerful motorbike are excellent bedfellows, so I can imagine this 1500-piece limited edition will fit right in with a leather jacket. It's priced at $4990.
Visit Breitling here.