The Casio G-Shock range of watches appeared in 1983. The G-Shock aimed to have a battery of at least ten years, water resistance of ten bar (100m) and can survive a drop of ten meters. Since then, Casio has sold over one hundred million watches worldwide. One of the most popular models in their current lineup is the so-called "CasiOak", which is known for its resemblance to Audemars Piguet's Royal Oak.
The new GMB2100 is the first model of this lineup that's made of all stainless steel. Previous models have been made of the usual resins used on G-Shock watches, and there are other models made from stainless steel, so it makes sense that this watch came next. The octagonal bezel with a brushed surface looks smart on this watch and blends well with the stainless steel case. 
The measurements for the new watches are 49.8mm x12.8mm, whereas the original G-Shock's water resistance goal was 100m, this one doubles down with a 200m water resistance. The stainless steel case perhaps won't shake off potential scratches quite like a polymer-cased G-Shock, but it's still going to be durable. The "Tough Solar" digital movement is shock protected. Also, should the watch's hands be jolted out of place the watch can calculate where the hands need to be, activate the stepper motors and re-adjust the hands.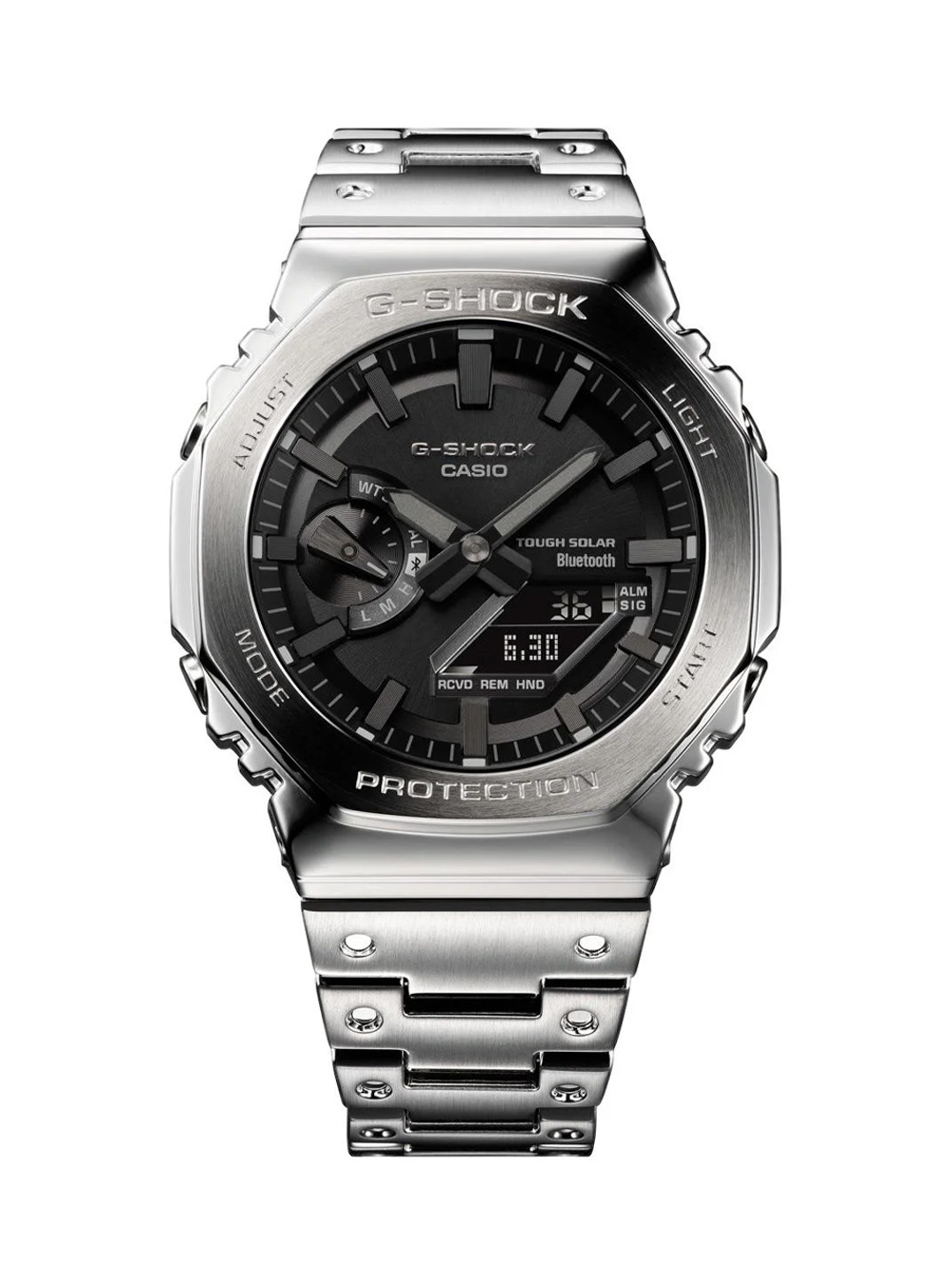 As indicated by the name "tough solar", the watch uses solar power and a rechargeable battery to keep itself going rather than a standard battery or an automatic mechanical movement. The digital movement inside the new G-Shock can run for up to two years in total darkness. Casio says you can expect days of battery power from only a few minutes of exposure, whether natural or artificial light.
The functions of the watch include the time (obviously), date, world time across 38 timezones, stopwatch, timer, five daily alarms, battery level indication and Bluetooth connectivity (though some say Casio's app doesn't recognise that many models, we haven't checked to see if this is one of those).
If you don't fancy silver stainless steel, then both black and gold-tone options are available too, although classic silver is our preference. The price is $550 for the silver model and $600 for the coloured versions, which are on sale now.