Christopher Ward prides themselves on offering affordable and stylish watches, and the C5 Malvern 595 is an exceptionally slim, manually wound watch with minimalist charm.
Over the past two years, Christopher Ward has updated nearly all of their watches to accommodate a cleaner, more modern design that matches their new(ish) logo. The C5 Malvern 595 is one of two hand-wound watches currently available in the Malvern collection and it is by far the thinnest at only 5.95mm (Okay, it finally just clicked that's why this watch is called the 595…). I've never had any major need for a thin watch as I've found that even larger sports watches fit under a shirt cuff with ease, but there will be some watch fans out there that demand the thinnest possible profile from their favorite timepieces. Brands like Piaget have gone to great lengths to minimize the space between every conceivable element of a movement and whilst the C5 Malvern is no Piaget in thickness, it gets damn close for a watch costing under $1000.
The already thin case is aided by slightly downturned lugs which help the watch hug the wrist. It's clear that Christopher Ward's main focus when designing the C5 was minimizing the case height as the actual design of the case is a tad bland. It's never ugly, but it's rather humdrum in its simplicity, but perhaps this is to be expected of a watch with a height of just 5.95mm as I could levy the same criticisms of case design at many a Piaget so perhaps it comes with the territory.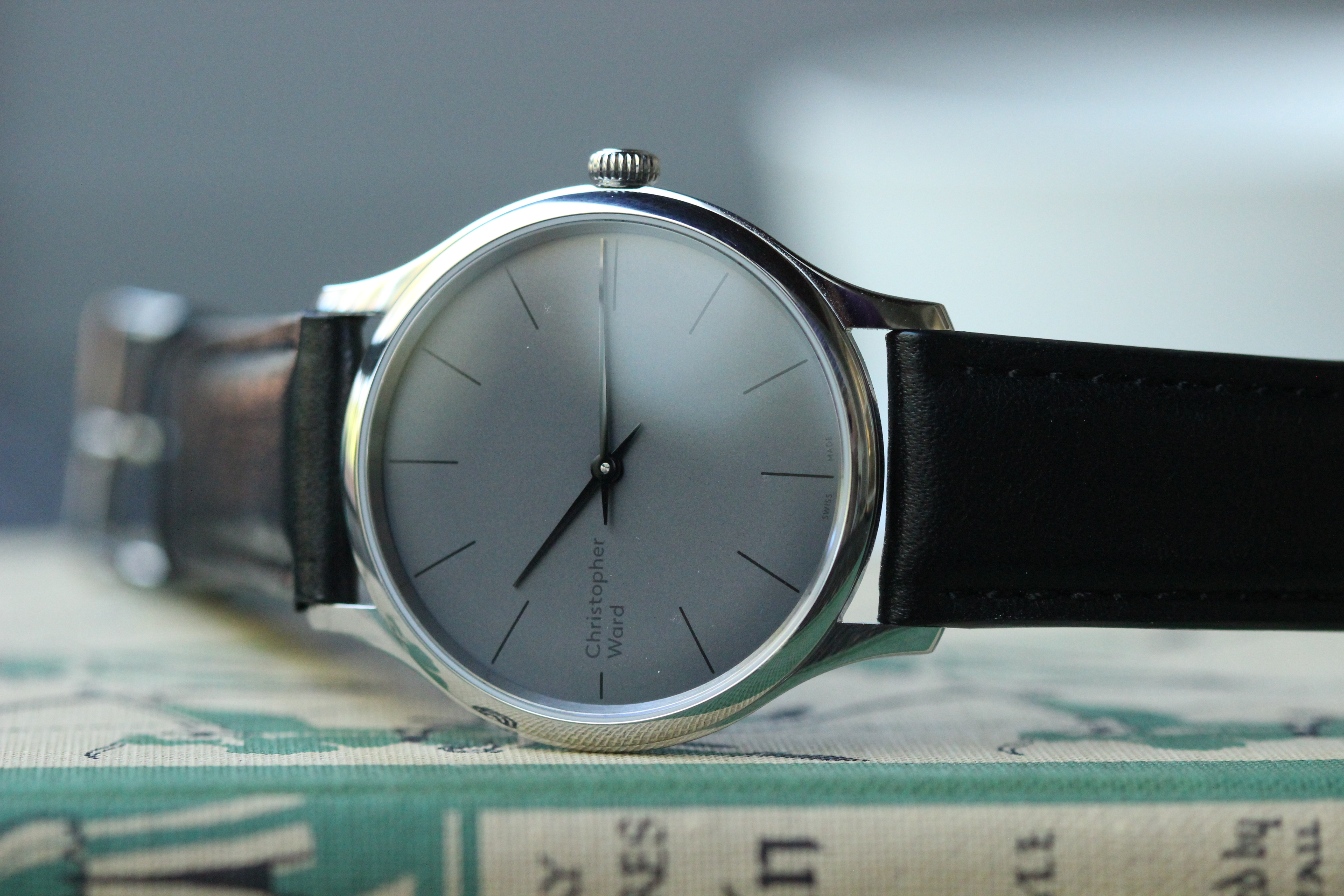 The dial of a C5 is as minimalist as you could possibly get; two hands and 12-hour markers. There are two dial options available, a white and a dark grey, and both have black hands and printed dial text and markers. I'll be honest and say that I chose the dark grey solely for the reason that I wasn't sure if I'd like it or not, and after almost 3 weeks with the C5, I'm still not sure. With the black calf strap, black text, black markers, black hands and dark grey dial, it's very monochromatic and sometimes a tad difficult to read in natural light.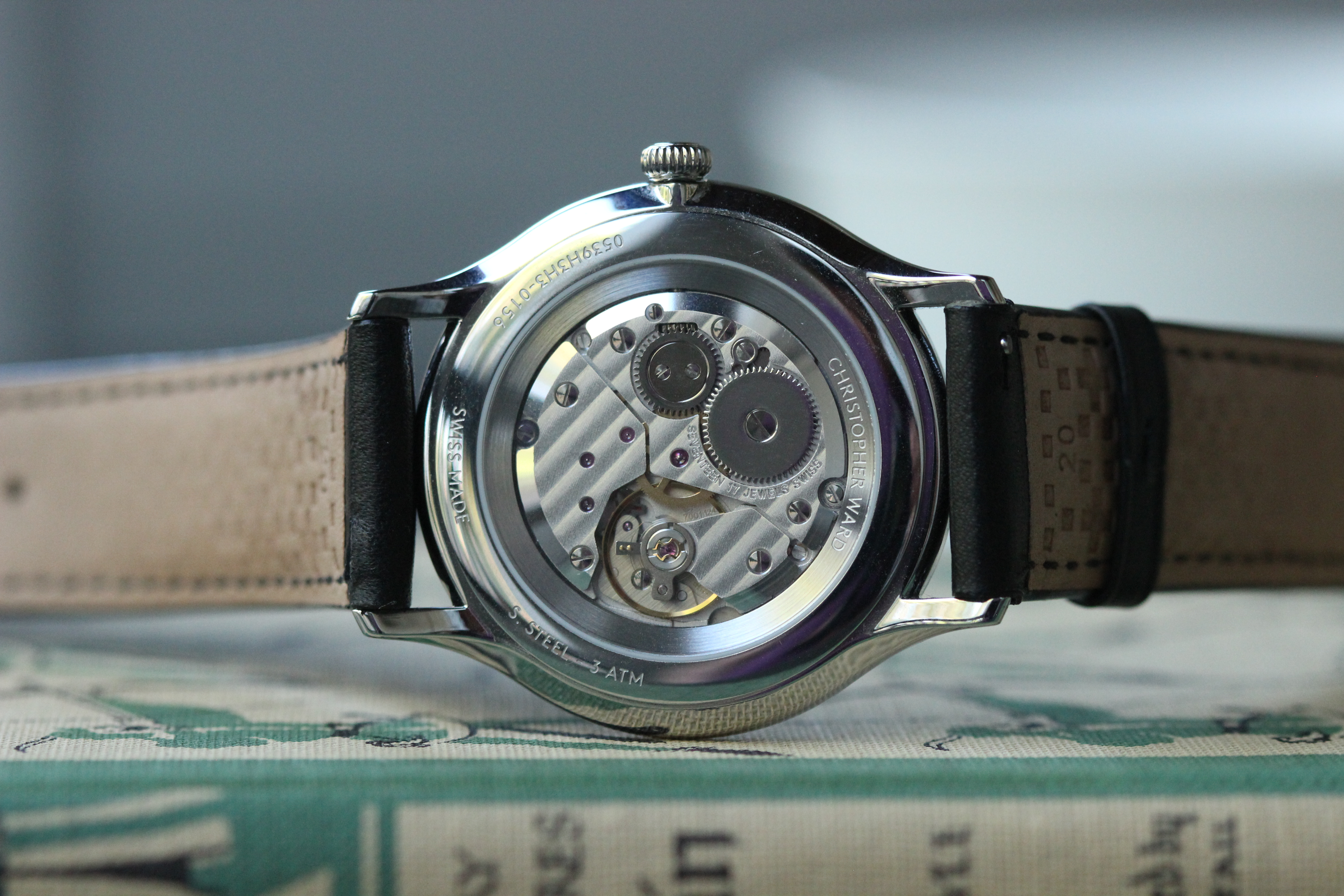 Inside the Christopher Ward C5 is the classic manually wound caliber, the Peseux-ETA 7001. Approaching its mid-forties, the 7001 is one of the most versatile and established manually wound movements that has powered watches across all price points. The 7001 has been inside Omegas, Junghans, Mont Blanc and now it's found its way into a Christopher Ward and part of why the 7001 has been so popular is its capacity to be customized; in particular, the three largest bridges which are a perfect canvas for creative finishing. Christopher Ward has decided to use the tried and true Cotes de Geneve and whilst it may be lackluster compared to the finishing on the S1 I reviewed last year, it's perfectly serviceable for an under $1000 watch. The watch has a power reserve of around 40 hours and whilst I would usually say that it too low for a modern watch, I'm happy to accept some concessions in a watch this thin.
Whilst the Christopher Ward sometimes fails to excite, it's worth remembering just how affordable this watch is. For under $1000, you are getting a heritage movement, an exceptionally thin case and a modern, minimalist design. If those are characteristics of a watch you are looking for, then perhaps the C5 Malvern 595 is for you. For more info, visit Christopher Ward online.