So for the world travelers out there, here is another worldtimer watch in the form of Christopher Ward C8 UTC Worldtimer Watch. If you are using a worldtimer watch right now, you might hold on to that since the timepiece that we are talking about is quite different in some ways. It does time all timezones though but unlike the popular IWC Big Pilot Worldtimer that shows 24 timezones or more, the Christopher Ward C8 UTC Worldtimer Watch displays two timezones (standard UTC timezone) only but offers a seamless changing of the second timezone. I like this watch, not just for its design, but come on do you really get to more than two places at once? The point being the ease of changing the second timezone is a very nice interactive part of the watch.
Being based on the Christopher Ward C8 Flyer, the C8 UTC Worldtimer sports a pilot-style twin-crown sports watch with a world time bezel and an aviation-inspired dial design. The twin-crown design is very sporty and appears a bit rough thanks to its diagonal threaded design like a miniature turbine. There's no doubt that this watch is meant to fly across continents perfect for both business and casual travelers. However, the real plus to it is that it offers a Swiss engineered UTC based multiple timezones watch at an accessible price point.
Having mentioned the steel case that stands at 44mm wide, the brushed finish or black DLC looks are very much superb. I like all of its iterations and seldom I will say this about an overall case design. It's not so big yet not so small either. With the sapphire crystal, you can worry less about scratching it.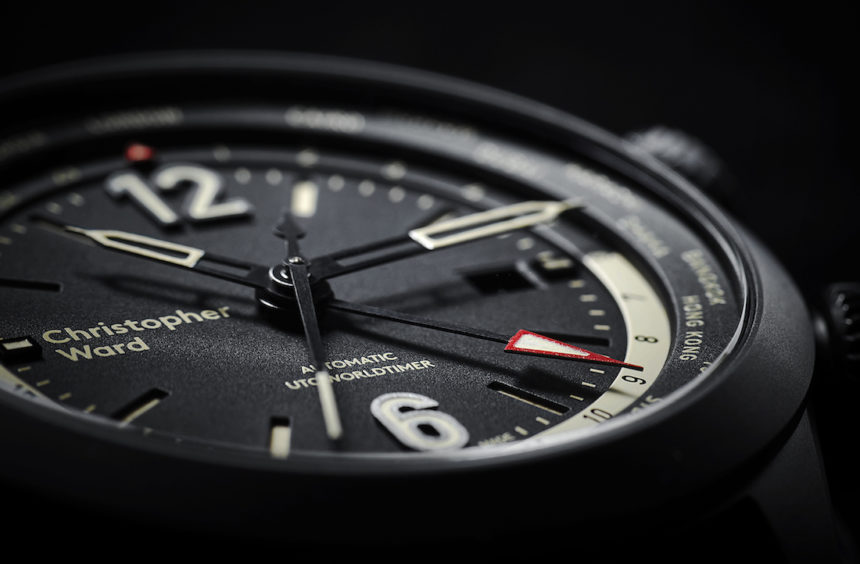 As for the dial that comes in black/white for the brushed steel version and black/tan for the DLC Christopher Ward C8 UTC Worldtimer, its design is just perfect. It features luminous two layer design with the help of stencil markers, very cool really. Plus I really like the gunmetal finish. Also, the matte textured black finish looks great in all lighting conditions since it avoids glare effectively. The long red arrowhead design of the GMT hand also invokes timeliness as it points to the second timezone.
The Christopher Ward C8 UTC Worldtimer uses ETA 2893–2 sporting an independently adjustable 24 hour hand. Changing timezones is easy since the mechanism is simple – the UTC hand is set to your desired UTC time while the second crown is rotated to the city dial to show the desired timezone at 12 o'clock. Using the 24-hour scale and the UTC hand, you can now read time. The movement also sports date function and lasts for 42 hours. This movement is also very reliable and user-friendly adding more market appeal to the Christopher Ward C8 UTC Worldtimer.
When it comes to the price point, the DLC version starts at US$1,420 while the steel one retails for US$1,350 pre-orders. They all come in various leather strap that you can mix and match to suit your taste. For more info, please visit christopherward.co.uk