That's right! This time, we're looking at the most affordable of diving watches from a reputable company that has a long heritage, so this begs the question, are the owners/collectors of these fine pieces seriously missing out by not buying a Rolex or an Omega? We're about to take two cracking pieces and find out.
Oris watches was founded in Basel-Country in a town called Hölstein in the very north of Switzerland and is well known for the fact that almost all of its watches are mechanical (although there are some Oris watches from the 80s which are Quartz powered), a point it proudly makes in all high street jeweller's windows I've seen with their oscillating rotor display to draw the eyes of customers looking for a well-priced watch.
Oris brings us another well-made watch with the Aquis Date. I can't beat about the bush here with this one, it's very simple, even ruggedly so. Oris makes no nonsense watches and they have done for a very long time. Although they do make chronograph watches such as the Williams and the Audi Sport they also make more complex watches including calendar pieces such as the Artelier Complication 2014. When it comes to their scuba diving focused watches however they really are brutally simple and the Aquis Date is the epitome of that fact.
It's chunky, at 43mm in diameter with a thick black bezel, this particular version of the Aquis Date also has a chunky black rubber strap to compliment the looks of any Scuba diving rig. Being a diving watch means the watch has to be readable first and all other considerations are secondary, even the depth rating which we'll come onto in a minute. Unlike most other diving watches which have Superluminova on them, this watch features orange lume on the hour markers, hands and the diving bezel. Watches of a diving nature are usually blue or green, but seeing that a lot of watches now come with lume that has had a patina colourant added, why not make all sorts of colours if not for fun? Well, fun is one-half, red and subsequently orange light has the longest wavelength of all the colours, meaning that it's the most visible in dire conditions, it's the reason brake and fog lights on motor vehicles are red coloured.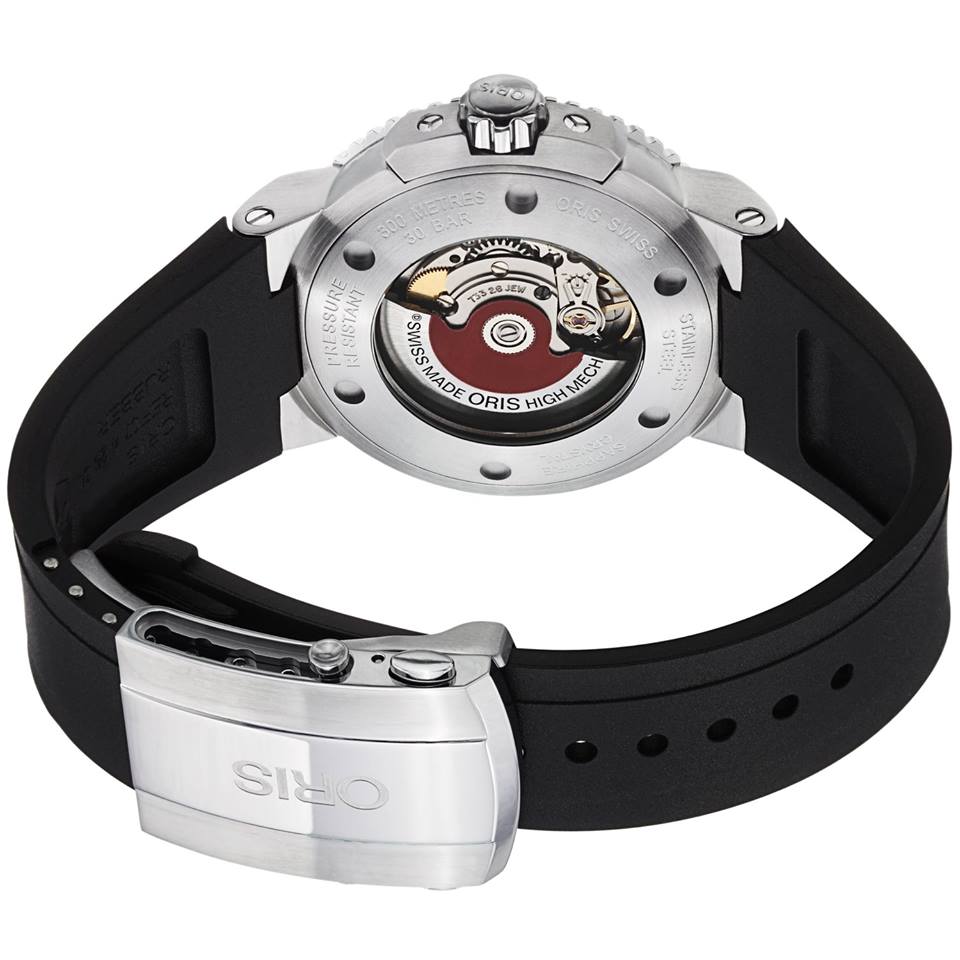 The case is rated to 300m down and is made of thick stainless steel. It's protecting an Oris 733 movement which is based on a Sellita SW 200-1 automatic winding movement. It's a very well proven and accurate movement with a power reserve of a little under 40 hours, meaning it's okay for running on it's own, but that is the lower limit these days. The movement also features stop seconds and a date correction feature making this a real bargain buy, but then again, so's the Longines.
Longines is a company with a truly illustrious history when it comes to its products. At one stage a Longines watch was THE watch to have, forget the still relatively new Rolex company or all of those other companies that were very pricey, a Longines watch was (and still is) a professional tool adhering to the highest standards in the industry. That's where the inspiration for this watch comes in.
Longines took a completely different style of diving watch as inspiration for their Heritage Diver watch, a piece which I know from first hand is seriously appreciated by fans of diving watches including collectors of Royal Oak Offshore watches among others. Here's how to understand a diving bezel and how this Longines differs completely from the normal setup.
Your standard diving watch setup as seen on the Rolex Submariner, Omega Seamster (except for the Aqua Terra), Blancpain Fifty Fathoms and many others includes an external diving bezel. A diving bezel on a wristwatch is a sign that the watch is a professional tool piece that will withstand long periods of exposure to high pressure that you might experience as low as 20m down. The bezel can be used as a method of timing how long a dive is or how long left you have underwater. Depending on the breathing apparatus a normal scuba dive to, say, 30m down might leave you with about 20 minutes of time on the seabed with the rest of the time being used for controlled descent and ascent (believe me, it's a very serious procedure when it comes to ascending from depth). The bezel adjusts in one direction on modern diving watches, it adjusts the "safe" way i.e. anticlockwise so as to ensure the bezel isn't knocked forwards and risk loss of life because the diver didn't notice. Some external diving bezels have extra systems to keep the bezel locked, such as the Omega Seamster Ploprof which has an extravagant locking system.
The Longines Heritage Diver makes use of an internal diving bezel. This means that the bezel is adjusted by a secondary crown on the case, once the crown is locked the bezel cannot be moved, therefore reducing the risk of accidental adjustment. This allows for peace of mind and a classical sports watch as there isn't a chunky bezel, but rather a large crown which is easier to hide.
This model on a rubber strap still would be pretty hard to conceal, partly of course to the black rubber sports strap it's equipped with, but also thanks to the very complex dial. A classic dress watch uses a minimalist approach to everything except movement decoration, a diver can't make much use of a watch which gives no information other than the current time. The Longines dial includes a date window and hands and markers of Superluminova.
Like the 733 calibre in the Oris, the L633 movement in this watch uses automatic winding and has a power reserve of 38 hours and is based on an ETA made movement. That's fine for us, it does the job well and is plenty accurate for a diver who is most likely going to use their watch simply for aesthetics and wearer pride as computers have taken over now. The Longines is cased in a 42mm stainless steel case to bring a vintage classic into the modern era.
The time has now come to make a verdict, this one's a close one as well. Sometimes we see watches that just deserve to be the winner because of a design feature or a complication of some kind. In this instance we have two very interesting watches that make use of different looks entirely, one being a modern diving style watch while the other a vintage piece that's been brought up to date.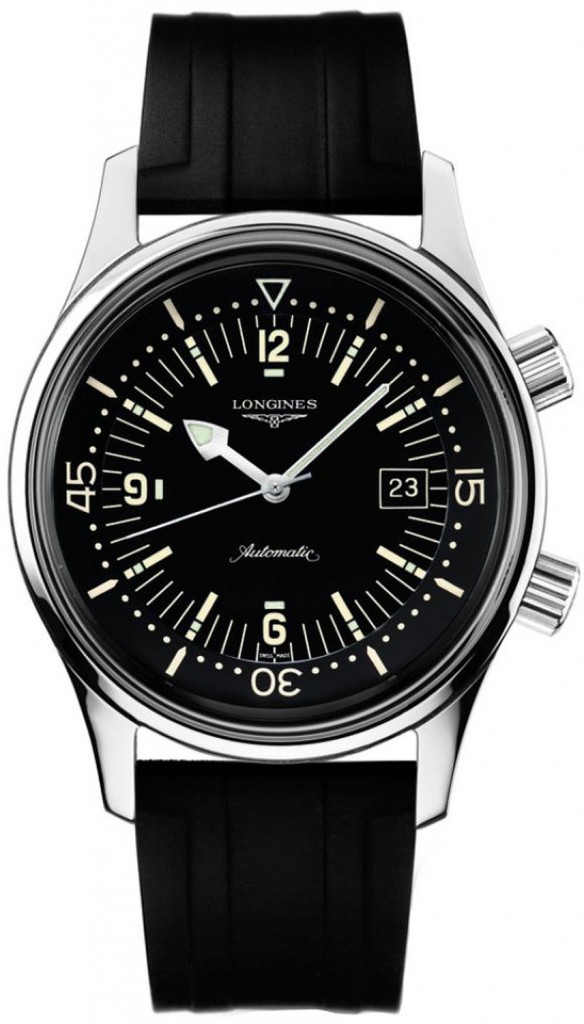 The winner of this month's Clash of the Divers is going to be the Longines Heritage Diver watch, simply for its real world application. With the Heritage Diver, you get a full-on sports piece that doesn't advertise your masculinity to people in the next galaxy over. The watch can be transferred to a leather strap to make a very handsome dress watch indeed, or you could leave it as it is and relive some glory days in the sun with a piece that's as seaworthy as any experienced sailor.
For more info, please visit oris.ch & longines.com
Thank you for reading this entry into the Clash of the Divers series on WristReview, stay tuned as we have many more watches lined up to compete!
HARLAN CHAPMAN-GREEN – CONTRIBUTING EDITOR
A keen bass guitar player, Harlan enjoys all the perks modern watchmaking technologies the industry has to offer. Although you might catch him sampling Omegas or the "odd" Rolex, Harlan loves all things Haute Horology, with his three favourite brands being Breguet, A.Lange & Söhne and Vacheron Constantin. He hopes to study timekeeping more in depth someday and will never be able to thank his father enough for introducing him to the industry. You can follow him on Instagram Read his articles here