A great big massive welcome to one and all as WristReview now begins its third comparison series, where we pit two completely different watches against each other every month in order to find you our top-rated watches. Every watch we review here is a winner in its own way, but there can only be one per edition and choosing the winner often comes down to the tiniest of details that really wouldn't make a difference in every day wear.
In the first series, we looked at watches which specifically featured chronographs in them and we certainly weren't restrictive when it came to the overall complexity of the chronographs, for example, in week five we featured an exquisite flyback chronograph watch which also featured a complete calendar as well! You can see the full list of Clash of the Chronos by clicking here to go to the results table (a link to the archive is conveniently located at the top of this page).
After this came The Tourbillon Trials. In this series, the sequel to Clash of the Chronos, we took 12 of the best tourbillon watches we could find and pitted them against each other in the ultimate complicated showdown. My favourite article to write was the last one where we looked at a Jaeger Le-Coultre Sphérotourbillon moon watch and the Breguet Classique Complications Double Tourbillon watch. As with Clash of the Chronos, a link to the archive for The Tourbillon Trials can be found at the top of the page, or you could click here to go straight to the results table.
For this new series, we let our audience decide what they want us to compare next. We had a poll at the end of the final article where our readers could choose between calendar watches, minute repeater watches and diving watches. The results of our poll are pretty clear as our new series has the word 'Divers' in it.
What is a diving watch to us? Well, it's actually pretty simple. A diving watch is a professional tool designed to withstand very deep water pressures for extended periods of time. While we are very much aware that even 100 meters is a serious depth, for us that just isn't enough, we believe that the minimum should be 200m. This means that watches such as the Rolex DateJust cannot be classed as diving watches in our eyes, even though their ability to go from beach to the office comfortably is one of their biggest selling points. Another feature of any watch that wants to be considered a true diving watch is a unidirectional rotating bezel (we'll make an exception for Omega's 1930s Art Deco watch as it was the genesis for diving watches). This means that sports watches such as the Breguet Marine and Patek Philippe Nautilus will also not be able to qualify for this competition.
Apart from this we don't have many criteria for the watches and we are thrilled to see where this series will go so, without further ado, we'll begin our series with this, the classic sports watch showdown!
Note: The poll is now closed, however, we will have another one at the end of this series, so stick around until then!
The Rolex Submariner is THE iconic sports watch. Sure, Blancpain beat them to it by a year with the Fifty Fathoms, but almost every famous actor/actress, wealthy person, secret agent and watch aficionado has owned a Submariner at some point. Everyone knows what a Rolex Submariner looks like, and for some it's their grail.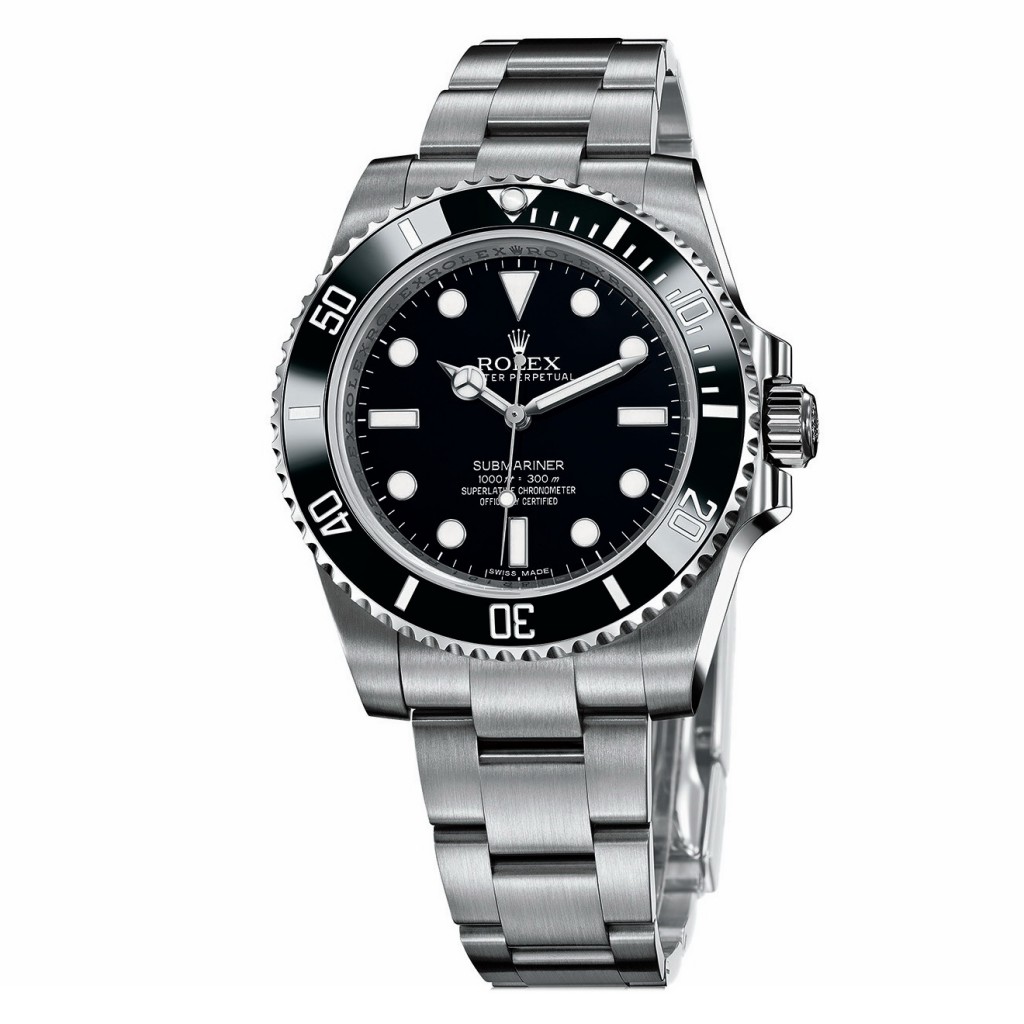 The current generation Submariner, reference 114060 (no date model), is no exception to Rolex's long-term commitment to providing perhaps the best watches in the business. Just like all the previous incarnations of the Submariner, the 114060 watch faithfully continues the Submariner lineup in just the same way, by being functional enough to be practical for a scuba diver, but un-decorated enough to be worn with a suit or tuxedo convincingly, a stunt that its larger brother, the DeepSea Sea Dweller, has trouble pulling off due to its enormous dimensions.
The only other watch that does this perfectly is the DateJust, but this is more focused on the office side of things whereas the Submariner is on the sporty/active side, but both can handle the other's tasks really well indeed.
Happily the standard Submariner is able to jump between the two with ease because the case is 40mm in diameter and the dial is relatively uncluttered. I say relatively simply because Rolex appears to have stamped War & Peace on the dial. This paragraph of writing actually contains some useful information regarding the watch, such as water resistance (300m) and the fact that this watch, like all of Rolex's current lineup, has been officially verified by COSC as a chronometer watch.
Reference 116619LB White gold
The Oyster case and bracelet on this watch have been made of 904L steel, which is surgical grade and, therefore, less prone to scratches and chemical damage than normal 316L steel. To keep the water out the Submariner is fitted with the patented Rolex Triplock system which is made up of ten individual elements which when brought together hermetically seal and are as tight as a submarine's hatch.

The reference 114060 Submariner is also fitted with an automatic 3130 workhorse movement (calibre 3135 for the date). This movement and the previous incarnations of it have been used in Rolex watches since the dawn of time, they are very robust and can often go for ten years or more of daily wearing without requiring a service, although Rolex still recommends you have your watch serviced every 5 years or so to keep it in peak condition. The movement also makes use of another Rolex invention, the parachrom blue hairspring, this spring system makes use of non-magnetic materials, which Rolex closely guards, to make it not only antimagnetic but also ten times as shock resistant as a normal spring which is made of ferrous metals.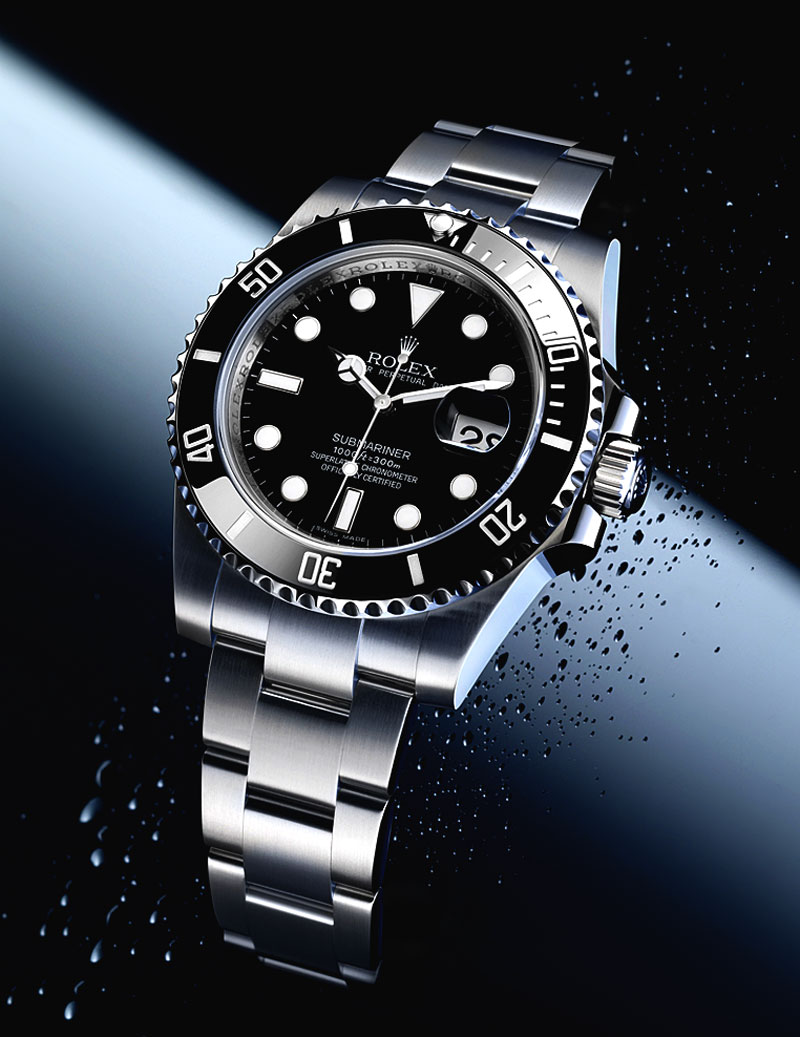 Reference 116610LN
The Submariner is the standard daily wear watch for most because of the robust build quality, high precision movement and, of course, the image, being seen wearing a Rolex Submariner means you're a classy person. Although features such as the Glidelock bracelet extension system mean that this class can come with you when you're visiting the depths. You can go further than 300m with this watch too, as water resistance is guaranteed for an extra 25% of the original depth.
Rolex doesn't make the only diving watch of choice for most. In 1957, Omega came up with the Seamaster as a response to Blancpain's Fifty Fathoms and the aforementioned Submariner. The Seamaster, Speedmaster and Constellation have been with Omega for a very long time now, but the Seamaster is perhaps the most up-to-date watch out of all three.
Pages: 1
2