The world of Horology is quite fascinating. While accurate time-keeping remains the ultimate goal, all brands are in pursuit of, it is quite intriguing to see how different their approaches can be to achieve the same objective. On one hand, you have the established players of the industry who are creating innovative products using modern and automated state of the art equipment. On the other hand, there are small independent brands that are sticking to traditional methods to offer a more personalized and soulful experience. Cramain is a brand that falls in the latter camp, and today, we are giving you a quick look at their first offering, the Mark II Constant Force. 
For those of you who are unaware, Cramain is a small indie brand that is the brainchild of Kilian Leschnik and Julian M. Stiels. Fueled by their passion for watchmaking, the duo started Cramain with a vision to create special watches that are handcrafted using long-established labor-intensive methods rarely used in modern times. The brand's first watch is the stunning Mark II Constant Force, which for the most part, is surprisingly a self-reliant effort. To put things into perspective, this watch comprises 267 components, out of which 235 are handmade. The list of components sourced from outside includes the rubies, the sapphire crystals, and the springs.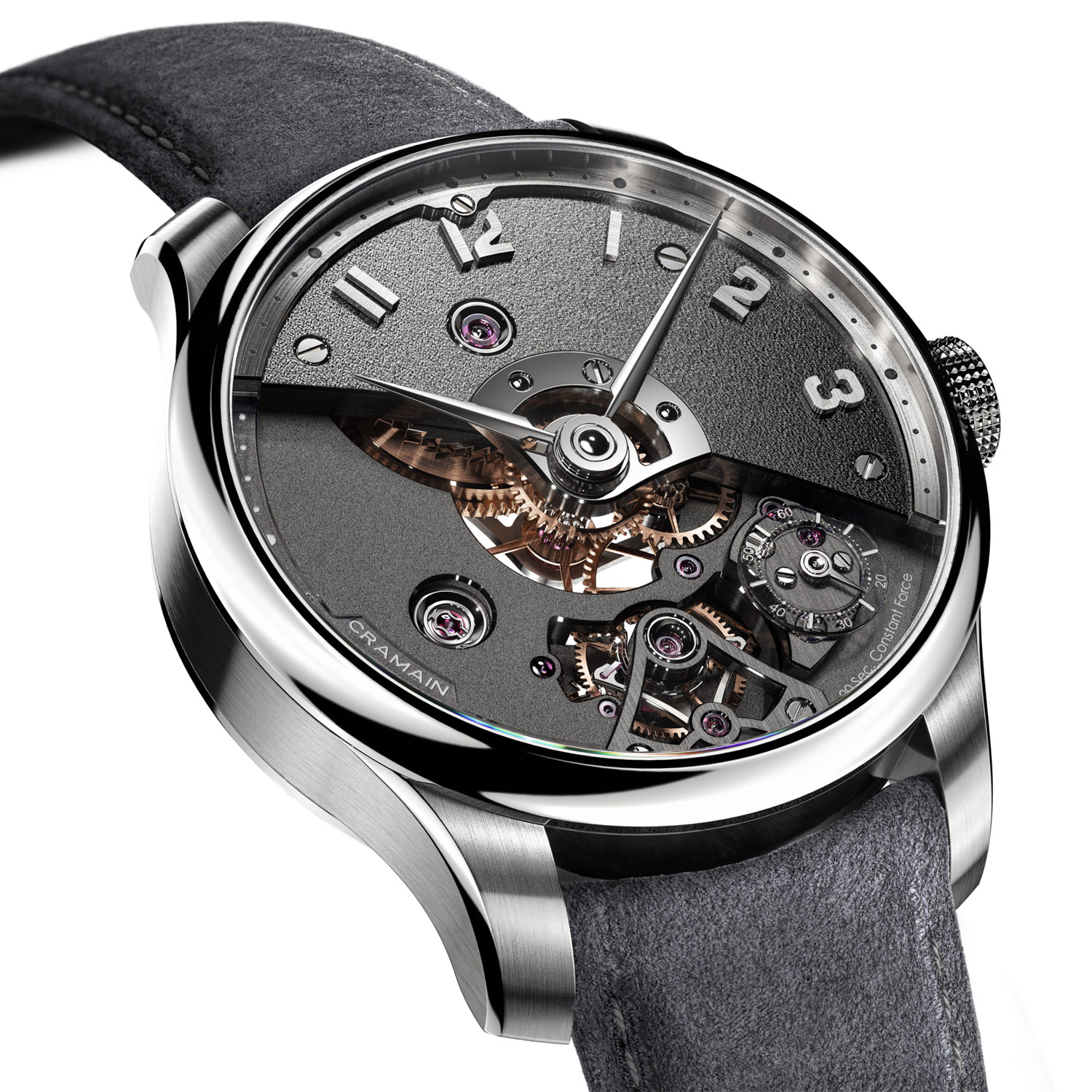 Keeping aside how it was put together, the Mark II Constant Force is a master creation that showcases Horology as a form of art. On the front, you have a skeletonized face that is refined in its execution and has an architectural vibe to it.  The upper half of the dial has been given a visually intriguing hand-hammered finish and features applied brushed Arabic numerals for hours, two visible screws, and engraved circular dots for minutes. Mounted at the center are exceptionally finished Lance shaped hands that are well-proportioned and give the watch an elegant flair. The lower half of the dial has been carved out to add a sense of depth and give way to a finely finished hand-wound movement which has been made using titanium, maillechort, gold, and sapphire.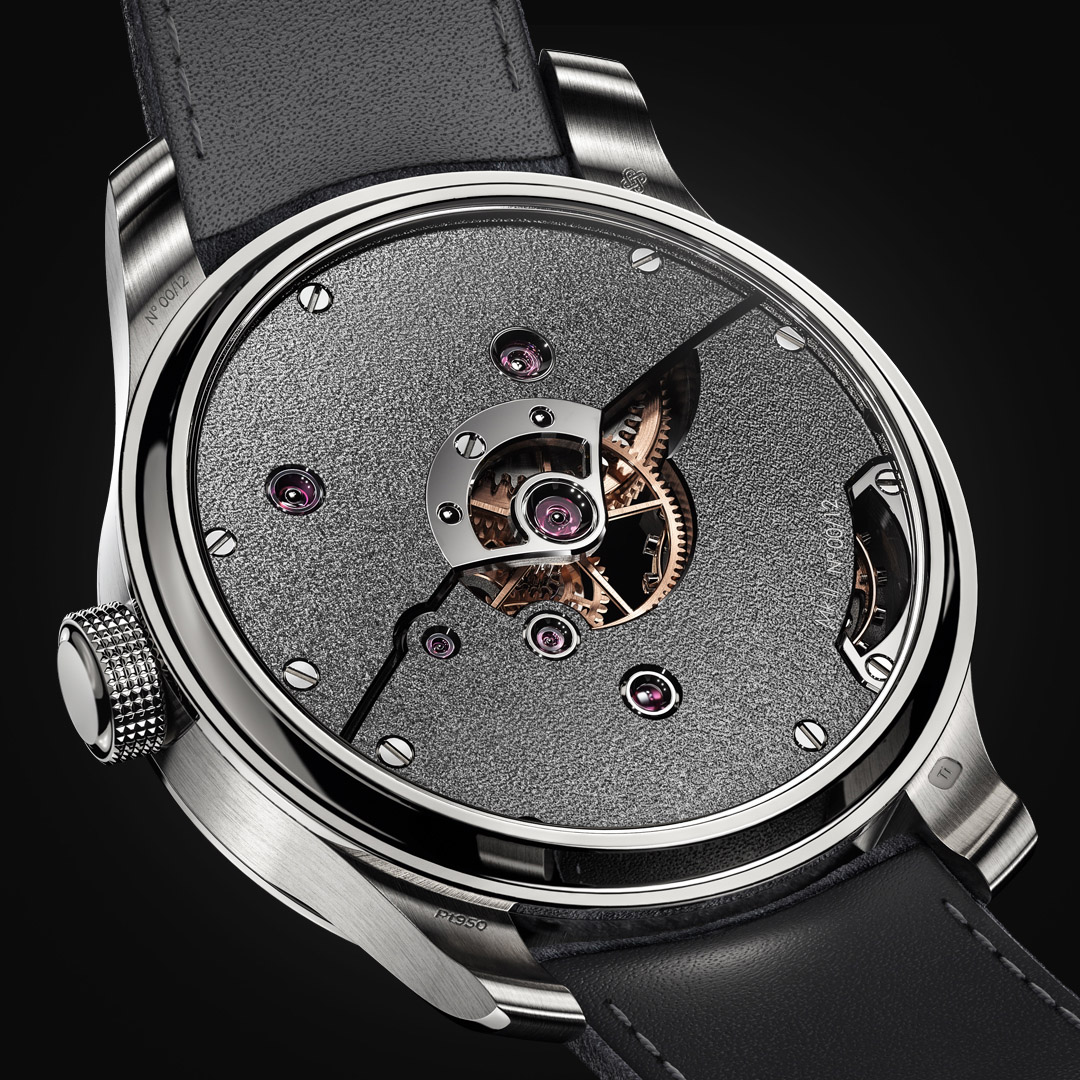 The movement operates at a frequency of 18000 VPH and offers a power reserve of 60 hours. It features a Swiss lever escapement with a Breguet overcoil and comes equipped with a constant force mechanism for enhanced accuracy. To provide a constant flow of energy from the barrel to the escapement, this watch uses a Remontoir that comprises 35 parts and is centered on a Reuleaux triangle, which is visible at the 6 o'clock position. The Remontoir features an extra spring that stores some energy and supplies it constantly to the escapement every 20 seconds in this instance.
The case on this watch measures 39.5mm in diameter and is being offered in either platinum, white gold, or titanium. The case maintains a thin and graceful wearable profile with a thickness of just 11.2mm that should make it slide comfortably under those cuffs. Also, like the dial, the case exhibits superior craftsmanship offering a seamless blend of brushed and polished surfaces that lends the watch a premium feel. There is a knurled crown at the 3 o'clock position that should make winding the hand-wound movement inside a joyous experience. 
The Cramain Mark II Constant Force would come attached to a grey suede strap with a pin buckle. It will retail for CHF 158,000 in white gold, CHF 154,000 in platinum, and CHF 152,000 in titanium. 
Visit Cramain here.