For this year legendary manufacture and holy horology trinity member Audemars Piguet has given us 4 new variations of their legendary Royal Oak line, specifically the perpetual calendar models. The perpetual calendar first appeared inside a Breguet watch, the number 1369 Timepiece with a complete Gregorian perpetual calendar. A calendar moves on from simply being a complete calendar or an annual calendar (a Patek Philippe invention) when it can adjust to the amounts of time in various months. However, unlike an annual calendar, a perpetual calendar must also be able to adjust itself to allow for a leap year every four years, taking into account the extra day in February.
The Royal Oak lineup really doesn't need much introduction and there's a lot of details around it that I have yet to learn, so instead I'll keep it simple. Audemars Piguet was facing a terrible problem, the quartz crisis brought about by Seiko in the late sixties meant that a lot of Swiss watch companies, Audemars Piguet included, were desperately struggling to survive as quartz movements were cheaper, more accurate and more rugged than the mechanical alternative. In the early seventies, Audemars Piguet made a last ditch attempt to claw back into the market, they hired a well-known watch designer, Gerald Genta, to design them a new sports watch which they would use to come back. And come back they did. The Royal Oak was a big success for them, it made stainless steel a material of luxury and prompted the other holy horology trinity members, Patek Philippe and Vacheron Constantin, to also hire Gerald Genta to design them new watches too, Patek Philippe introduced the Nautilus range a couple of years after the Royal Oak, and Vacheron Constantin's 222 reference (the precursor to the Overseas) came a little after that.
In the nineties Audemars Piguet reinvented the Royal Oak series and spawned the Royal Oak Offshore range, a new and hardcore range with sizes starting at those similar to the jumbo models of the Royal Oak and only increasing from there. However, as well known and respected as the Offshore range is, it's the Royal Oak collection we're interested in today.
The new watches are now 41mm in diameter, making them respectable enough to count as a pseudo sports-inspired watch (who's really going to take such a delicate movement out water skiing or some such?) and yet not completely out of the range of dressiness which the outgoing 39mm model was more aimed at.
AP isn't ready to completely let go of the outgoing model as the new 5134 calibre still keeps the dial layout of the 2120 movement, which is 2mm smaller in diameter. The movement is still exposed by a sapphire caseback and the 5134 movement is still just as thin as the 2120 is. Interestingly, Audemars Piguet has added a week indicator on the inside of the bezel, the hand extends from the centre and shows how many weeks into the year we are, while it's not particularly important in day to day life, I've often wondered where we are in the year in terms of weeks.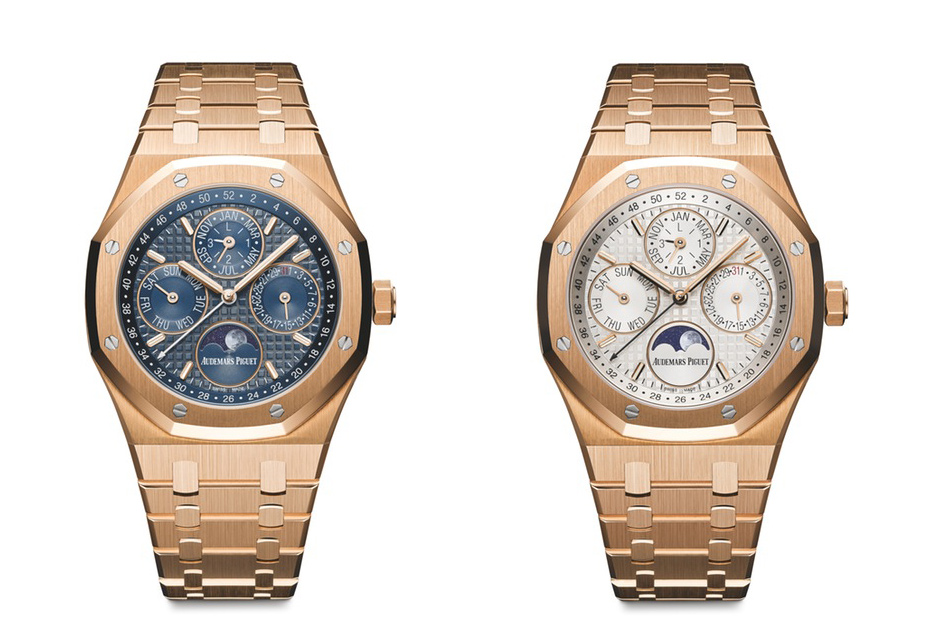 Both bright and dark dial colours of the stainless steel version of this watch cost around $61,000 and for either of the dark and bright dial colours in rose gold you can expect that price to jump up to $96,000. Hey, it's an Audemars Piguet Royal Oak perpetual calendar watch, that's three things that stack up fantastically well in this watch, the manufacture, the model and the complication. Top marks there I'd say.
For more info, please visit audemarspiguet.com
HARLAN CHAPMAN-GREEN – CONTRIBUTING EDITOR
A keen bass guitar player, Harlan enjoys all the perks modern watchmaking technologies the industry has to offer. Although you might catch him sampling Omegas or the Rolex, Harlan loves all things Haute Horology, with his three favourite brands being Breguet, A.Lange & Söhne and Vacheron Constantin. He hopes to study timekeeping more in depth someday and will never be able to thank his father enough for introducing him to the industry. Read his articles here.