In early 2014, two talented horological brothers with a longstanding family tradition in the art of watchmaking, introduced their Parallax Tourbillon and won awards just a few months later at the Geneva WatchMaking Grand Prix for being "best tourbillon" in its class.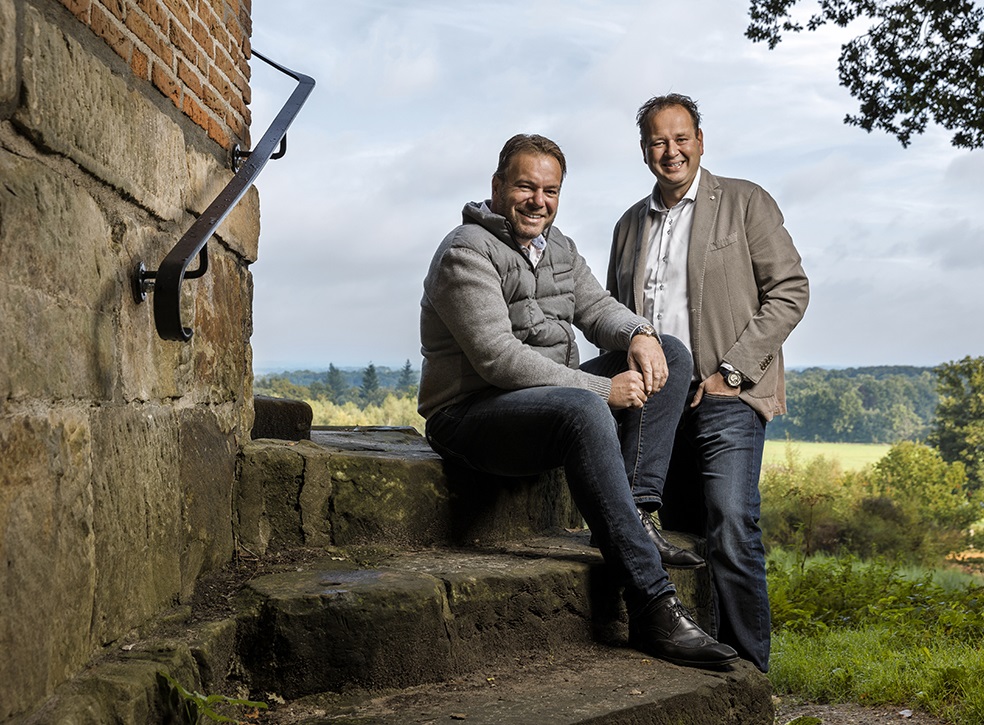 Recently, Bart and Tim Grönefeld have again introduced a unique variant encased in platinum, sporting a black ruthenium plated frosted dial crafted from solid sterling silver 925 with contrasting orange print.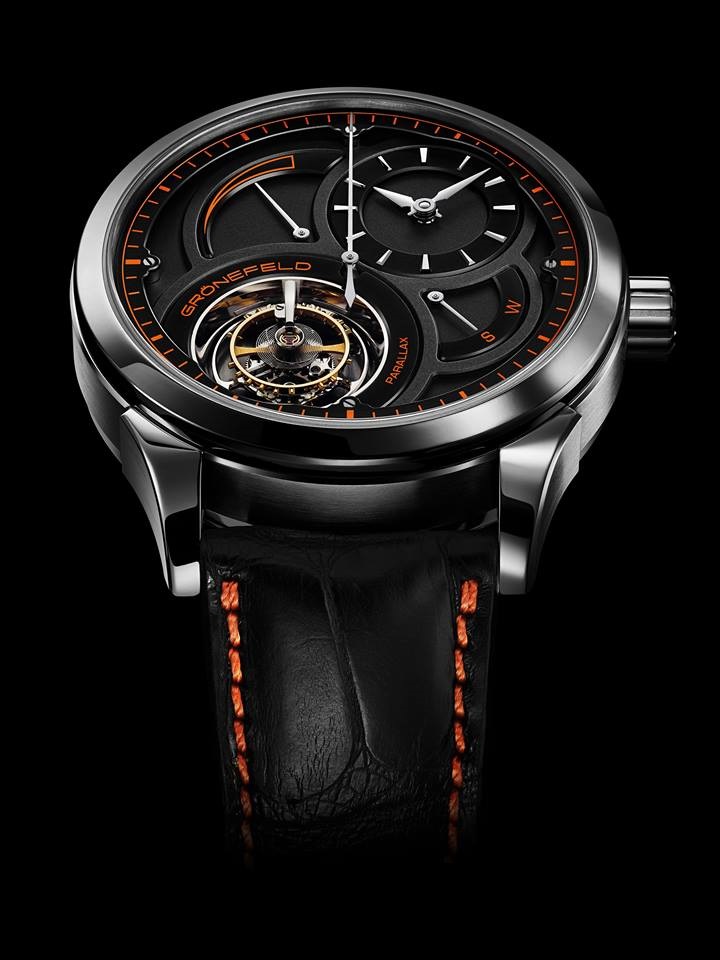 The central highlight of the Grönefeld Parallax Tourbillon is obviously its "flying" tourbillon with a large central seconds hand, stop seconds, a power reserve and winding/setting mechanism indicator. The stainless steel tourbillon cage framing the oscillating balance wheel rotates once a minute around its axis, minimising the negative influence of gravity, and consequently increases the timekeeping accuracy of the timepiece. Three full days are required for the hand-finishing of the tourbillon components, which presents the highest level of craftsmanship that can be appreciated through the concentric, rhythmic vibrations of the balance hairspring.
The name "Parallax" came about from the readability of the large central seconds hand. To minimise the possibility of error due to parallax when viewing the seconds hand from an angle, the hand is placed very close to the outer chapter ring with the seconds indexes, instead of the normal central seconds hand which requires a friction spring to prevent small fluttering caused by play in the gear train. The additional pinion and wheel introduced by the Grönefeld brothers eliminated the need for the energy-sapping friction spring, in the process improving the power transfer to the regulator and boosts the power reserve to 72 hours (located at the 11 o'clock position).
Another innovative feature in the Grönefeld Parallax Tourbillon is its crown system. Instead of pulling the crown out for time-setting purposes, thereby poising the risk of damaging the crown stem, it is pressed. An indicator on the dial displays the function selected: "W" for Winding or "S" for time setting. When switched to the time setting function, both the tourbillon cage bridge and central seconds hand automatically return to their respective 12 o'clock positions and stop while the time is set.
Turning to its caseback, the stainless steel bridges were specially darkened for the unique movement to enhance the contrast. At a hefty price tag of €160,000 excluding taxes, the beauty of this timepiece will no doubt be a show-stopper wherever you go. For more info, please visit gronefeld.com
Technical Specifications
Features and indications
Flying one minute Tourbillon
Hours and minutes
Central seconds
Power reserve and Winding-Setting indicator
Innovative Winding-Setting Mechanism with Hacking Seconds
In-house caliber G-03
Case and dial
Case material: Platinum Pt950.
Engraving: Grönefeld, Unique Piece, and Platinum
Case dimensions: 43 mm x 12.5 mm
Sapphire Crystals: Top domed with anti-reflective treatment both sides; flat display back with antireflective treatment on both sides
Water resistance: 3atm/30m/100 feet
Crown: White gold with engraved "G" logo and push to set/wind function
Dial: Solid Sterling Silver 925, Black ruthenium plated frosted surface with orange print.
Hours- Minutes dial, power reserve indicator, setting-winding indicator. Raised seconds dial to minimalize a parallax error
Hands: Polished extended steel Lancette hands. Large counterpoised seconds hand
Strap and buckle: Orange thread hand-sewn matte black alligator leather and platinum buckle with engraved Grönefeld logo
Movement
Caliber G-03: Mechanical hand winding, flying one-minute stainless steel tourbillon, power-reserve indicator, hacking seconds and setting mechanism indicator.
Dimensions: 34mm (15 1/4 ''') x 9.5 mm
Number of parts: 278
Number of jewels: 27 jewels set in solid gold chatons
Power reserve: 72 hours
Balance wheel: 10 mm free sprung balance wheel Balance frequency: 21'600 vph / 3Hz
Balance spring: Phillips terminal over-coil curve, Geneva-style stud. ELINVAR spring by Nivarox®
Escapement: Straight Swiss lever escapement
Main Plate: Hand spotted rhodium-plated nickel silver
Bridges: Stainless steel and beveled an polished by hand, micro-blasted, circular grain on the top, relief engraved on micro-blasted surface
Winding-Setting mechanism: Push function crown for selecting winding or setting
Power reserve mechanism: Classic Breguet style by means of a cone moving up and down on the threaded barrel arbor
JAMES PHANG – CONTRIBUTING WRITER
James Phang is a young watch enthusiast from Singapore and is a self-professed fanatic of independent brands for their unique avant-garde designs. Some of his favorite brands include MB&F, Urwerk, Romain Jerome, Sarpaneva, Peter Speake-Marin and Azimuth. His love for art extends out to all things handmade, and he has made it his personal mission to find the best handmade straps and buckles worldwide for his humble collection. Read his articles here