As we have previously reported, from the 1st of January 2017 the Federation of the Swiss Watch Industry is changing the rules as to what is required for a watch to be called 'Swiss made'. As of today, the 'Swiss Made' label requires that at least 50% of a watch's value is realized in Switzerland. It also requires the movement to be Swiss and cased in Switzerland, and that the final inspection of the watch is being carried out in Switzerland. A movement can be defined as Swiss if the components made in Switzerland constitutes to at least 50% of its value, the movement is assembled in Switzerland and the manufacturer carries out the inspection of the movement in Switzerland.
From the 1st of January 2017 however, a 'Swiss made' watch will have to consist of at least 60% Swiss made components. This however, is still not enough for H. Moser & Cie. They have decided to remove this label from their watches because they do not want to support a label they feel is misleading to a consumer. A lot of small brands have found loopholes in the existing rule. As production costs are a lot higher in Switzerland than for example China, a movement can be labelled 'Swiss' even though only a very small part of it is actually made in Switzerland, because this very small part amounts to 50% of the movement's value.
When a consumer reads that a watch is 'Swiss made', this is most certainly not what he has in mind.
H. Moser & Cie, however, claims that 95% of their production is in Switzerland, therefore they do not want to carry the same label as a watch that could be produced in many other countries as well. CEO of H. Moser & Cie, Edouard Meylan explains that they "are strong believers in Swiss values and we fight to defend traditional mechanical watchmaking every day. In our Manufacture, we design, develop and produce all of our components from start to finish, including the hairsprings and regulating organs (…) Anything that we cannot achieve internally is sourced from Swiss suppliers ". Also, Meylan says that "With over 95% of our components produced in Switzerland, we far exceed the requirements of the Swiss Made standard, and yet, the same label on our dials is used by those brands barely complying, who benefit from the flexibility of the label to manufacture a large proportion of their components in other countries. Today, the Swiss Made label is devalued because it is used by entry-level brands to justify their very existence or price point. Ultimately, our own image is undermined by this. In fact, we need no justification from this label, because our products speak for themselves" Most certainly a bold move from a highly regarded, independent, Swiss watch manufacturer.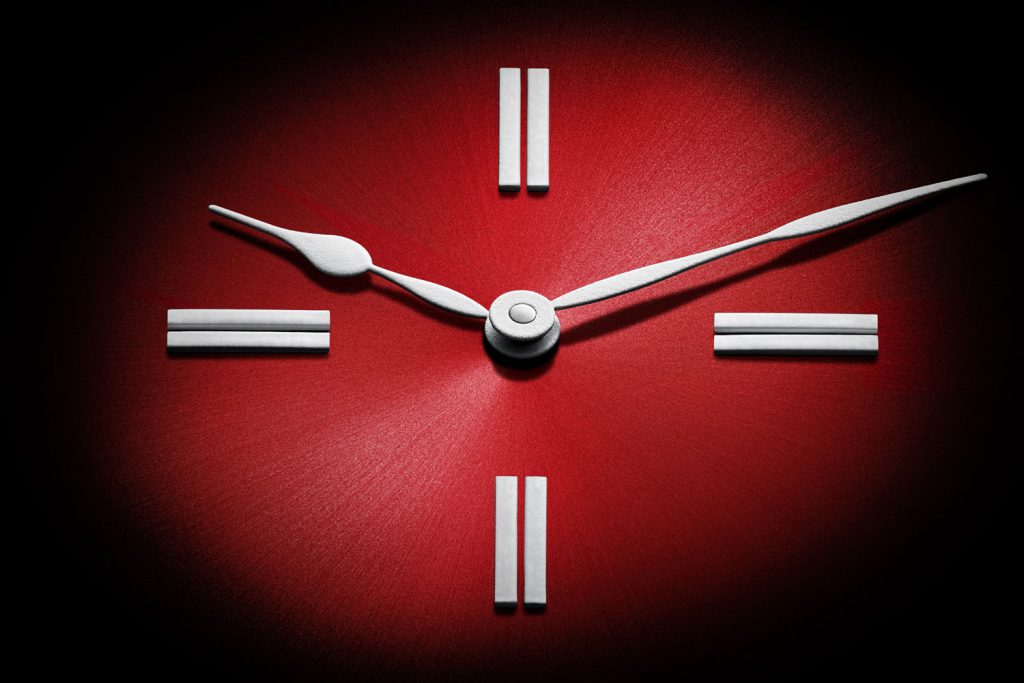 To really make a statement on this matter, H. Moser & Cie have revealed that they are making the 'most Swiss watch ever created'. It will be produced in Switzerland, by Swiss watchmakers, using only materials of Swiss origin. They have released a little teaser photograph, in which we can see a typical H. Moser & Cie style red 'fumé' dial, with white indexes and hands.
We are looking forward to see what is revealed at the H. Moser & Cie booth during SIHH in January, and we will be there to cover it all. For more info, please visit h-moser.com