H2O. Have you ever heard about this brand? If you haven't, now is the time for you to get acquainted with it.
H2O is one of the rare German brands which has managed to turn a disadvantage into an advantage, leveraging on their lack of watch heritage and traditions to develop customized products to customers – incorporating fresh ideas, creative designs, exotic cases and dial materials into the design process. The founder, Clemens Helberg, conceptualized this idea when he realized that he could not find that single watch with all the features he wanted. While he may occasionally come across certain unique features, other times he could easily find similar watches with minimal searching. That was when he decided watch geeks should have the ability to create and own their uniquely customized timepiece.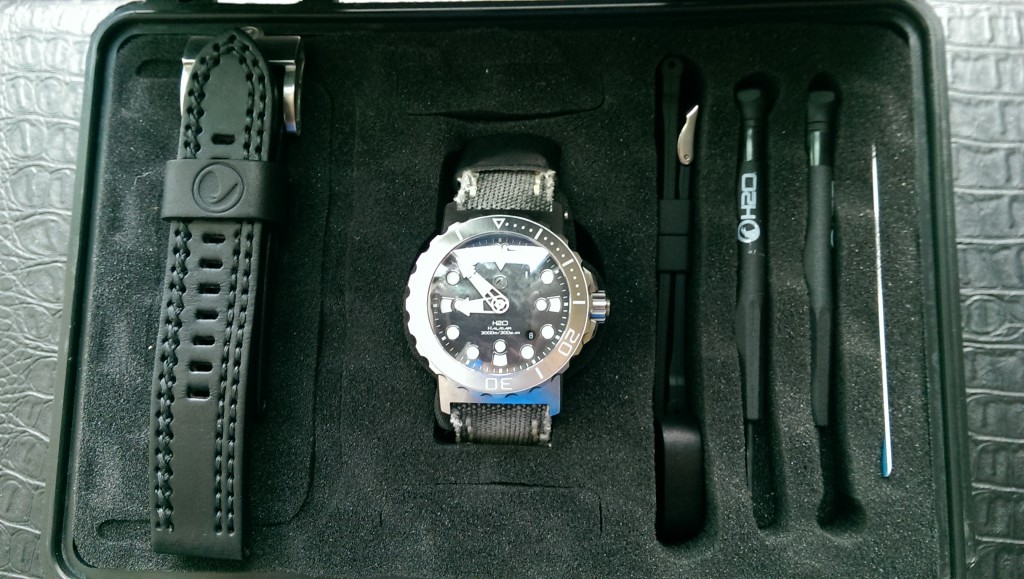 The 2nd generation of the original customizable H2O – the H2O Kalmar 2 – also offers fully interchangeable case parts such as bezels, crown guards and case backs. There is a full menu of options which allows you customize the watch in any permutation you want, and still get a high performing dive watch.
The H2O Kalmar 2 is a 42.5mm dive watch with an ETA 2824-2 automatic movement and a depth rating of 3,000 meters. From this starting point, you then get into the menu of options for the watch.  There is a choice between 3 bezels, 4 bezel inlays, 17 dials, and 11 handsets (the stainless steel bracelet is available at an additional cost).  H2O has spent a decent amount of effort in their visual product configurator, which gives customers an initial 3D overview of how their selected configuration would look like in real-life. The cost of the entire configuration would depend on which bezel in-lays, dials or handsets you choose. With any watch selection, you also get to pick a serial number from the ones available.
As for myself, I had gone with the pre-order of the 3000m diver, customizing it with a runde bezel, ceramic bezel inlay (additional USD$49.50), mother of pearl black chromed marker (additional USD$27.50), matt handsets and leather strap. The combination turned out to be stunning in my opinion, and the watch wears extremely comfortably for a watch with these dimensions. The lug to lug length is relatively long but because of the downward angle of the lugs it rides well on the wrist.
The stock case back has a unique and solid design. The stitching on the leather strap is very unique as well, with different stitching on each side. The pre-order also came with an additional black sting-ray strap and Mad Dog buckle (worth USD$300) thrown in for free, giving the watch a real bang for the buck.
The watch took about 4 months to arrive (2.5 months overdue as a result of supplier delays), but I was pleasantly surprised with the quality build of the watch, as well as its snug fit on my wrist. I had received several complements for both the quality and affordability of the watch, and unknowingly became a "brand ambassador" while sharing more details about the watch and its background with my friends.
The base price for the 3000m diver starts at USD$825.50, while the more recently launched 6000m and 8000m divers start at USD$1,425.68 and USD$1,774.29 (plus tax) respectively.
For more info, please visit h2o-watch.com
Technical Specifications
Case material: 316L Stainless Steel
Case back: Closed SS Case Back
Case Diameter: 42.5mm
Bezel Diameter: 44mm
Lug Width: 24mm
WR: 3000M/ 6000M/ 8000M
Dial: 17 different dials
Handset: 9 different handsets
Movement: Swiss ETA 2824-2, Automatic, 28,800 bph, Power Reserve 42hrs, Hacking seconds
JAMES PHANG – CONTRIBUTING WRITER
James Phang is a young watch enthusiast from Singapore and is self-professed fanatic of independent brands for their unique avant-garde designs. Some of his favourite brands include MB&F, Urwerk, Romain Jerome, Sarpaneva, Peter Speake Marin and Azimuth. His love for art extends out to all things handmade, and he has made it his personal mission to find the best handmade straps and buckles worldwide for his humble collection. Read his articles here.