What if you want a cool watch to wear every day that's got some credentials, is capable of scuba diving and isn't a Christopher Ward or an Oris? There's only one choice for you now, and it comes from Hamilton. The new Khaki Scuba Blue and White watch is a rugged and handsome timepiece that's distinct enough from a Submariner not to be called an 'homage', especially in the pretty new colour scheme.
The blue theme takes over the majority of the watch bar the case itself. It's no surprise; the colour blue is the most popular on the market right now having taken over from the bronze craze a couple of years ago. That means you'll get a blue dial, a mostly blue bezel and a blue fabric strap should you opt for the NATO or rubber strap instead of the steel bracelet. Because this is a serious diver's watch, it needs to remain legible. To do this, the first quarter-hour on the diving minutes bezel is coloured white, while the rest is blue like the dial.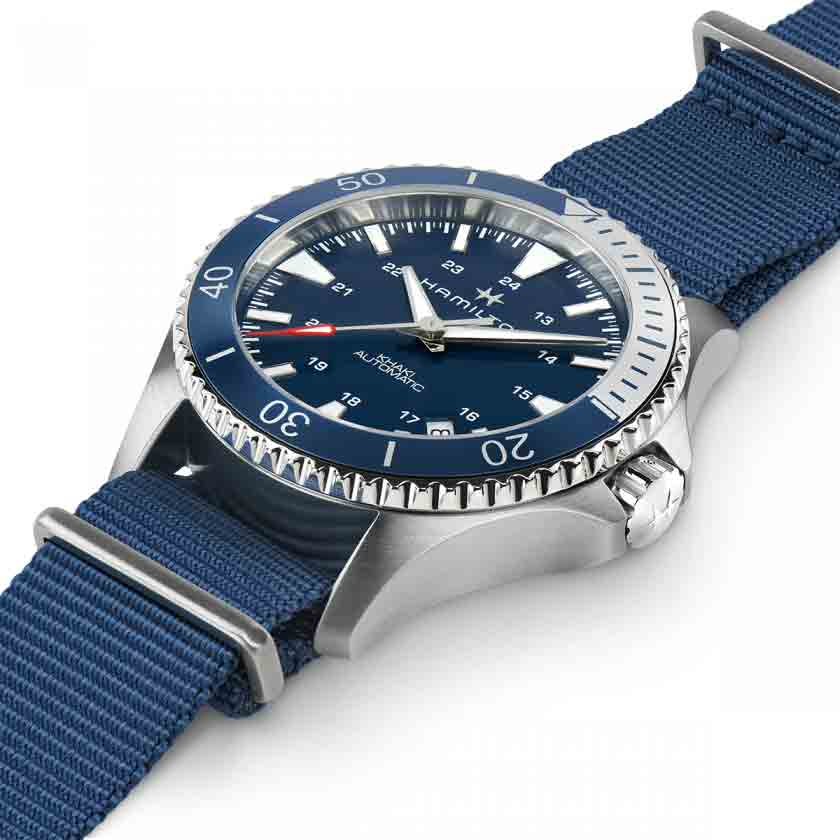 Scuba divers use this as a countdown to when they need to start the ascent to the surface. After diving at depth, you cannot just swim upwards as you'll suffer from something called decompression sickness (the bends), which is when nitrogen dissolved in the bloodstream bubbles and tries to expand inside the blood vessels. It can be fatal, so divers have to have a controlled ascent, which they need to factor into their dive time. The quarter coloured bezel of this Hamilton can be used in any way the diver likes so long as they remember how they've set it, but a common use is as a '15 minute danger zone' where they must be at the surface before they enter it.
To be precise underwater, Hamilton has fitted this watch with their calibre H-10 automatic movement. Based on an ETA C07.111 and used by Swatch Group Sister brands such as Tissot, the ETA C07.111 is itself based off the ETA calibre 2824-2 and is in some cases chronometer certified. I do not believe this version in the Hamilton is, though. It does have an 80-hour power reserve, 3 Hz beat rate and a date window, though.
Despite being styled as a diving watch, the case is water-resistant to 100m, which is the minimum required by ISO-6425 to be certified as a diving watch. The cost of one of these is CHF 695 for the NATO strap version or CHF 775 for the rubber. No mention is given of the price for the bracelet, it may be included with the watch, but this is not definite.
Visit Hamilton here.