The Sherpa Ultradive is a new take on a historical watch from a brand that is technically new on the block. The name comes from a vintage classic, the Sherpa watch series made by Enicar SA in the 1960s. From 1914 to around the quartz crisis, Enicar SA was known for making rugged and reliable timepieces. Its most famous name was the Sherpa, a series of watches designed to be used daily whether your daily is sitting in an office, climbing a mountain or diving in the ocean. There is a common misconception, that yours truly believed until recently, that Enicar SA's Sherpa series was named in honour of the sherpas that accompanied Sir Edmund Hillary when he became the first person to climb to the summit of Mount Everest. In actual fact, the Sherpa name came around in 1956. Enicar SA sponsored an expedition to Everest and was extremely impressed by the attitude of the sherpas, so they named their most robust watch after them. Enicar SA Sherpa watches were rugged and reliable. A good condition Sherpa is worth a lot these days, especially as the current Enicar Watch Co SA itself doesn't seem to want to remake historical models, at least for now.
The Sherpa Ultradive is quite similar to the Sherpa OPS we've already covered, although it looks to be a bit more of what we'd call "classically styled" as its 40mm stainless steel case does not feature a DLC coating (Enicar SA did use DLC coatings back in the day, but we can call this a classic style). Its black dial is also a little bit more classic with applied indices and is surrounded by a white inner rotating diving bezel.
Sherpa's website mentions things like the EPSA-STOP compressor case and MONOFLEX crowns, but if you're not aware of vintage diving watches then these terms may have passed you by. Compressor cases are designed to compress themselves together at pressure when diving.
This means that a compressor case gives the same level of water resistance as a watch with a caseback with individual screws or a screw-in case back, but it puts less pressure on the gasket in daily life, ensuring a longer life span. The MONOFLEX crowns function in the same way. Unlike on a traditional diving watch, these crowns do not screw down but compress to a better seal when diving. The watch is water-resistant to 200m.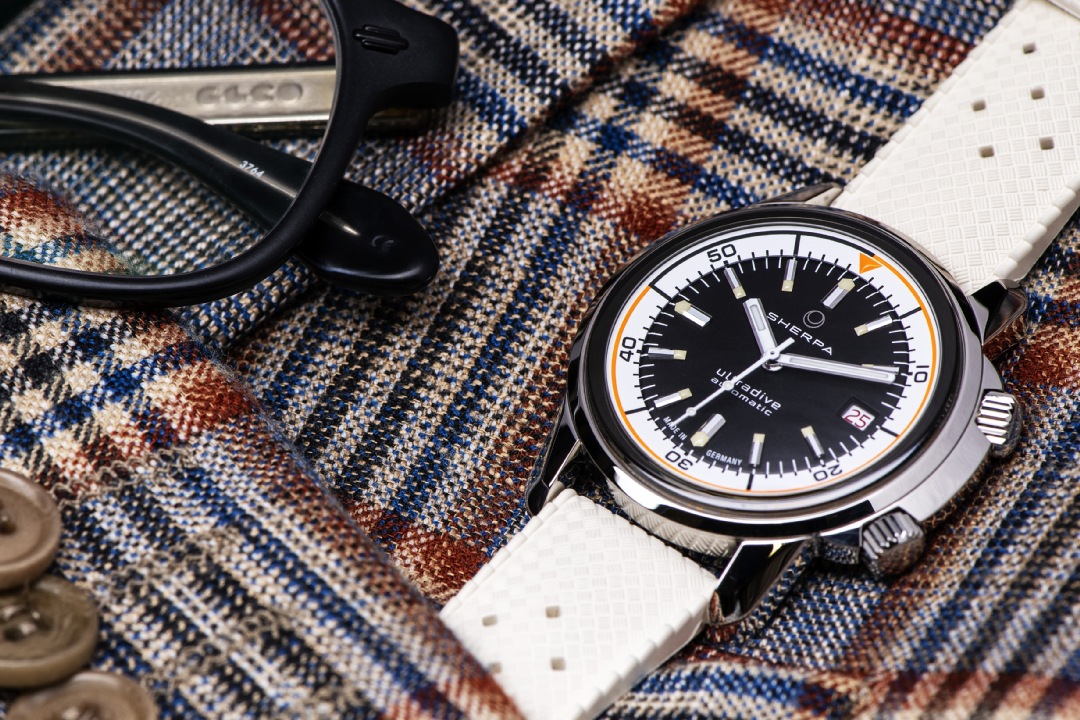 Inside the watch is the Mantramatic MM01, a modified top-of-the-range Sellita SW200-1 with a highly detailed gilt finish. This means a beat rate of 4Hz and a power reserve of roughly 38-hours. Sherpa engraves a Tibetan Buddhist mantra on two of the wheels of this watch to "spread good vibes", they also function as real Tibetan Buddhist prayer wheels. I should also point out that this watch has a closed caseback which is beautifully finished with the classic EPSA dive helmet.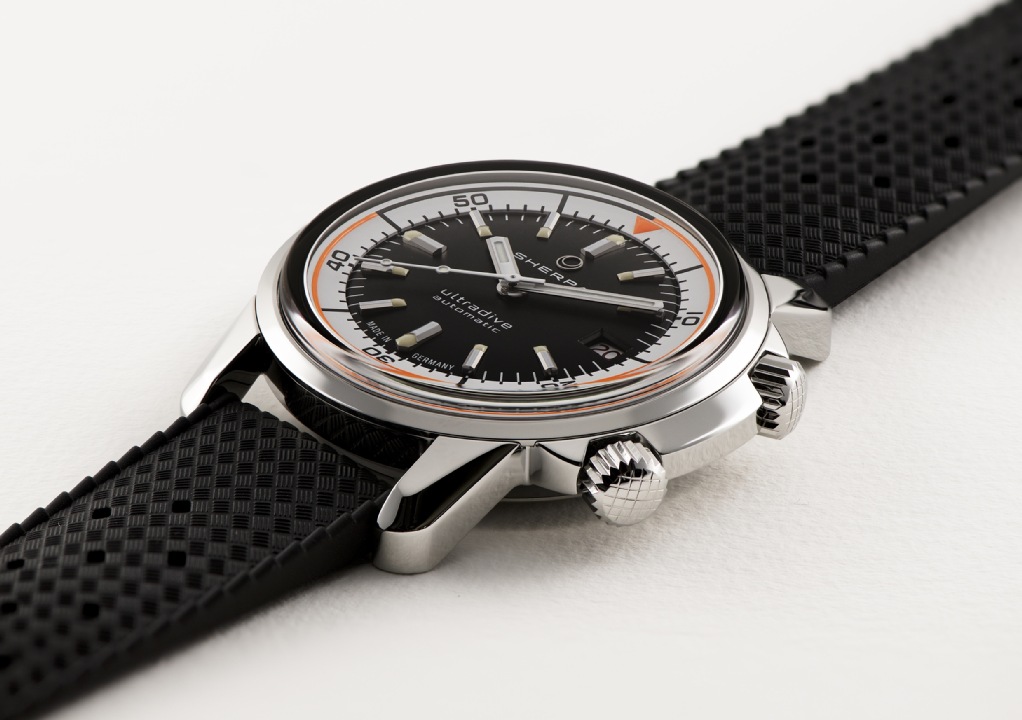 The new Sherpa Ultradive comes on a vulcanised rubber strap that looks like a tropical strap and comes in black or white colour. The price is €5900, including VAT.