At Hublot's stand this year during Watches & Wonders Geneva, the staff said Hublot had around 30 novelties to present this year, most of which are different colourways of existing watches. While the young lad within me was extremely excited at the thought of getting his hands on 30+ watches in one sitting, the adult with the camera was thinking about how he was going to get all those photos. That didn't happen, but there are plenty of watches that I can talk about.
MP-13 Tourbillon Bi-Axis Retrograde
The biggest news this year was the MP13 Tourbillon Bi-Axis Retrograde, which is a unique watch, to say the least. Tourbillons are difficult feats of engineering, often involving over 70 components to make the balance wheel spin on its axis. A bi-axial tourbillon spins the already spinning tourbillon on another plane. This looks pretty and is better at overcoming the effects of gravity on the watch's hairspring. Of course, all this takes up space. This watch is 44mm across but is extremely comfortable thanks to the rubber strap and light titanium case, which slopes downwards at 6 O'clock to reveal that tourbillon. This watch also features two retrograde hands, one for hours and one for minutes, which ping back to the beginning when they reach the end of their track. This is powered by the manually-wound HUB6200 calibre, which is manually wound with a 96-hour power reserve. The watch is limited to 50 examples at a price of 158,000 US$.
Classic Fusion Chronograph Orlinski Full Titanium 41mm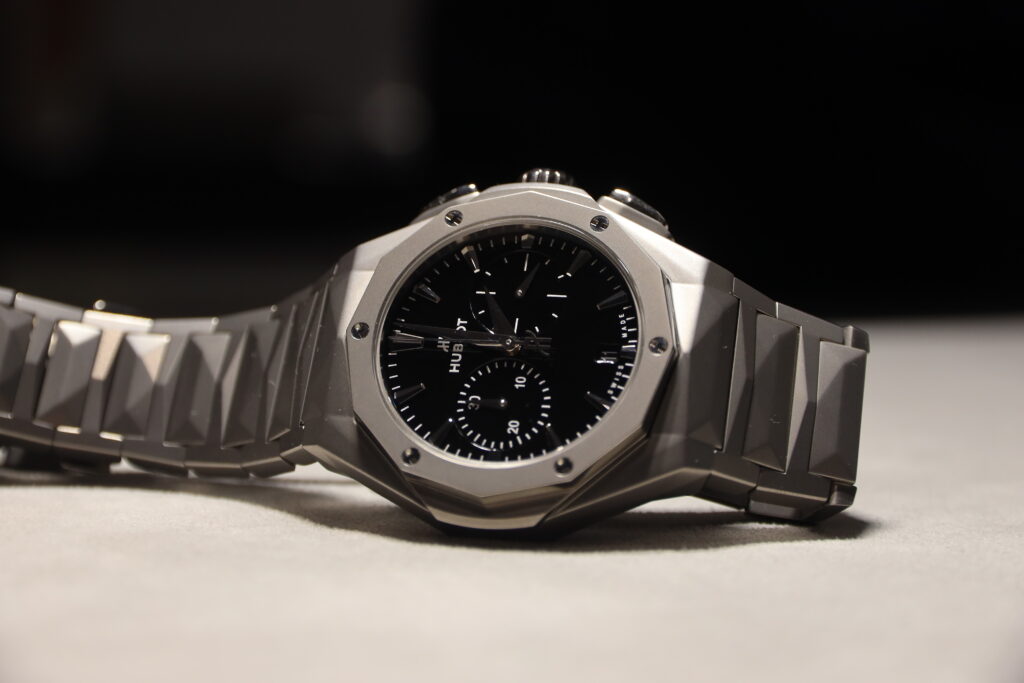 Stepping away from the bonkers watchmaking above and back into (relative) sanity, the Classic Fusion Chronograph Orlinski Full Titanium 41mm takes the relatively normal Classic Fusion Chronograph. Hublot's longstanding partnership with Richard Orlinski has been a major success for the brand. While this watch seems a little ordinary if you focus on the dial, with black colours and twin subdials, it's the geometrical case (made from titanium) which ups the visual ante here. I can see why some people baulk at it on its titanium bracelet, but on the leather strap, it becomes much more subdued and, dare I say it, dressy. It's using a HUB1153 calibre which is either an ETA or Sellita-based movement. This one is not limited in production, but it might be hard to find outside of boutiques as the Orlinski pieces are quite rare. The price is 18,200 US$.
Big Bang Unico Golf Sky Blue Carbon 45mm
The main draw to this watch is the case, which is made of carbon fibre and uses an outer layer called Texalium which is blue in colour. It's got a unique finish to it, which, like all things Hublot does, is bound to be decisive. The real draw to this watch is the golfing system. I've done golf precisely once if we don't count crazy golf, and it was on a driving range rather than a full course. The unique system in this watch can be used to track which hole you're on, the number of shots taken and the total amount of shots you took over the course of the game. Now that I think about it that's a really handy feature assuming you don't have a scorecard. It's also a great display of Hublot's technical prowess. Oh, and this watch tracks the time, too, thanks to the in-house-made self-winding calibre HUB1580 Unico. This watch is limited to 100 examples at a price of 32,500 US$. I was crap on the driving range, by the way.
Square Bang Unico Sapphire 42mm
My personal favourite of the watches that I saw is the Square Bang Unico in sapphire crystal. At 42mm, it's reasonably sized, it's also very comfy thanks to the rubber strap which is translucent like the case. Of course, with a watch like this, the case is the main draw and it's quite remarkable. Seeing all the different levers and wheels as they move when the chronograph is activated is quite something. You can also see the rubber gaskets used, I wonder if there's a choice of colours for those, that would allow owners some interesting colour combinations. Then again, it's not as if this watch isn't interesting already, not only because of that awesome case but also because it's one of the few Hublot watches that isn't porthole shaped in some way, but it still has the "ears". This watch features the in-house self-winding calibre HUB1280 with a column wheel chronograph with a flyback function and has a power reserve of 72 hours. Hublot hasn't said this is a limited edition watch, but expect them to take their time making it. The price is 95,000 US$.
Big Bang Integrated Tourbillon Full Blue Sapphire 43mm
Undoubtedly the most eye-catching release this year, that I saw at least, was all sapphire all-blue Big Bang Integrated Tourbillon Full Blue Sapphire. Hublot has done many watches in sapphire crystal now, as can be seen above, but hardly any have a sapphire crystal bracelet as well. Partly, I expect, because that makes it ludicrously expensive, but also because it's very difficult to do. Some parts are metal, of course, but the majority is the sapphire crystal which is lightweight and very strong. The watch felt light but sturdy, the edges on the bracelet are a little sharp but not unpleasant, and the dial with tourbillon and micro-rotor visible are eye-catching. The in-house made HUB6035 runs for a total of 72-hours and is on display from all angles, thanks to that case again. There will only be ten of these, and the price is an eye-watering 527,000 US$. It's definitely not a watch to wear with a dinner suit, but I think with jeans and a blazer even, this could be a great piece for those who can afford it.