Ever wanted to bend time? The Hublot MP-02 offers the next best thing – allowing you to become the master of your own time.
In an era where the digital age is too defined by time, Hublot seeks to redefine time according to its own parameters. The "Key of Time" watch is supposedly the "first watch to indicate your time the way you want it." While the wearer will not be able to actually alter time itself, The Hublot MP-02 "Key Of Time" allows the wearer to adjust time through the use of a dial which sets the speed at which time will flow. A bit more conceptual in its design philosophy, the MP-02 "Key of Time"  offers time-measuring modulations in three different settings:
Position 1 – If you want to savour every passing second you can slow down the speed of the watch hands by a factor of 4, whereby 1 conventional hour is represented as quarter of an hour on the MP-02 Key of Time display – perhaps most suitable in situations where you are spending time with your loved ones/ or just having some "alone" time to enjoy the better things in life.
Position 2 – If you want "real" time, you can select normal hand speed, to retain the "standard" time settings, whereby one conventional hour equates to one hour on the MP-02 Key of Time – but where is the fun in that?
Position 3 – If you want time to pass quicker you can accelerate the hand speed, multiplying time by four, whereby a conventional quarter of an hour is represented as one hour on the MP-02 Key of Time display – a useful distraction when you are secretly hoping for the minutes to fly when you are stuck in boring board-room meetings or having to wait for your partner to finish her shopping/ manicure etc.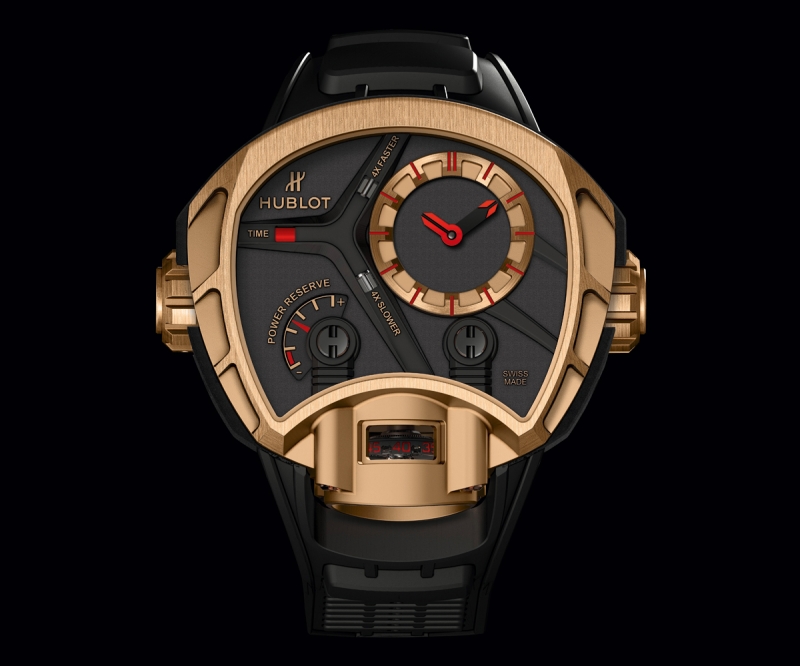 The Hublot MP-02 "Key Of Time" is available in titanium and king gold and powered by a tourbillion system comprising of 512 parts – with a power reserve of 100 hours. The ability to revert back to standard time seamlessly is also made possible by a genuine "mechanical memory" built into the movement. Other features include a power reserve indicator, shock absorption and a manual winding option, allowing this highly technical and complex watch to perform at the highest standard in terms of accuracy and durability.
There is no doubt that if you can get a hold of this watch, you will definitely make an impression on others while wearing it, and quite likely, a few envious stares. Only 50 pieces will be produced each, so act fast. For more info, please visit hublot.com
James Phang – Contributing Writer
James Phang is a young watch enthusiast from Singapore and is self-professed fanatic of independent brands for their unique avant-garde designs. Some of his favourite brands include MB&F, Urwerk, Romain Jerome, Sarpaneva, Peter Speake Marin and Azimuth. His love for art extends out to all things handmade, and he has made it his personal mission to find the best handmade straps and buckles worldwide for his humble collection. Read his articles here.