In case you weren't aware, we at WristReview jetted off to Germany a few weeks ago to visit Saxon watchmaking legends A.Lange & Söhne in Glashütte. As well as a stay in a jaw-dropping five-star hotel in Dresden (full marks to Lange for the QF hotel, it was stunning) and tours around Dresden and their manufacture in Glashütte we also got to speak with Anthony de Haas, Lange's charismatic director of product development. He's a really nice man who sauntered in while we were photographing watches and then shared lunch with us before we all sat down and quizzed him about the watches they produce. It was wonderful to meet such bright sparks in the watch industry, so without further ado, here's what he had to say to our questions.
WRJ – Jovan Krstevski
WRH – Harlan Chapman-Green
WRJ: What is your goal in your position at Lange?
Anthony de Haas: Now, that's a good question. As a product developer, I see it as my responsibility to prepare A.Lange & Söhne for the next couple hundred years. Oh, that's great, that sounds like marketing. In fact, I'll give an example, it's not only to create new watches but also new fields of know-how like, for example, enamel dials. One and a half years ago was the Lange 1 Anniversary and it was the first in-house enamel dial. We spent four years to get the know-how so we could get it done. The Grand Complication was a big piece not only because it was so expensive and complicated but as a developer, it has a big meaning because by working for seven years on that watch it gathered us know-how in making striking sonnerie watches, we didn't have the experience for it.
Striking watches aren't something from Glashütte, the village in the past didn't have a community of complicated watches like you do in the Vallée de Joux in Switzerland. In the Vallée de Joux there's complications, multi-complications, and everything, striking watches for instance. Even the old pocket watches from A. Lange & Söhne you had which were a minute repeater grand sonnerie, the movements were built in Switzerland and decorated and cased up here. They never developed a repeater here, even at Lange and also the company that used to be here until the second world war. For me, coming from Renaud Papi where I used to work when minute repeater and grand sonneries where my dream of course but my goal was to open up as there were many bright people who said that Lange is a top brand but there's one thing missing compared to Patek or AP or the others, they don't have a minute repeater and that was my dream.
So where to start the dream is with a new product. For me it would be very easy to take an 1815 or another three hand watch and just pit a Swiss mechanism inside which we all know very well and Lange would've had its own minute repeater and then you all [the press] would say OK, Lange has a minute repeater now, but you expected it from Lange and we expected from Lange so we always try to go a bit further. Why a bit further? We try to always go a bit further or do things a bit different because the luxury watch industry is 99% Swiss. When Walter Lange started the company again in 1990 everybody was pointing their heads at him thinking luxury watches from Germany? Remember before 1948 when the East Germans came in, A.Lange & Söhne was very well known for high-end pocket watches and they wanted to rebuild the brand in 1990 but only the high-end part. Now how are you going to do that when you are like this (shows small size of the German market) and the Swiss watch industry is like this (shows the larger size of the Swiss industry using his hands) with your Pateks and everything which are big and well-known and have their history, you should not forget that A.Lange & Söhne missed the gap from 1948 to 1990 and these were the years of high importance for wristwatches because in the 50s it was the first automatic watches and then manual chronos and then automatic chronos and then more watches came (Anthony's phone rings at this point, his ring tone is the sound of a minute repeater striking which made us chuckle)… sorry… we just didn't have that. If they needed an idea at Jaeger-LeCoultre or Patek then they go into the attic or the archives and then see maybe big thin pocket watches and we just don't have that, because the Russians took everything we don't have anything left from the past. there are a few things but they belong to the museum so it was a different base to start the company from scratch. Being different is something we have to do because we are German and not Swiss, but my role is to put things forward. The minute repeater, we learned how to make the cogs for it, of course, I know the only three guys who make decent cogs in Switzerland, but it's important that we know and we learn how to build that.
I think it needs to be a carefully developed Lange, what do I mean by that? If you're successful and a brand it's very tempting to do commercial stuff and say 'oh, that's great, let's do that' but that doesn't make sense to us as we don't make enough watches to follow trends. It's also very important that it fits to one of our five product families and my goal is to carefully develop each product family whether it be high complications or nice very elegant slim watches. Perhaps only quite slim watches not slim watches because slim watches can be seen as thin watches. We have a Saxonia Thin but that is 5.9mm high and the guys at Piaget will laugh themselves to death (earning another chuckle from the journalists). But that's why we don't call many watches thin because you know they have 3mm thick watches, but that's not the idea with us. It's called the thin because it's the thinnest and simplest watch from Lange and we tried to reduce the functions to the maximum.
WRH: How did you get started in wristwatches?
Anthony de Haas: Oh my God do you really want to hear that (more chuckles)? Are you sure? I was quite a difficult case for my parents because when I was 10 I discovered drumming and I wanted to play them and be the best drummer in the world because it was my passion. I was sitting behind my desk at home and had my books set up like a drum kit, some people said I was talented and got the chance to play in different bands and learn from very good drummers.
WRH: Drummers such as?
Anthony de Haas: Ah he was a dutch guy… (yet more chuckles around the room), he was Cesar Zuierwijk you know Golden Earring? Radar Love? It was by them and they were from the sixties and they still play even now. I got the opportunity by coincidence to meet and he was my drum teacher and we are still good friends and I wanted to be like him and to conquer the world, my parents were supported of that as well. And then my father had the genius idea to find a school where you can learn to build drum as being able to play drums is one thing but you get a close connection with them if you build them yourself. But of course, there's no school for it and that's how I ended up doing 4 years of toolmaking school.
After that, I had a friend who was into watchmaking and showed me all these pictures and such because I was really into scale modelling and toolmaking wasn't my thing. I looked at these and thought wow! So then I started in watchmaking school, that wasn't influenced by my family in any way, I'm the black sheep in all of them. The rest of them are into watches as in looking at them and saying 'oh yeah that's nice' or some such. So that's why I went into watchmaking and then in the first years I worked three days a week as a watchmaker and then for the rest of it I played drums in different bands and we were a support act for Golden Earring, so it was all in all a funny time.
Then years ago I think I was disappointed that the drumming career didn't quite work out, but I always fancied the IWC watches. One day I called them and asked if they needed watchmakers and they said they did, so I had to do a test and they wanted me so my wife and I moved to Schaffhausen, the plan was to work for IWC for two years or something and then go back to Holland and start a service centre for IWC because at that time there was no Richemont. But after two years I got a call from Renaud & Papi, Renaud & Papi is a small company owned by Audemars Piguet and asked if I would be interested. I didn't know if I could do that but I thought 'wow! why not give it a try?'. So I went over there and learned to speak French and Renaud & Papi was fun and I spent 7 years there. I worked there with some good friends of mine such as Peter Speake-Marin and Kari Voutilainen. It was a very small world around the Vallée de Joux and there were lots of foreigners and we'd all go out at the weekend and have beer or wine or something because let's face it there's nothing else in Le Locle, I mean there's trees, mountains and watch factories and that's it. But it was a great time and I learned an awful lot.
Then in 2004 A.Lange & Söhne asked me to be their director of product development, 'oh gee' I thought, I mean it's a great brand, fantastic and all that and so the motto is it's better to have regrets over the things you did do than over the things you didn't do, and that's why I've been here for nearly 12 years. they still didn't kick me out and yeah so that's a short background into how I got into watchmaking, I'm more managing now but I still have a little bench at home where I can still do it and I still can and I enjoy it too.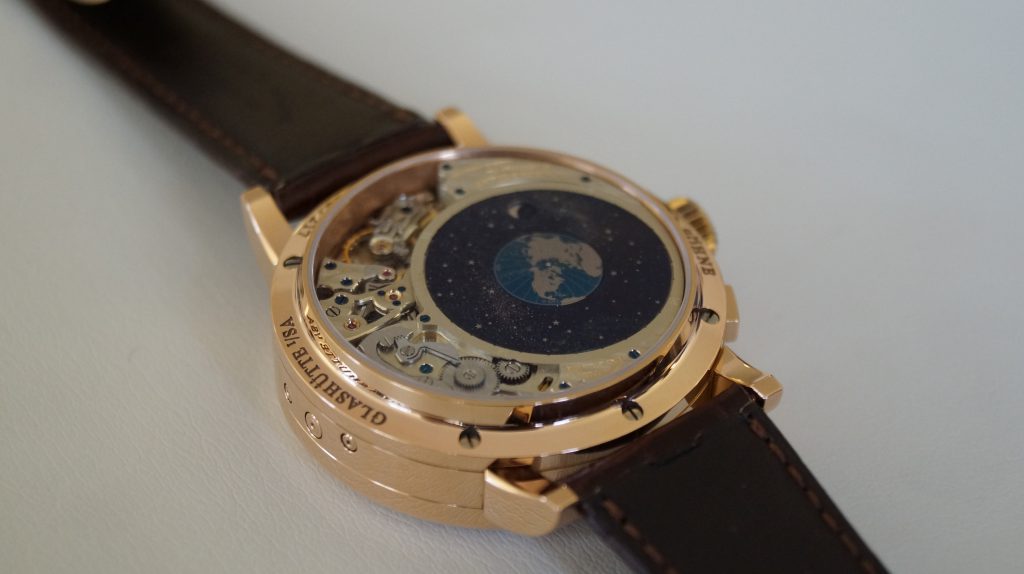 WRJ: Will you bring bracelets back to your watches?
Anthony de Haas: Do you mean metal bracelets? Oh well we weren't so successful with that, to be honest, we have to question sometimes but many people don't see us as a metal bracelet brand but I can imagine if you live in Singapore with humidity of 85% then every two weeks you'd need a new strap. But we have had them in the collection and we tried to sell them and we had different designs which later on we changed. We spent a lot of money on them, but it didn't work out. That brings me onto something else, you know watches aren't light, they're not heavy but they're solid. That's part of the construction of the case because the lugs are soldered to the middle part, they're not made out of one piece like the Swiss. To solder and have a good fix the middle part of the case can't be too thin otherwise it'll break and so that's why it's a bit heavier than say a Patek. But if you make a metal bracelet for this then you can't make it too light because if the watch is too heavy then it'll turn around on your wrist. This also brought us to a price which was exploding, imagine the price of a platinum watch! So, we had them but we didn't sell them so much so we said 'OK we'll try with a different design', but they didn't work and we melted down the huge stocks we had to make cases. We have maybe a couple left for special occasions for people who ask for it but we're not going to make a new one. Another thing is there are jewellery shops that will deliver bracelets, not from the brand but can be combined and what would we do then? I understand the question and we get it often because there are people like them like that, but if you look at the watches, they're not really metal bracelet pieces.
It's hard as well as it's a big market, I mean, we have alligator straps, alligators swim in water but the straps they are not waterproof (even more chuckles go around the room) but that's because of the sewing and the calf leather on them.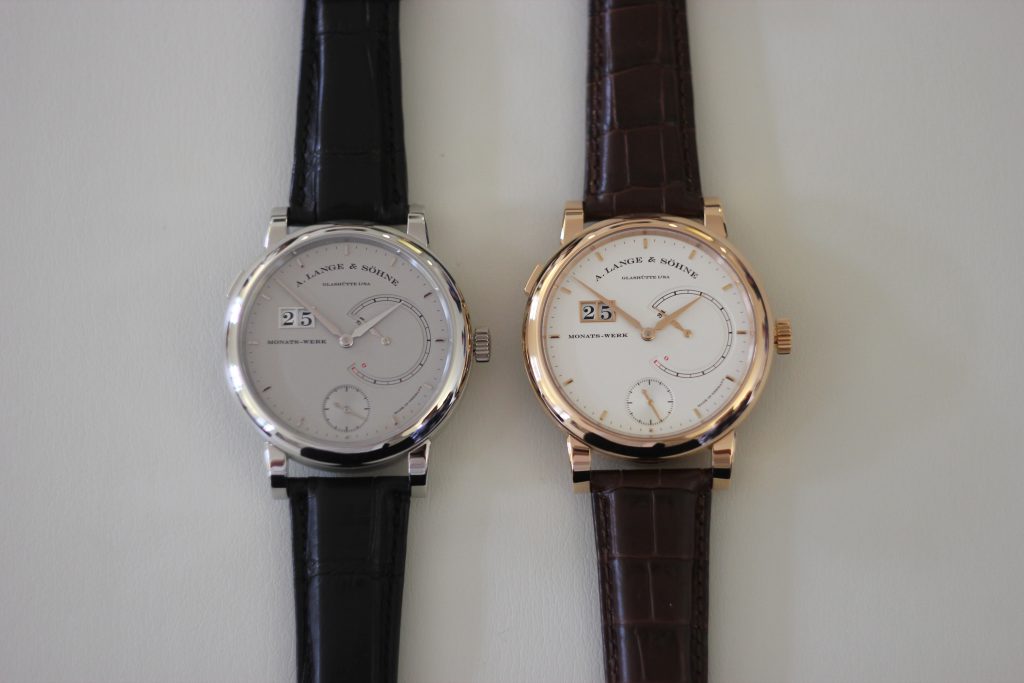 WRH: So, where did the idea for Handwerkskunst watches come from?
Anthony de Haas: That's a good question… Damn, you all have good questions today. It's one of the fields where we play around a bit, like with enamel dials and striking watches, Handwerkskunst is the same it's another field because we have a lot of people here. We have the engravers who do all the balance bridges and cogs and everything, and they said that they were capable of doing more than this and they can do better but it doesn't fit. So we said 'why not create a little series every once in a while where we do something like that' but not in a commercial way where we see that there are 20 boutiques so we make 20, no, this doesn't work for us. So the guys only make a few and they tell us of the ideas that they have not only of the dials but also the movement and the decoration is as crazy as it gets.
You can't make too many pieces of these as it's too complex. But this is a new field that we have discovered, we discovered new techniques and used some very very old techniques as the people in the past had different tools, so we need to improvise a bit. If you see the Handwerkskunst watches in our collection some people will say 'that's not Lange', no! It's not, meant to be because you have the regular collection and the Handwerkskunst are more, well an Italian guy would say extravaganza, but this allows us to make a new limited series of watches where we try things out and we learn new skills as well which is what we want. Maybe it will come round again like with enamel because we only made one watch with an enamel dial so you can expect we are going to make more in the future but that was a crazy project.
When we started we never expected to encounter the difficulties we had, it was already a hustle to get the right material as we had to get enamel you can use for making dials. We ordered enamel from all over the world, Japan, USA, France, Switzerland, and Germany, it was crazy. But that's fun because it brings the company further and we have that know-how now and that's what I like about Lange, it's not only a business but it's mostly about watchmaking.
WRJ: Do you see Lange making high-grade steel watches?
We have made them before, but very very very few before my time. Günter Blümlein decided that if he had made one mistake in watches it would be steel wristwatches for A.Lange & Söhne. There really weren't many and we have no plans to do that. A commercial guy would probably ask why we aren't making steel watches because we could sell more. Some brands would have said that, to open up another market for watches in steel, they're affordable then. Not because we're too proud or too arrogant but we have a certain capacity in our manufactory. If I present you with a steel watch, personally I'd have my doubts as to whether it would be a runner, but if it were we still couldn't build them. Although we have opened new big buildings and they're big with the inauguration last year everybody thought 'ah new buildings now Lange's going to do mass production', no, why these big buildings? Because before these big buildings production was spread over five buildings, logistically a horror. My development team today are spread over six buildings, four of my designers are in Dresden because there's no space here, development is downstairs. We are about to renovate the old manufactory and I will move my whole department into one building so we are all together under one roof but today it's horrifying and difficult so many people think we are too restrictive on our watchmaking, I simply can't give you the full production figures and if we want to make more we need more people so we have a school. The school used to be in a village ten miles up in the mountains but they're back in town, in fact, they're in the first old building we renovated because we think we need to have these students here because they belong near the manufactory. Now they're working for my department and then we'll see.
But that's how it is, we need people, we can plan more and more watches but if you look back to the last few years the kind of novelties we present like the Terraluna, Minute Repeater, 1815 Perpetual Calendar Rattrapante and Grand Complication. You need guys for that and they don't grow on trees. It's a lot easier if we have the watchmaking school here. Of course we get young talents coming but they need some time to get to a certain level and we take a close look at everything, it's not like 'oh well you have to spend five years here doing manual watches and then after five years you can do automatic and date watches' no no no if we have talents we pick them out. For example, we had an event here in December and at a dinner, I was sitting between two American collectors, now one guy he had the Striking Time and the Terraluna and the other guy had a Richard Lange. But they had just arrived and the next day they were going to see the factory. Anyway one is telling me that he's happy about the Terraluna but he had to wait nine months for it and they'd promised five months and changed it. But he said 'maybe they thought I wasn't an important client so maybe they gave them to someone else' and then he asked me how many people are working on the Terraluna? It's a fair question, I replied with two. He guessed around twenty people, but no, the people who build the Terraluna used to build the Lange 31 because they have the same Constant Force Escapement, and so we trained them so these two build the Terraluna but we can't build the 31. One of the two guys who works on the Terraluna is training another guy we've taken from the Datograph to the Lange 31, so in the first year he has to train someone else at the same time to keep full output and that's how we work at Lange. If you take someone away from the Datograph then you have to take someone who works on the perpetual calendar or the other way around and that's how we constantly try because we can't build it all at the same time, but still we think it's important for a brand to have diversity of complications although can't build them at the same time.
All these efforts to get people to a certain level but it takes time. We had a huge disaster with the Lange 1 Tourbillon Perpetual Calendar. We launched that, great success, we have trained two ladies who work on that and they start building the watches but they're complicated watches so they take the time they need. So they're building and one day number one gets pregnant, okay, they take a year to train so we found someone else to train and the other lady is working by herself because here in Germany mothers get one year off. So the one who stayed was training a new guy, and then she became pregnant. That's a private thing I mean we can't tell her she can't become pregnant (more chuckles around the room at this point) and there was a time when we could hardly deliver any timepieces. We have presented the novelty and we think we've planned for everything but we didn't see this coming and we can't because that's human, they're not machines. That's quite a challenge for our guys in PR to match. alange-soehne.com