This one is quite an exquisite conundrum for most watch fans. It's a tourbillon dress watch, which is great. But it's also made outside of Europe, which is debatable to say the least, but it's also made by Citizen which is more known for making affordable quartz or solar powered timepieces than super high-end watches. So, a Japanese made tourbillon watch from the company that makes such things as the Skyhawk line, it can't possibly be that good. Can it?
Well, back in the day of the quartz crisis, and indeed to an extent before, Citizen and Seiko duelled it out in the watch game. Remember, this is before the likes of the Swatch Watch, so the industry would've looked very different. Depending on your viewpoint, you'd say that Seiko was the winner overall. Most watch enthusiasts start out with a Seiko watch and move on, a lot of higher end collections include what's known as a Grand Seiko, a watch that some claim to be on equal grounds as Omega and Rolex. Then if you climbed up the ladder once more you'd meet a company known as Credor, which makes very high end watches indeed.
But it wasn't game set and match to Seiko, Citizen is the world's largest producer of watches, it produces very high machine quality tools as well. What's more, it also owns other watch companies such as Bulova, Frédérique Constant and the Miyota movement factory. So, all in all, Citizen actually has a lot going for it, it just makes up a group of different companies under one umbrella allowing them their own identity, rather than branding them all with one name like Seiko has done.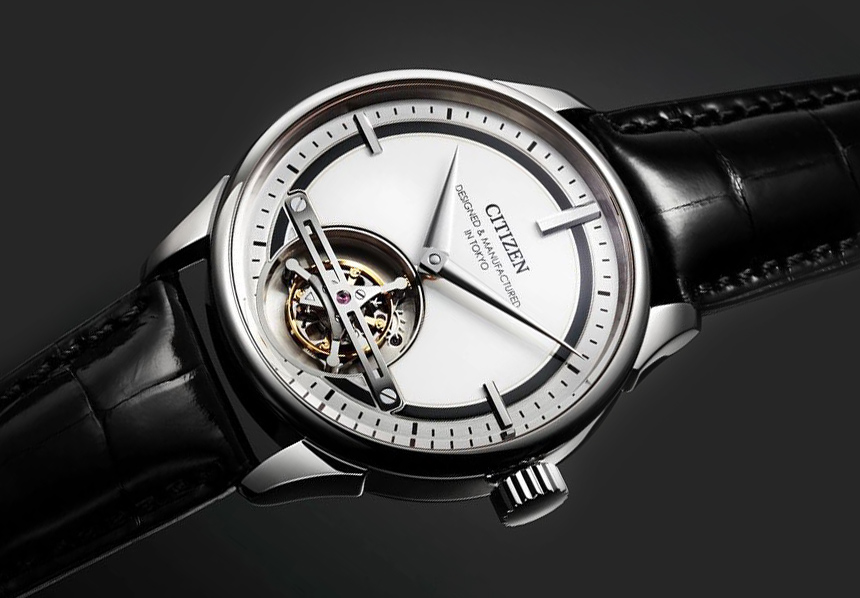 The new Tourbillon Y01 watch is quite a pretty affair, it has a white enamel dial on it with the tourbillon mounted at 6 O'clock. It uses dauphine-esque shaped hands but the noticeably don't have one half polished and one half brushed like most dauphine hands have. There's also a thick black ring separating the minutes track from the white dial itself with baton markers at 12, 3 and 6 O'clock. There's also a big, thick almost industrial looking bridge suspending the tourbillon which does add a little flair to the watch, it's not hard to tell that it's a Japanese piece that's for sure.
Actually it's even easier then that. It's written in big letters underneath the Citizen logo on the dial. 'Designed and Manufactured in Tokyo' a very interesting place no doubt, but not somewhere you'd closely associate with watchmaking like you would the Q'uai de l'Horloge, Glashütte or the Valleé de Joux. Nevertheless Japanese watches have become something of an industrial triumph over the past thirty years, so it's great to see someone finally claim the top spot.
But there is a reason for this watch existing you know, it does have a backstory. It's actually been created to celebrate the 300th anniversary of Daimaru, a Japanese department store of sorts that traces its heritage all the way back to 1717, when it was founded as a dry goods store named Dai-Monjiya. The watch will only be available in Daimaru stores.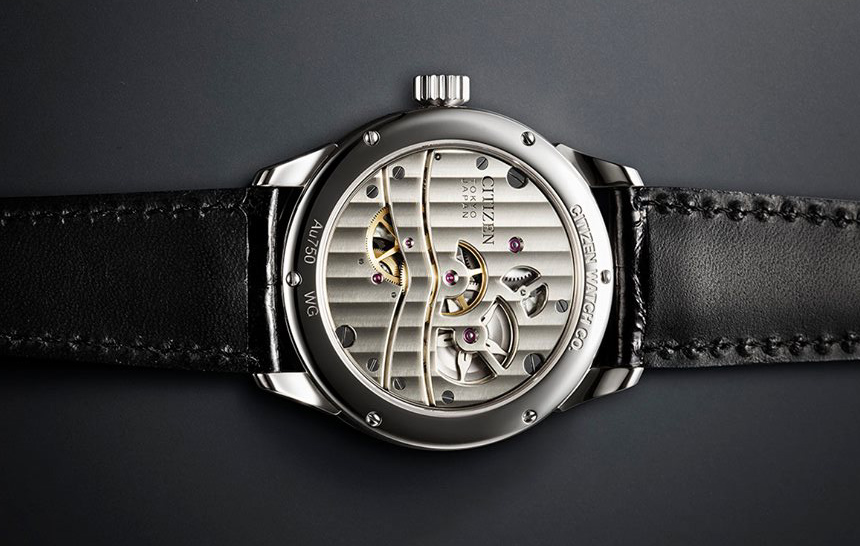 This watch is made of 18K white gold in a 42mm case. The most interesting thing about it is the price point, it's not your normal Japanese watch affair where it's a really nice watch for pennies, oh no. It's $90,000. That is, unfortunately, going to be a very hard sell for them I feel, there's too much on offer for that kind of money such as a Breguet or A.Lange & Söhne, granted you may not be able to buy a brand new one of those with a tourbillon in, but that's what the pre-owned market is for now isn't it? Either way, it's a great watch for sure but they have rather shot themselves in the foot a bit I feel, it's simply too much money. For more info, please visit citizenwatch.com