New arrival, the 1954 World Traveler, finds a particular way of demanding its space. Other than its natural good-looking capabilities, this timepiece finds a purpose reaching beyond design elements and functionality.
The Copenhagen-based brand elevates it to the next level by taking responsibility for endangered wildlife. Part of the sales are donated directly to the sea turtle conservation organization, Turtle Foundation, with the aim to give 20 green sea turtles a safe beginning for each watch sold.
They chose to incorporate the endangered species into central elements of the design as a way of linking them to the choice of donation. The dial has a distinct texture to resemble the characteristic pattern of a green sea turtle's carapace, while the colors are kept in green tones as a reference to the species' official name.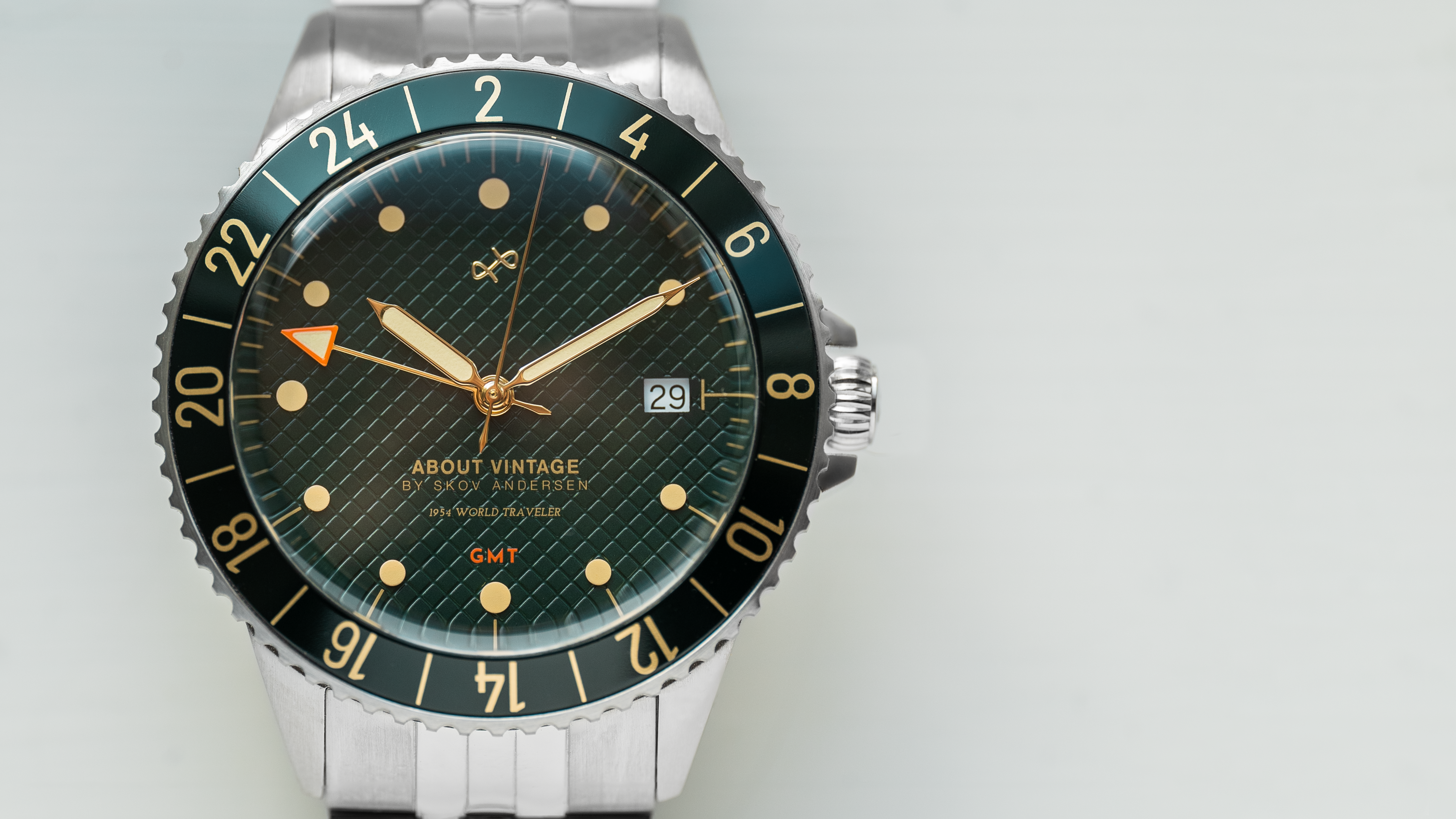 Apart from its texture, the green dial is designed with golden-toned hour markers at 12H, 6H and 9H slightly enlarged to make them stand out from the remaining markers. Visibility has further been enhanced through the use of golden-toned lumina which lights up the hour markers. Decorated with a high contrast orange arrow-shaped tip, the GMT hand easily distinguishes itself from the remaining components of the watch.
Topped off with a domed sapphire glass with anti-reflective coating, and the classic 5-link bracelet, the watch is best characterized by both a distinct, yet timeless stylish ease.
The timepiece features a 60 click bi-directional green bezel crafted from polished anodized aluminum. Further powered by the Swiss Made Ronda 515-24H GMT quartz movement, the price is kept at a high value for money level without compromising the quality due to the affordability of the movement. The 41mm wide, 12mm thick, stainless steel case extends to the right side to subtly protect each side of the screw-down crown, which upon sealage, ensures you a water resistance of 100 meters (10 ATM tested).
Moving on to complications, this watch comes with two. Firstly, the GMT complication allows its wearer to set up to three time zones, making it both a utility for frequent travelers as well as to any man wishing to stay updated on the time of loved ones abroad. Alongside a classic date complication neatly placed at 3H on the dial, the 1954 World Traveler keeps you well-equipped in any situation, scoring high in both versatility and functionality.
About Vintage has a thing for naming its watch models after important moments in the history of horology to which their newest addition is no exception. In 1954, Rolex debuted with their first-ever GMT watch, the GMT-Master, originally targeted at pilots flying across timezones in a matter of hours. As an iconic two-toned timepiece indeed, About Vintage felt it was only proper to honor the GMT legacy by naming it hereafter. Retails at $399 including a free extra strap of your choice.