Andersmann is a relatively new independent startup brand we have worked with and made recommendations of in the past. We like their sturdy, quality Swiss watches that in all fairness don't cost a huge amount for what you are getting. You might remember the Masthead of WristReview covering their Deep Ocean watch a little while ago, a watch which offered a lot of water resistance (3000m) for not much cash. Well, now they're back with a new and more complicated model.
If you were in the market for a cushion-shaped watch with a chronograph and a reliable movement as a daily beater that ISN'T a Panerai, your options are pretty much slim to none. That was, until now of course. This watch features a cushion-shaped case that's 44mm, 16.5mm thick and made of solid Grade 2 titanium. The sandwich construction of this case using multiple layers of the bead blasted titanium means that the central band of the case can be DLC tinted to give a bit of interesting contrast to the case.
Despite being a chronograph, which is usually a recipe for disaster in terms of water resistance, the particular water resistance of the new Andersmann watch is 300m, aided by screw down pushers and a screw down crown. All of those extremities have a knurl on them to help grip.
The dial of the watch is very attractive and quite detailed, especially when you consider the price you are paying for (we'll get to that in a minute). It has a granular, sandblasted look to it which adds a nice bit of texture to the dial. The hands of this watch are clear and legible, anything related to the chronograph is painted, as well as the running seconds hand which is also painted. Interestingly, the running seconds hand has two ends, so it's more akin to a swim timer you'd find at a pool. There are four different colour options available for the hands on this watch, a bright and vibrant yellow (ANN0631), a rich orange (ANN0633), a cool and relaxing blue (ANN0636) and a dark and moody red (ANN0635). The hands and markers are also given a treatment of lume to aid in low light readability.
Let's talk about the part that often makes or breaks the deal with a watch such as this, the movement. Now, for some reason, a lot of people have gotten it into their heads that in-house movements are always superior to off-the-shelf movements. I'm not saying that all pre-made movements are better than in-house made, but for people who just care about the specifications of the movement and the ease of service it's hard to deny the attraction. The Andersmann uses an ETA A07.211 calibre, which has been found in a couple of Hamilton watches, but is much more at home in the Grand Prix de Monaco Historique and Mille Miglia watches from Chopard. One important point to raise here is that although in the Chopard this movement is COSC Chronometer rated, it is not standard on this ETA movement and there is no mention of chronometric certification from Andersmann. Still, it's not going to be far off that precision anyway, and these movements are very versatile.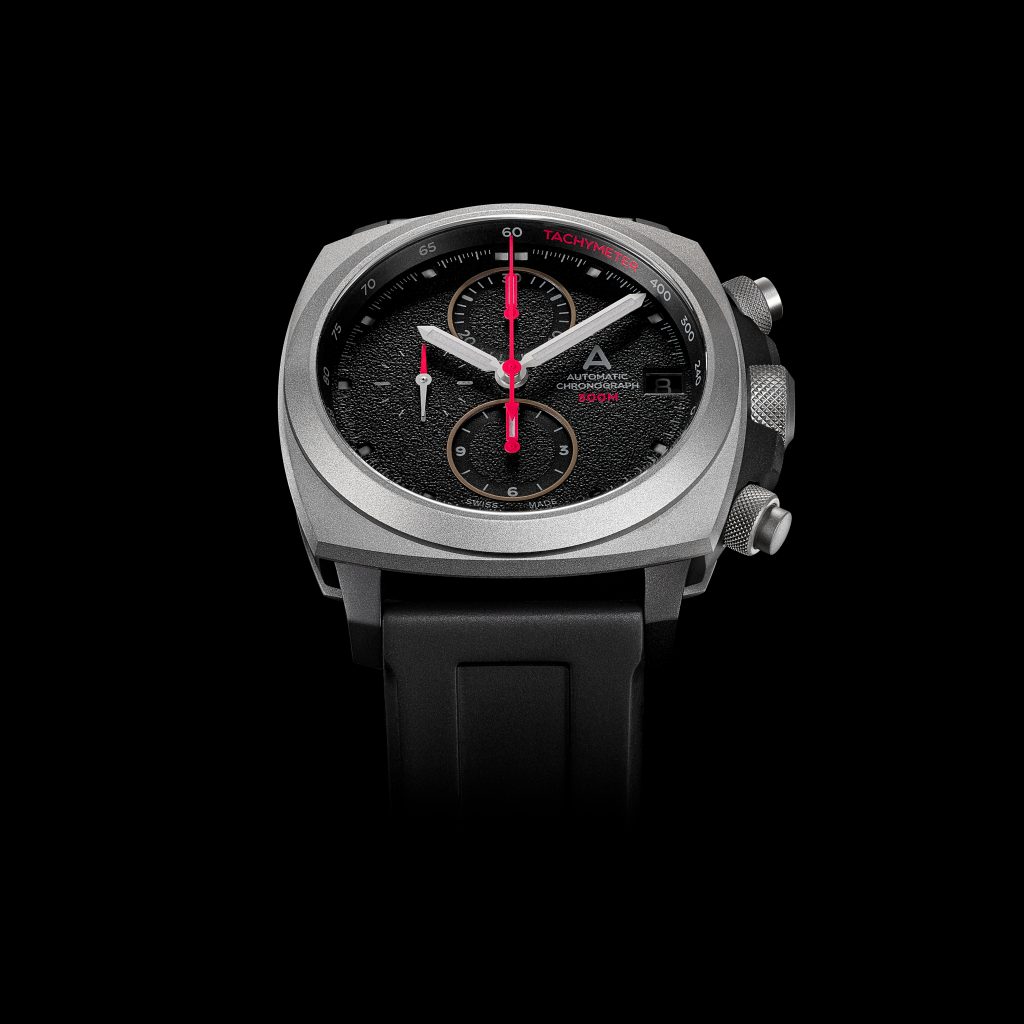 Now we come to one of the best features of this watch, its price. For the extremely fair amount of $1580, you're getting a sporty chronograph on an FKM rubber strap (initially developed by DuPont, FKM is both more resistant to heat and chemicals than standard rubber, while being virtually indistinguishable) with a titanium case and sapphire crystal on the front and back. There's a limited run of 80 pieces for each colour variant, so you'd better hurry and get yours today.
Visit Andersmann here.