People used to buy watches under the assumption that they will remain in good condition over time hence not hurting the resale value. When buying vintages watches one seeks for original papers, original straps, pristine case condition, well-maintained movements, etc. But over the years, having a certain imperfection has ironically caused some watches to demand a premium. I am of course talking about the dial, namely Tropical dials. These dials form unintentionally under certain conditions, such as oxidation and exposure to sunlight, creating a 'beautiful accident' making the watch unique, sort of like a one-off limited edition. These forms of aging are seen in conditions. From dials forming a patina to dials cracking up into an almost spider web shape creating its own unique aesthetic. It is hence not surprising to see why these watches have become so popular and fashionable.
Founded in 1992, the Paris based watchmaker Bell and Ross wasn't well known during its first decade. However, after getting inspiration from their partnership with Sinn, they released their instrument series in 2015 in Baselworld. The watches took the aesthetic of the analog dials and instruments in a flight cockpit. The square dial watches became a hit and ever since then Bell and Ross have only been improving. In keeping up with the trends, Bell and Ross have introduced a new tropical series in collaboration with our friend, Wei Koh the founder of Revolution and The Rake.
Moving away from their popular aviation inspired models, the Bellytanker Chronograph is based on Bell and Ross's BR V2-94 vintage chronograph series and was born from the imagination of the type of watches belly tank racers would wear in the era of the 50s. The vintage-inspired sports chronograph carried design influences of both military and aviation codes, stylised with thin hour indices, recessed counters, stepped seconds track and retro typography.
The Bellytanker watches come in two main colours: the "El Mirage" and the "Dusty". The earthy tones of these limited edition watches draw inspiration from the rustic appeal created by "tropical" dials. Each distinct feature – the central dial, recessed counters, seconds track, and bezel – are colour coded in complementing hues that give an impression of an aged vintage watch.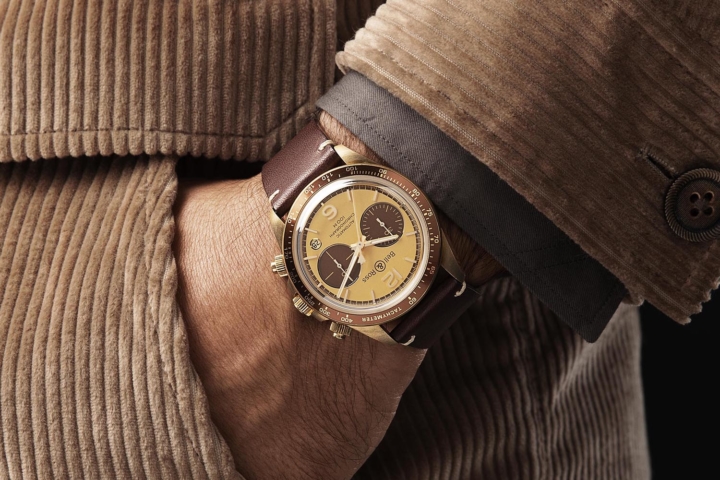 The "El Mirage" Chronograph is fashioned in a specialised bronze case with a satin-brushed finish. The central champagne dial is contrasted with brown small seconds and minute counters, with a matching minutes track while being framed by a brown anodised tachymeter bezel.
The "Dusty" Chronograph is fashioned in a stainless steel case with a satin-brushed finish. The central brown dial is contrasted with black small seconds and minute counters, with a matching minutes track and it is framed by a caramel bezel. Powered by a modular Sellita SW 300 movement, the 41mm watch boasts a 42-hour power reserve while being 100m water resistant. Both watches come equipped with a brown calfskin strap.
I have always been one to advocate on the daily use of watches rather than trying to keep them pristine and neat. These patina dials on the old watches have only come about due to constant exposure to sunlight, humidity and various other conditions. This can only happen if one wears a watch of course. So if you ever are scared the wear your watch outside again, just use the excuse that patina watches only come through constant wear. Visit Revolution here.