The news is out already, but we're here anyway! There have been rumours of a new Swatch collaboration model coming out recently, and about a week ago those rumours became a little more specific in stating that Swatch would be giving a Blancpain model the same treatment as it did to the Speedmaster Moonwatch the other year. A few days ago, those rumours were answered by Blancpain boutiques suddenly having mysterious yellow Pelican cases appear in their windows, Blancpain supplies a Pelican case with some of its Fifty Fathoms diving watches as the official watch box. Then, yesterday evening, the rumours were shown to be correct, Blancpain worked with Swatch to create a new collaboration piece broken down into five models.
The Fifty Fathoms is Blancpain's premiere diving watch and an aspirational goal for many watch enthusiasts (myself included). The Fifty Fathoms is also one of the world's first diving watches to have the layout we're familiar with today (it's believed the Zodiac Sea Wolf came out a couple of weeks before the Fifty Fathoms, but records from that time aren't very good). All in all, it has big shoes and a 70-year pedigree to fill.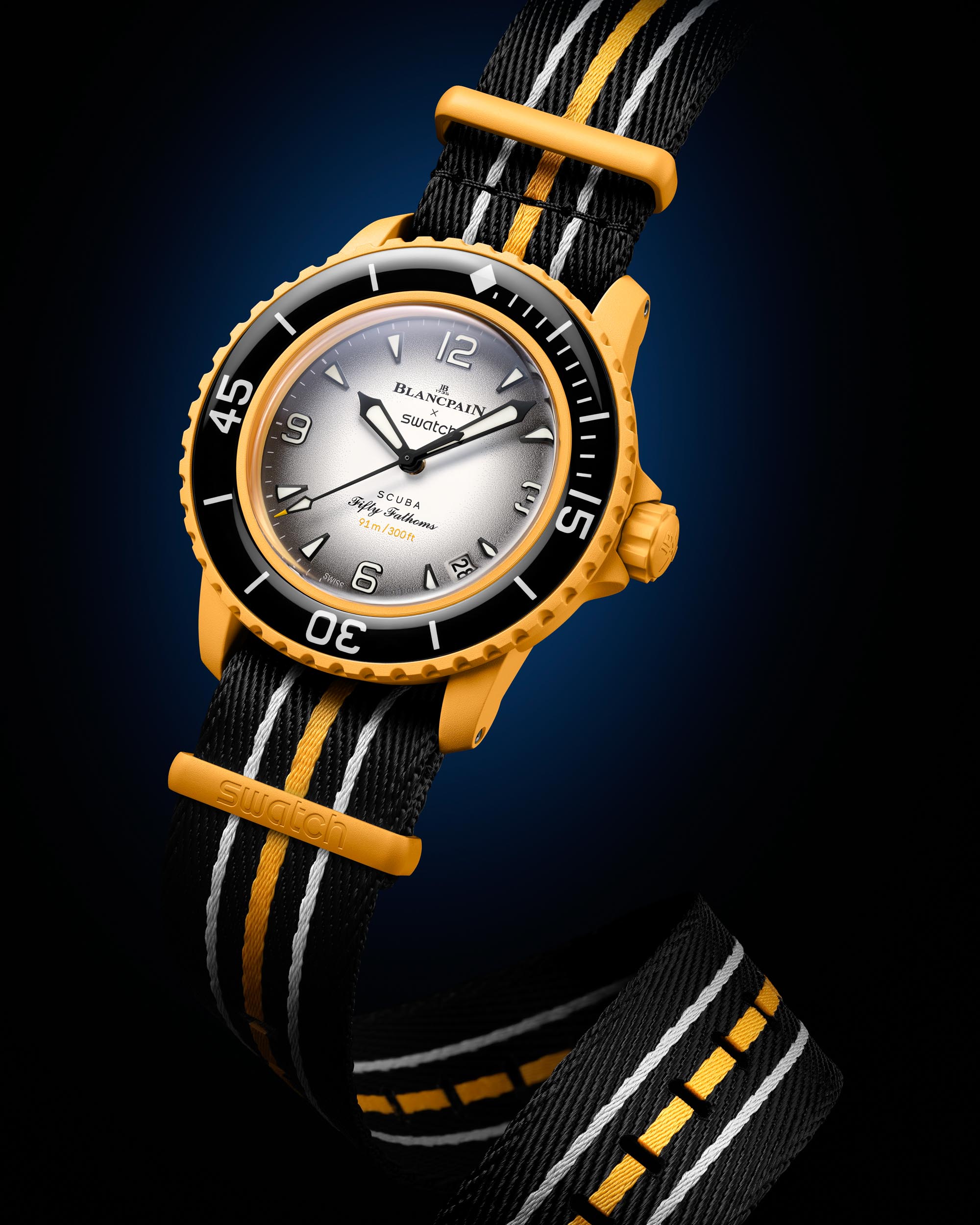 PACIFIC OCEAN
The new watches look remarkably like the Fifty Fathoms, which is nice as the MoonSwatch we saw had a different dial layout to Omega's Moonwatch. The cases of the new Blancpain X Swatch watches are 42.3mm x 14.4mm, but they're only rated to 91m, which is over three times less than Blancpain's Fifty Fathoms. Ironically, 91m is actually the length of 50 fathoms.
ATLANTIC OCEAN
The new Blancpain x Swatch watches also have a glass-like diving bezel with real lume underneath, and the side of each case opposite the crown has the Swatch name in place. On Blancpain's Fifty Fathoms, the Blancpain nameplate is there instead.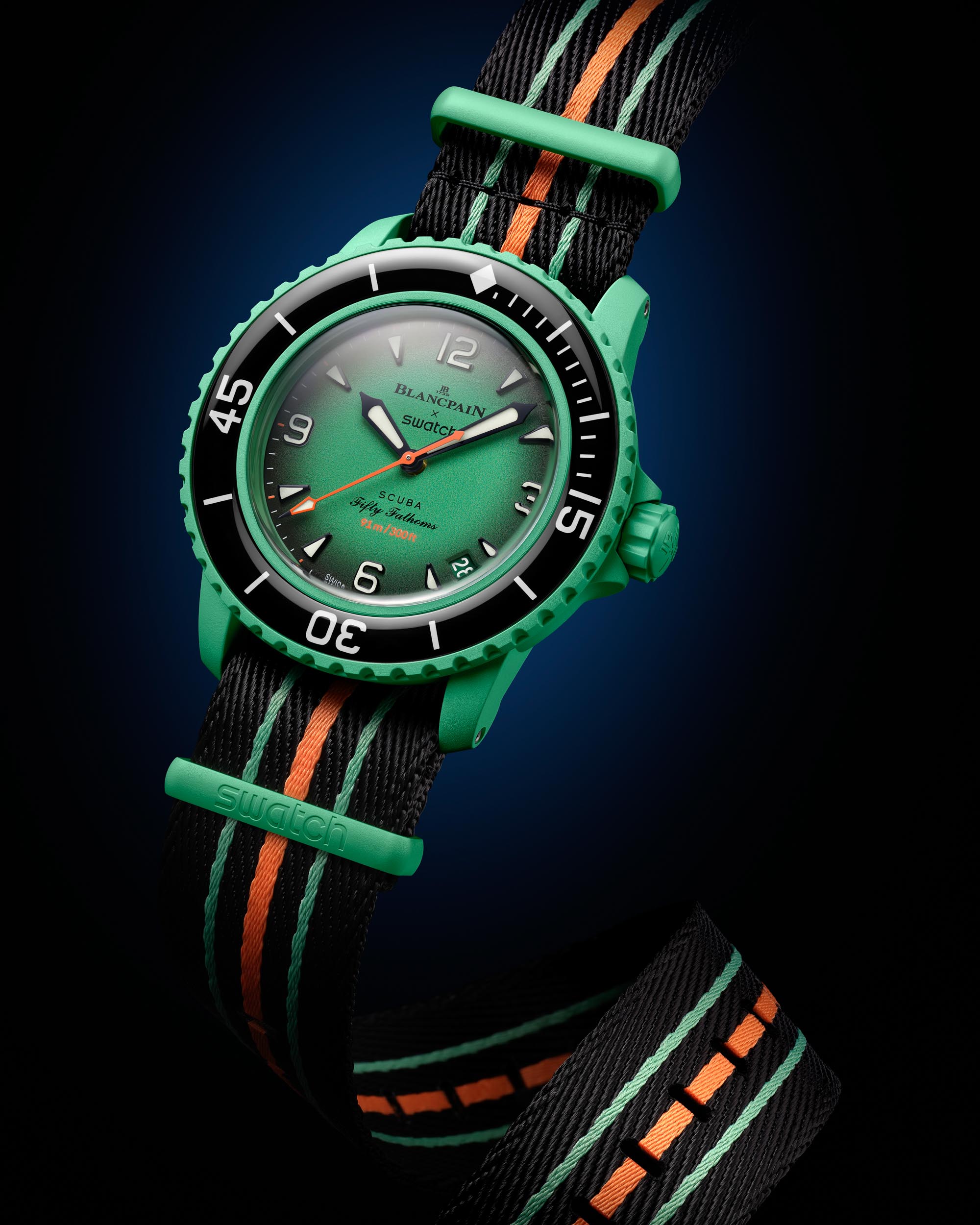 INDIAN OCEAN
There are five different versions going on sale, all with Swatch's Bioceramic case technology, and the five models represent the five main oceans of our planet. The Atlantic Ocean model has a blue case and gradient dial with a matching NATO strap. The Pacific Ocean watch features a yellow case with yellow detailing on the strap and a white gradient dial. The Indian Ocean version features a green case with matching strap and dial details.
Then there are the versions for the Arctic and Antarctic oceans, and they're a bit more unique. The Arctic Ocean version has a beige-y orange case with orange detailing and an orange strap. It also displays the No-Rad symbol which Blancpain originally used to signify its watches didn't use radioactive lume. The Antarctic version has a white case with grey and blue detailing and features the Mil-Spec symbol, which also doubles as a moisture detector. I'm surprised Blancpain allowed this, the Mil-Spec and No-Rad models are very special to them.
Inside the watches is a mechanical movement. Despite Swatch's penchant for making fun and replaceable quartz-powered watches (this was what made them so popular), the Blancpain X Swatch watches use the Sistem51 movement, which is Swatch's revolutionary mechanical movement for mass production. It features just 51 components, and yet it has automatic winding, a 3Hz beat rate and a 90-hour power reserve which I believe is longer than Blancpain's Fifty Fathoms watches have. The rotor of the movement features a representation of a Nudibranch, one of the ocean's more exotic creatures, and the movement plates have oceanic decorations printed on them.
The price is the downside, one of these will cost you $400 before taxes. Granted, that's way cheaper than the Blancpain Fifty Fathoms for a watch that looks about the same, but it's a lot for customers of the Swatch brand. Hopefully, it'll inspire more people to get into Blancpain's watches. With that said, I hope we never get a Breguet x Swatch collaboration.