Those watch enthusiasts who don't live in the U.K. or haven't visited London won't know this but the Chopard boutique on London's famous road of horology, Bond Street, has been undergoing a transformation. While the new and improved boutique was being built, Chopard was based out of a smaller location on nearby Clifford Street. Now, though, the work has finally finished, and the construction signs have come down, and the new boutique does indeed look very impressive. I've walked past the outside, but have yet to go in (I'm savouring the moment). To celebrate the grand opening of the new boutique in one of the most important locations for Chopard, the brand has unveiled a unique watch to pay tribute.
The special edition watch is based on a very fine timepiece indeed: the L.U.C. XPS 1860 Officer. We got to see this watch before it went to Baselworld back in 2017 and it was something to behold. The dial features an elegant honeycomb guilloché with restrained markers, numerals at only 12 and 6 O'clock and Chopard's signature notched dauphine hands which are polished on both sides of the fold to enhance the appearance further. To create a deep grey colour, the gold dial receives a galvanising treatment.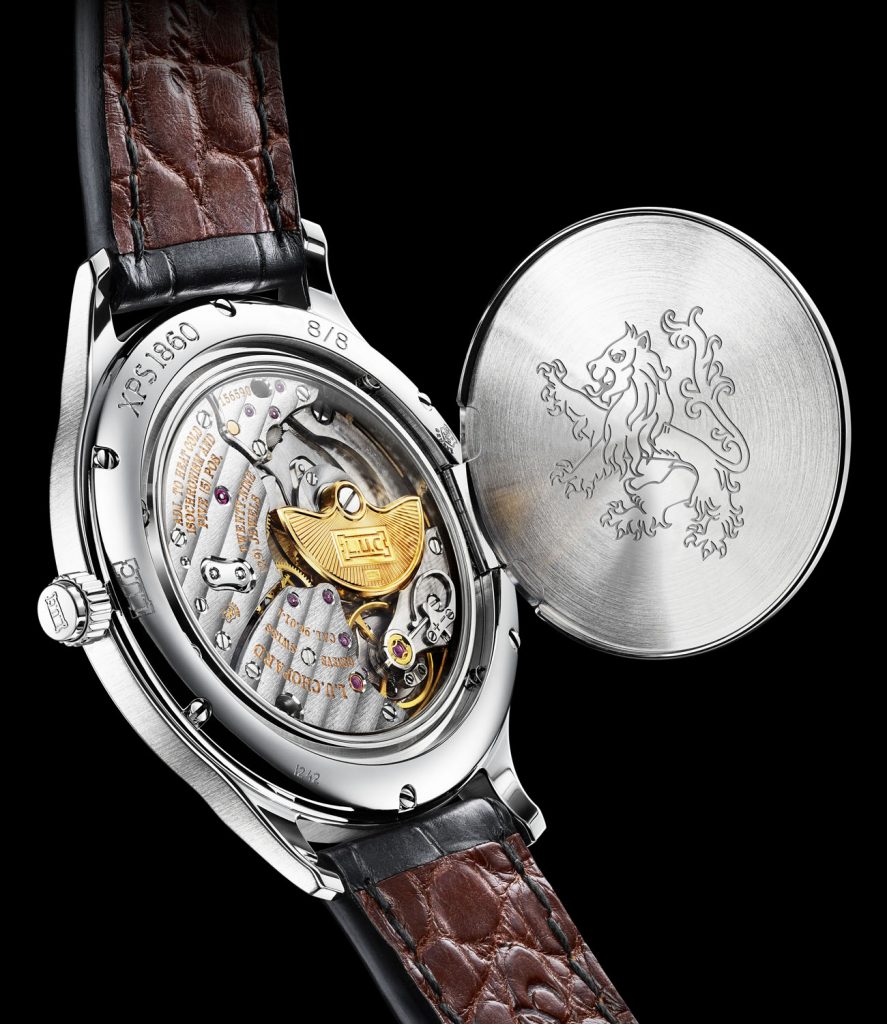 The movement of the watch is where the magic happens, but, to get to it, you need to open the officer's caseback first. Unlike most watches which feature a hunter caseback, which is a small door opened from the back of the watch via a little edge to dig a fingernail under, the 1860 Officer watch has a pusher integrated into the crown which opens the latch on the engraved door over the back. Once opened, the calibre L.U.C. 96.01-L is revealed on the underside. Gloriously finished, this micro-rotor movement exudes class and shows off the abilities of the brand. It features a 4Hz beat rate and a 65-hour power reserve. It has also been awarded the Geneva Seal, which guarantees that every component has been crafted properly and finished beautifully.
To celebrate the opening of the London boutique, the inside of the officer caseback has been engraved with a lion which symbolises Richard the 1st, otherwise known as Richard the Lionheart, or Richard Cœur de Lion (1157 – 1199). Nearly every film about the legend of Robin Hood includes Richard gloriously returning to slay or punish Prince John and the Sheriff of Nottingham. Whether he did return to England to do this, and whether he met the figure Robin Hood is supposedly based upon is unknown. He stands guard to this day in the form of his lion inside this watch, ready to battle it out once more.
There is no price given as of yet for this watch, and there will only be eight made in total.
Visit Chopard here.