We all know that when it comes to watchmaking, it's hard to think of brands based outside of Europe, Japan or China. That's not anyone's fault, specifically, these are just the areas that watchmaking has the biggest foothold within. You can imagine my surprise, then, when I was passed some info on the latest special edition watch from Canadian watchmaker Christensen by NOVO. Founded in 2011, these fine folks hail from Lethbridge, Alberta, which is in the centre-west of Canada. To the north is Calgary, and to the south is the border with Montana, USA. To be clear, this isn't the first Canadian watch brand, not by a long shot. Marathon, for example, has been making watches for the armed forces of the world since 1939. Other names, such as Bradley Taylor, also stand out in the watchmaking world, but it's always good to hear from other makers carefully working their craft.
The owner of NOVO is Steve Christensen. A finalist in the FP. Journe Watchmaking Contest, Steve's expertise involves expertly recovering material from artifacts without damaging their appearance or structure, and then using that material in watches. This is the reason why NOVO is producing this specific watch, but we'll get to the details of that in a moment.
The new watch, the Christensen by NOVO Peacemaker Series, is a modern interpretation of a military watch. This is a good move by the Canadian firm, as military watches and field watches are extremely popular with collectors right now, and we've seen a surge in the number of them being brought onto the market. It's also timely because there is currently a big so-called "special military operation" underway by Russia in Ukraine. Russia's invasion of the country has sparked outcry all across the globe and continues to dominate the headlines, with it being the largest combat operation on the European continent since WWII.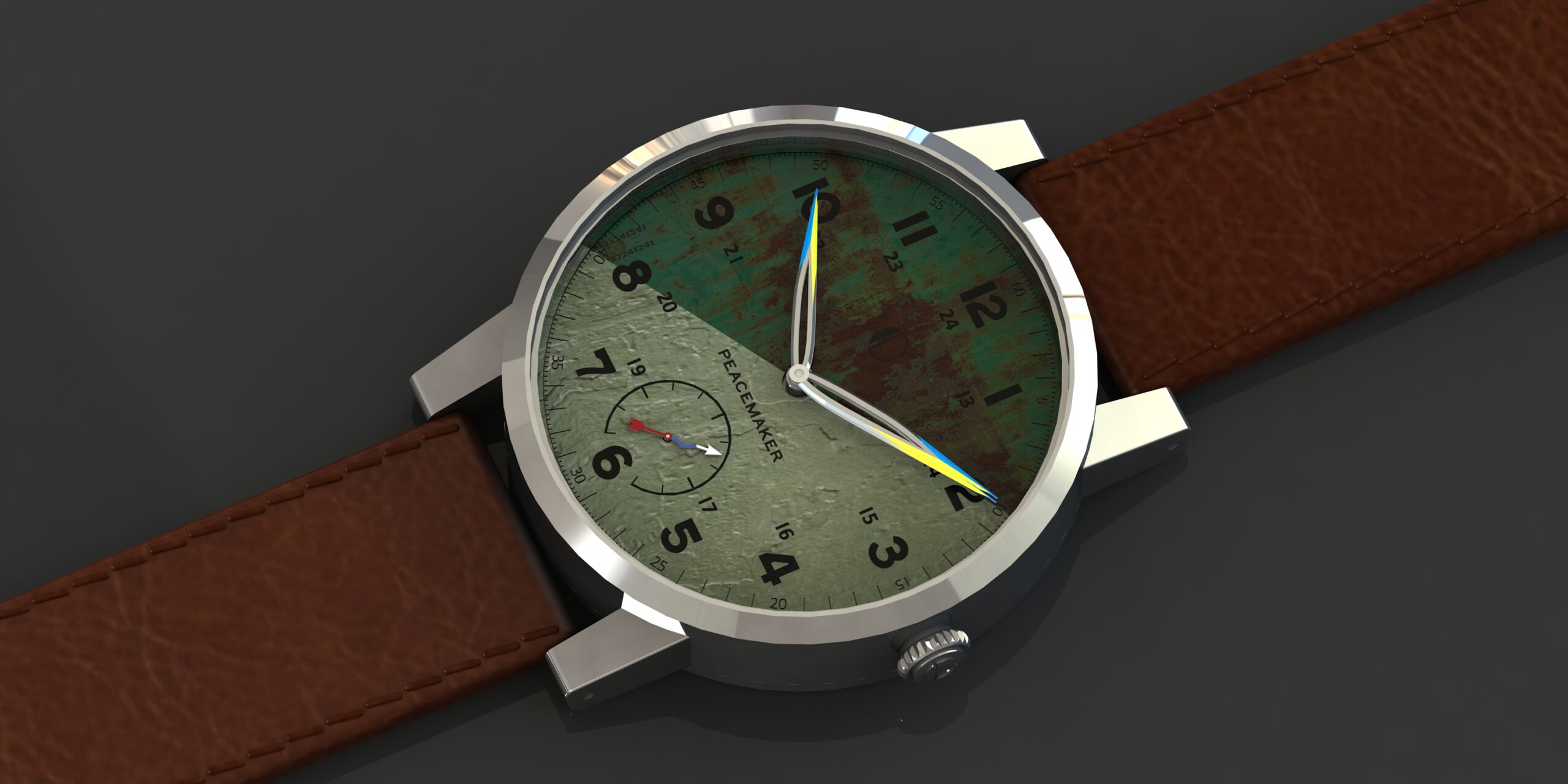 Some watchmakers, like Christensen by NOVO here, have created watches that raise awareness of this fact and raise funds for the humanitarian relief effort. Each watch comes with a unique distressed dial which has been made from destroyed Ukrainian artillery hardware and Russian tanks. It reminds me of that scene from The Simpsons where Frank Grimes Jr tells Homer Simpson his car is made of old Soviet tanks. I wonder if there were any pennies in the Russian tank's ashtray… I'm digressing again.
WristReview Q&A with Cultish CEO Sean Holt and Steve Christensen of NOVO
What inspired you to create a watch like this, do you have a connection to Ukraine?
No direct connections with Ukraine. But we wanted our first watch commission at Cultish to be charity-driven, and the situation in Ukraine is perhaps the greatest humanitarian crisis of the 21st century so far.
So we set out to create a watch that would incorporate elements from both sides of the conflict as a call for solidarity and peaceful resolution.
And we chose WCK as our charity partner because they are non-partisan and having the greatest direct impact on the widest possible populations impacted – serving millions of meals to displaced and liberated communities all across Ukraine and in neighbouring countries that have taken in refugees.
We then set out to find a watchmaker who was willing to take on this ambitious project and it so happens that the only watchmaker in the world we could find who actually has the track record and skill set to obtain and work with these source materials was also Canadian – Steve Christensen at NOVO Watch Co.
Both Cultish and NOVO are fully invested in this project and donating time and money to ensure maximum visibility and financial impact for WCK and in turn the people of Ukraine.
What was the one element of the watch's design that you had to get just right?
The plowshare motif for the hands is very important for a number of reasons.
This took a great deal of time to get right.
Please see the enclosed PDF showing what a standard plowshare actually looks like and how we 'streamlined' this to create the plowshare hour/minute hands design that retains the 3 most distinctive elements of a standard plowshare – moldboard, chisel and share.
This design has several symbolic meanings.
First, in keeping with the watch Series name – Peacemaker – for this retake on traditional military watches, our discovery was that the vast majority of military watches employ (not surprisingly) a sword motif for hour/minute hands. So the biblical metaphor for transforming swords into plowshares came to mind as an opportunity to infuse additional meaning/purpose into our selection for the hour/minute hand designs.
Second, as it so happens, Ukraine is commonly referred to as the breadbasket of Europe. And as seen with the impacts of Russia's shipping blockades on grain exports – it turns out Ukraine is the breadbasket for not just Europe but much of the surrounding developing world. So the plowshare motif takes on yet further meaning within the Russia-Ukraine Edition for this Peacemaker series watch collection. And is also the reason we thought to then add additional Ukranian flag colours to these hands.
This in turn gave us the idea to fashion the seconds hand in Russian colours with a broken arrow to symbolize failed endeavour. Cheeky for sure, but hopefully subtle enough that it's not insulting to the average Russian.
If you were to revisit this design, what would you change?
We've had to significantly design once already.
When it became apparent that custom-designed movements we originally planned to use from

dkprecisionmechanics.com

were not going to be available on time to hit our production schedules, we had to revert to in-house milled movements based on ETA 6498 calibre.
This required us to redesign and dial, caseback, crown position, etc. – basically everything.
Having learned this lesson in the future we would plan WAY ahead to design and produce in-house movements from scratch, similar in form and function to those we had originally designed had planned to outsource for production.
Where do you see NOVO/Cultish (and yourself) in ten years' time?
Cultish

The vision for Cultish is to be a thriving ecosystem of cult Producers, Collaborators (artists, designers, athletes, etc.), Dealers (in rare/vintage grail products), Collectors (long-term holders who form an emotional attachment to Producers and products) and Investors (who are purely financially driven but who inject capital and liquidity into our marketplace).In 10 years we should have 1000s of Producers offering new exclusive collections on Cultish across dozens of products categories spanning apparel, eyewear, handbags, jewelry, watches, bikes, skateboards, skis, surfboards, knives, pens, musical instruments, hi-fi audio, vinyl records, whiskey, wine, cigars and more.In 10 years we should have 1000s of Dealers in rare/vintage grails within those aforementioned categories (we only plan to introduce Dealers into channels already anchored by established cult Producers).

In 10 years we plan to transfer ownership of the company, and stewardship of the Cultish product registry (which tracks approximate whereabouts, exact trading history, and known condition of every product ever sold our platform) to our user community.

NOVO

Steve Christensen will likely bring on someone to take over ownership and operations at NOVO to produce stock/affordable watches and accessories.

This will allow him to focus entirely on Christensen by NOVO (CbN) – a new premium brand imprint where he can take greater creative risks and test the limits of hi skills and abilities to produce custom watches, limited edition watch collections and new innovative product lines.

Concurrent with the release of Cultish's commissioned watch collection, Steve is creating a new CbN owners club whose members receive a range of benefits, including exclusive experiences – immersive learning journeys around to discover and ethically source cultural artifacts to fashion into new watch collections. An example could be a diving trip to explore sunken ships with permission to obtain source materials from those to incorporate into new commemorative watch collections.
The hands are a unique hollowed shape which Christensen by NOVO calls a 'Plowshare motif'. Ukraine is sometimes nicknamed "Europe's breadbasket" because of the amount of wheat it produces (around 33 million tons in 2021). The hands also have the yellow and blue of the Ukrainian flag on their tips to symbolise the encouragement of peace between the two nations, this also doubles as lume at night, so the 'Plowshare' hands glow yellow and blue at their tips. Meanwhile, the seconds hand features a wonky 'broken arrow' shape in the colours of the Russian flag. This is a subtle poke at Russia's failure to invade a country multiple times smaller and poorer than itself, although I'm sure the seconds hand blames the West for its shape entirely. The markers appear clear and easy to read, an essential factor of a field watch, they also glow blue, and the minutes track glows yellow at night to symbolise European solidarity with Ukraine. It's unusual to see a watchmaker take so many jabs at something, well, unless it's H. Moser & Cie. and this watch pulls it off well without becoming boring or repeating itself.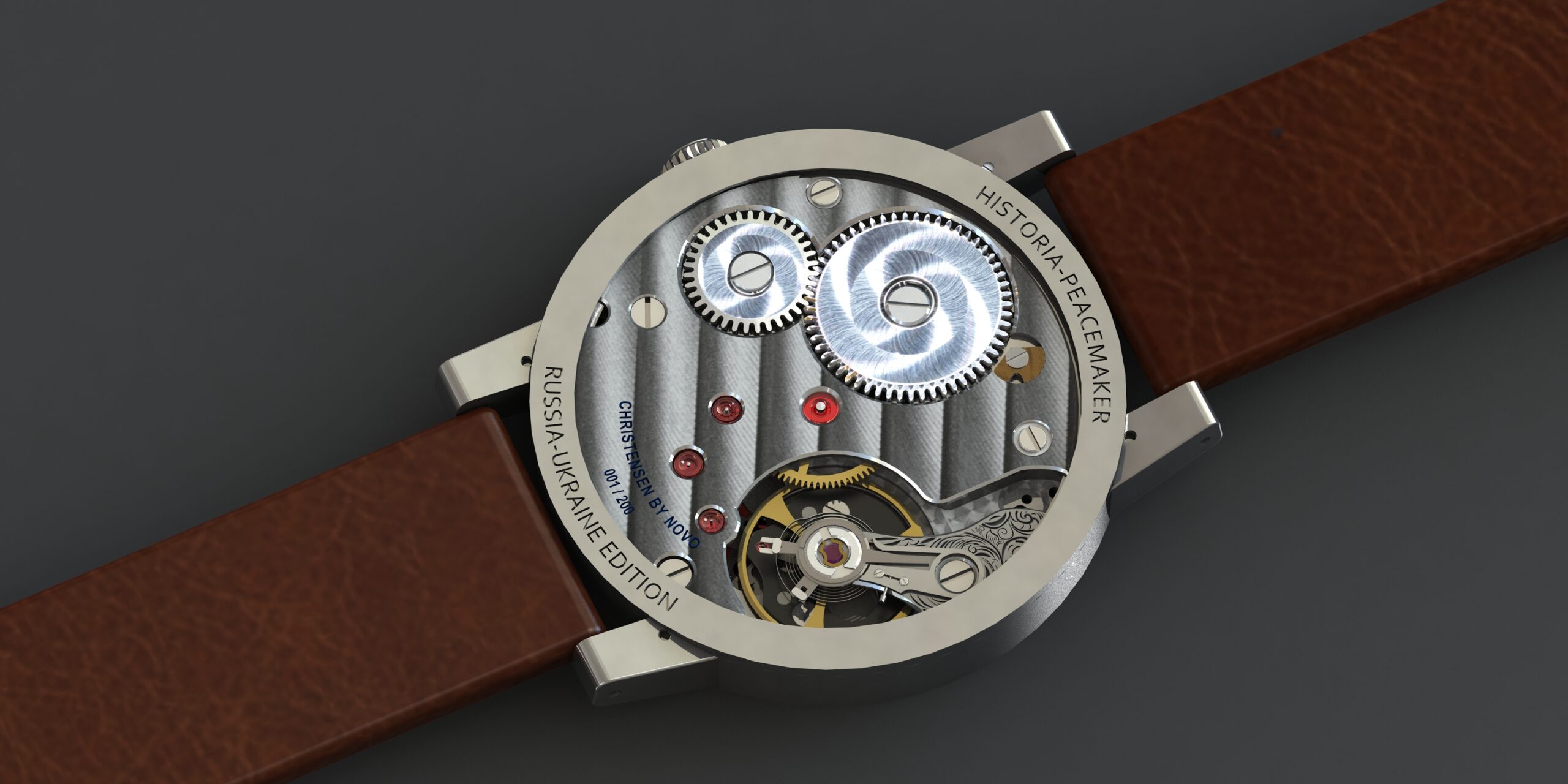 The movement powering the watch is the manually-wound CHR001 which began life as an ETA 6498-1 calibre. It has been given a thorough decorative treatment in Christensen by NOVO's Lethbridge studio, applying Geneva stripes, polishes and engravings inspired by their favourite Swiss watches. The beat rate is 18,800bph, and the maximum power reserve is 53 hours.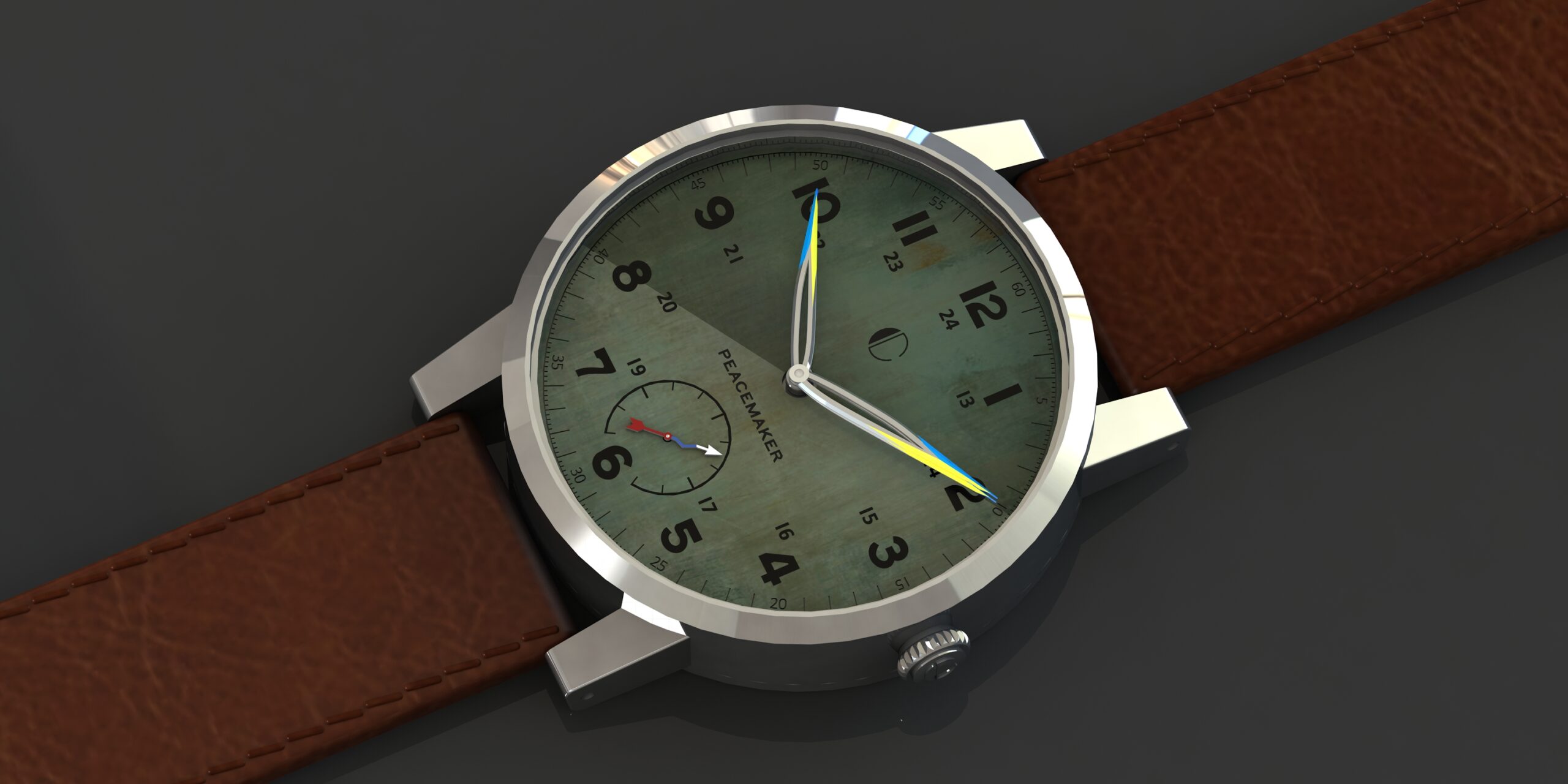 All of this is wrapped up in a smooth matte-finished stainless steel case measuring 42mm in diameter with 50m water resistance and a choice of fabric or leather strap. There's also a passive NFC chip from STISS.ch embedded within the sapphire crystal which will be programmed upon manufacture to act as a digital certificate of authenticity for the watch. STISS.ch are specialists in integrating NFC technologies into the crystals of watches, their website shows that you could make contactless payments like with a smartwatch using a STISS.ch chip, but this watch currently doesn't have this function. The chip has a lifespan of 60 years.
The watch is limited to 200 examples worldwide. Each piece is individually numbered and made to order and should be delivered within 12 weeks. The price is $3,999 CAD, of which 10% of sales funds and 100% of profits go to the World Central Kitchen, which is currently working hard to feed the liberated and the displaced of Ukraine.