Remember back when people speculated whether Omega would start re-issuing its old models with restored movements, and then they did launch those watches but with the super modern Master Co-Axial movements instead? Now they're doing it properly, with the full old school movement in an old-school-style (I'll explain that later) case with old school dial. Finally, Omega has decided to make a limited edition watch we all want. Unfortunately, it's substantial, costly and so unique it's probably sold out by now.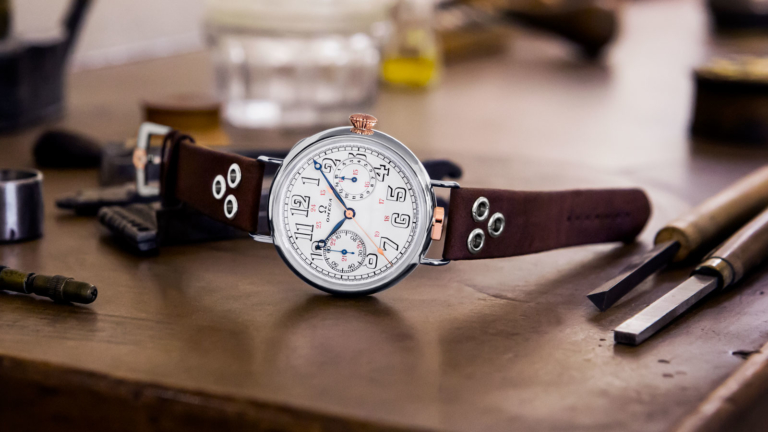 In 1913, just 13 years after it made its first wristwatch, Omega launched its first ever wristwatch chronograph. It was a big watch with a white dial, large numerals and my favourite shape of crown: the onion crown. It was mostly advertised as a military tool for the armed forces and was very well liked by the Royal Flying Corps. Given that 2018 also happens to be the centenary of the Royal Air Force, is it really that strange that Omega is re-releasing this watch?
I'll get straight to the first downside of this watch: it's enormous. At 47.5mm in diameter, you're going to need some severe arm heft if you want to wear it and not look like you're about to eat your dinner off of your arm. That case isn't exactly going to be durable either, it's made of solid white gold and has a Sedna gold pusher for the chronograph which has been inconveniently placed at 6 O'clock (inconvenient but true to the original, so extra brownie points there).
Having said that, there are counter-arguments to these two points. Back in these early days of wrist-worn timers, most of the watches made were converted from pocket watches, unlike we see today where an old movement has been crammed inside a cheap case and called 'geniune', this really was the real deal. Genuine Omega calibres put inside original Omega cases that strapped to the wrist. Of course, a pocket watch is quite large, and so is the movement inside it. Moving to the second part, don't forget that the calibres in these watches may be over one hundred years old, even though they have been given a complete refurbishment by Omega's Atelier Tourbillon, they're long past their days of rough and tumble. We'll forgive the white gold case. We also like the traditional soldered lugs which connect the strap to the watch head, slim but very old-school and elegant too, and welding is the expensive way of making lugs after all.
As I mentioned the crown jewel of this watch is the calibre, the cal. 3018 which is based on an original Omega 18″ CHRO. Regarding complications it's quite something, with a monopusher column-wheel chronograph, a Breguet overcoil balance spring, gold plated plates and bridges and stainless steel wheels and gears, making for longer resistance to wear (making tiny parts out of stainless is very tricky, which is why most don't do it). It ticks at a beautifully steady pace of 2.5Hz and goes for a full 40 hours on a wind.
This remarkable piece of history is limited to 18 examples, each of which will cost 120,000 Swiss Francs before tax. For more info, visit Omega online.