You know, someone commented on my last article about Audemars Piguet that they are no longer considered an haute horlogerie brand. While I get that the endless onslaught of Royal Oaks can be tiresome, that comment couldn't have been further from the truth. So what if they make a couple of models? Surely, the work that goes into each one and all the different complications squeezed into that one model is what we should use if we consider a brand as haute? Anyway, here's a new Code 11.59 which not only defeats the purpose of my point but also proves that Audemars Piguet is an haute horlogerie manufacturer.
Audemars Piguet (and indeed other blogs) talk about the new Code 11.59 Ultra-Complication Universelle RD#4 having 40 functions which, to be clear, is not the same as saying the watch has 40 complications (although most of the time, functions and complications can be used interchangeably). This watch has 23 complications and 17 "Special technical devices", all of which are listed below:
Central seconds chronograph
Split seconds (rattrapante)
Semi-instantaneous chronograph minute counters
Hour counter for chronograph
Flyback function for chronograph
Minute repeater
Supersonnerie
Grande sonnerie
Petite sonnerie
Silence mode for grande sonnerie
Silence mode for petite sonnerie
Self-winding of the sonnerie barrel
Automatic prevention of sonnerie operation when the barrel is low on power
Perpetual calendar
Date display
Day display
Month display
Year display
Moonphase
Semi-Gregorian calendar function (doesn't need adjusting until the year 2400)
Tourbillon
Automatic winding
The "Special technical devices" are apparently modifications to the above, they are:
Chronograph split seconds activator via pusher crown
Swivel clutch to avoid hand stutter upon starting chronograph
Chiming mode selection for sonneries by rotating chronograph pusher
Isolation of automatic winding during time setting
Silent striking regulator
Transparent soundboard
Speed correction for the calendar via the crown
Large date using two windows rather than one
Fast day-of-the-week correction
Speed correction for month and year by rotating chronograph pusher
Speed moonphase correction
Moonphase display using two disks
Year display using two disks
Device to prevent damage when transitioning date from 31>1 and vice versa
Flying tourbillon
Large amplitude
Automatic opening of the secret (hunter-style) caseback cover
As you can see, that 40 number seems a bit flimsy when some of those "special devices" are extra bits and bobs, and I'm not sure we count self-winding as a complication any more, given its prevalence. And yet, that doesn't stop it from being fabulous. Controlling the sonneries and the calendar through the chronograph pushers is inspired. We don't just love high-end watchmaking of this magnitude here at WristReview, we love it when they get clever. For example, the crown at 4 O'clock can reset to a neutral position after being moved by 70 degrees or more if left unchecked to prevent damage from misuse.
The in-house calibre 1000 is made from over 1100 individual components, all of which are hand finished to perfection. When left to its own devices, the watch will run for 60 hours at a 3Hz beat rate.
Audemars Piguet is making the new Code11.59 in four variations, three of which are in 18k white gold and with either a black, beige or open-worked dial and one in 18k pink gold, which only comes with an open-worked dial.
The case measures 42mm x 15.5mm, which is still thinner than a Seamaster Planet Ocean chronograph if memory serves correctly. Given the work that went into it, this is definitely a special occasion piece and not an everyday watch.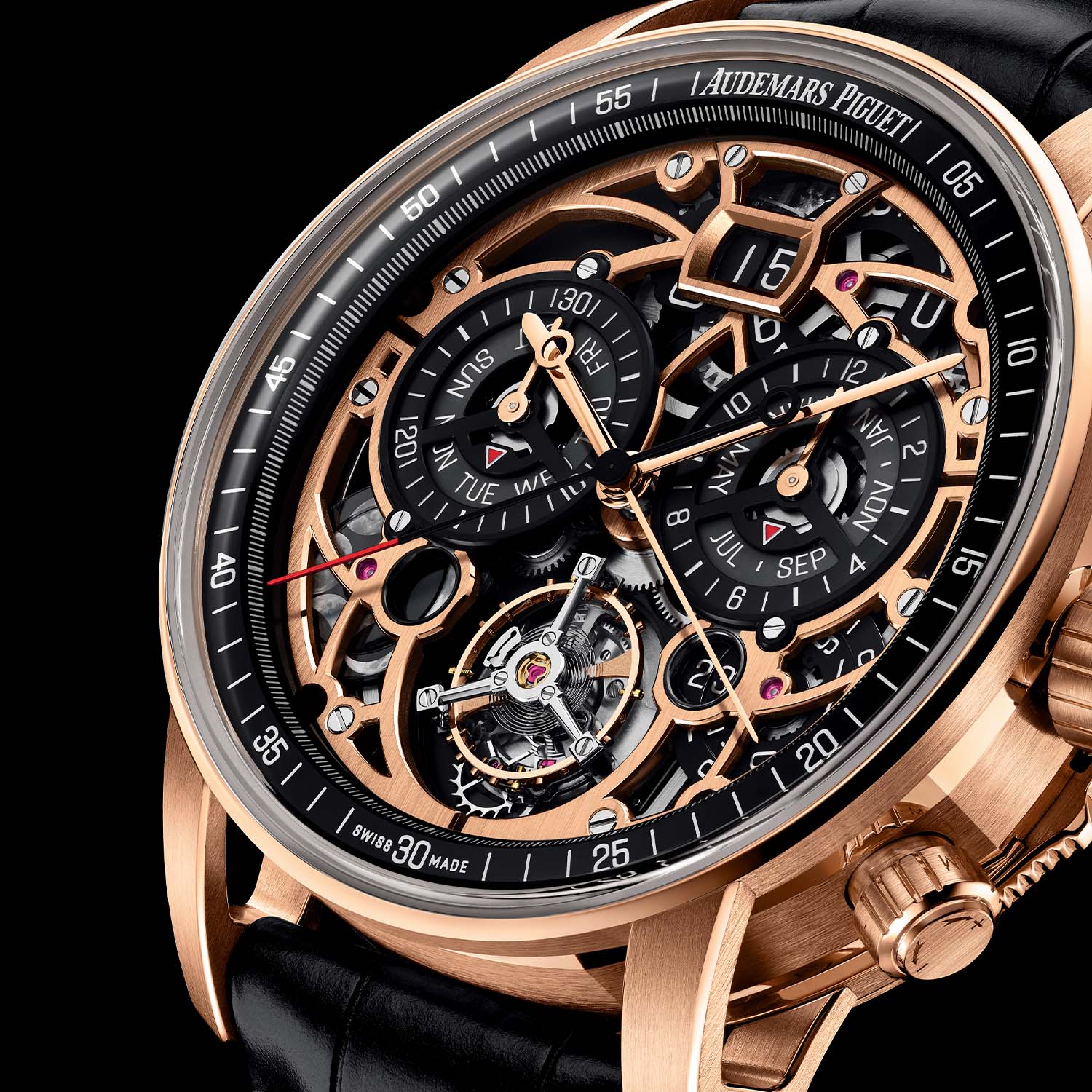 The price for the regular versions is CHF1.45m, and for the open-worked versions, it's CHF1.6m.
Visit Audemars Piguet here.