The Breitling Superocean is the brand's answer to Omega's Seamaster and Rolex's Submariner. As one of the biggest names in watches, it's only right that Breitling's model ranges cover the entire gamut of watchmaking, even if they're predominantly focused on pilot watches. The Superocean has also been pretty unloved, or so it would seem, as you don't see it often in forums. The Superocean Heritage watches look great but are quite large and 'blingy'. Breitling has unveiled a range of new models with radically different styling to drive popularity into the Superocean name.
The appearance of these watches seems, well, bizarre at first—a cacophony of details, textures and indices. The design has drawn inspiration from a vintage model, the Superocean Slow Motion, although it lacks the chronograph pushers and is way chunkier. It seems like a blend of Seiko, Citizen and Christopher Ward. 
The sizing seems to be targeted at Omega's Seamaster selection which covers nearly all diameters imaginable. The Superocean's size range too covers most choices, with 36mm, 42mm, 44mm & 46mm diameters available, although it scoots around the "goldilocks" 38-40mm diameter range entirely. All these diameters can be had in either stainless steel or two-tone stainless steel with 18K red gold. The 42mm and 44mm versions also come in a "corrosion-but-not-patina" resistant bronze alloy. All models receive a ceramic bezel insert sapphire crystal over the dial and a respectable 300m of water resistance. The diving bezel for all bar the biggest version is unidirectional, but the 46mm Superocean gets a bi-directional bezel secured by a patent-protected locking mechanism.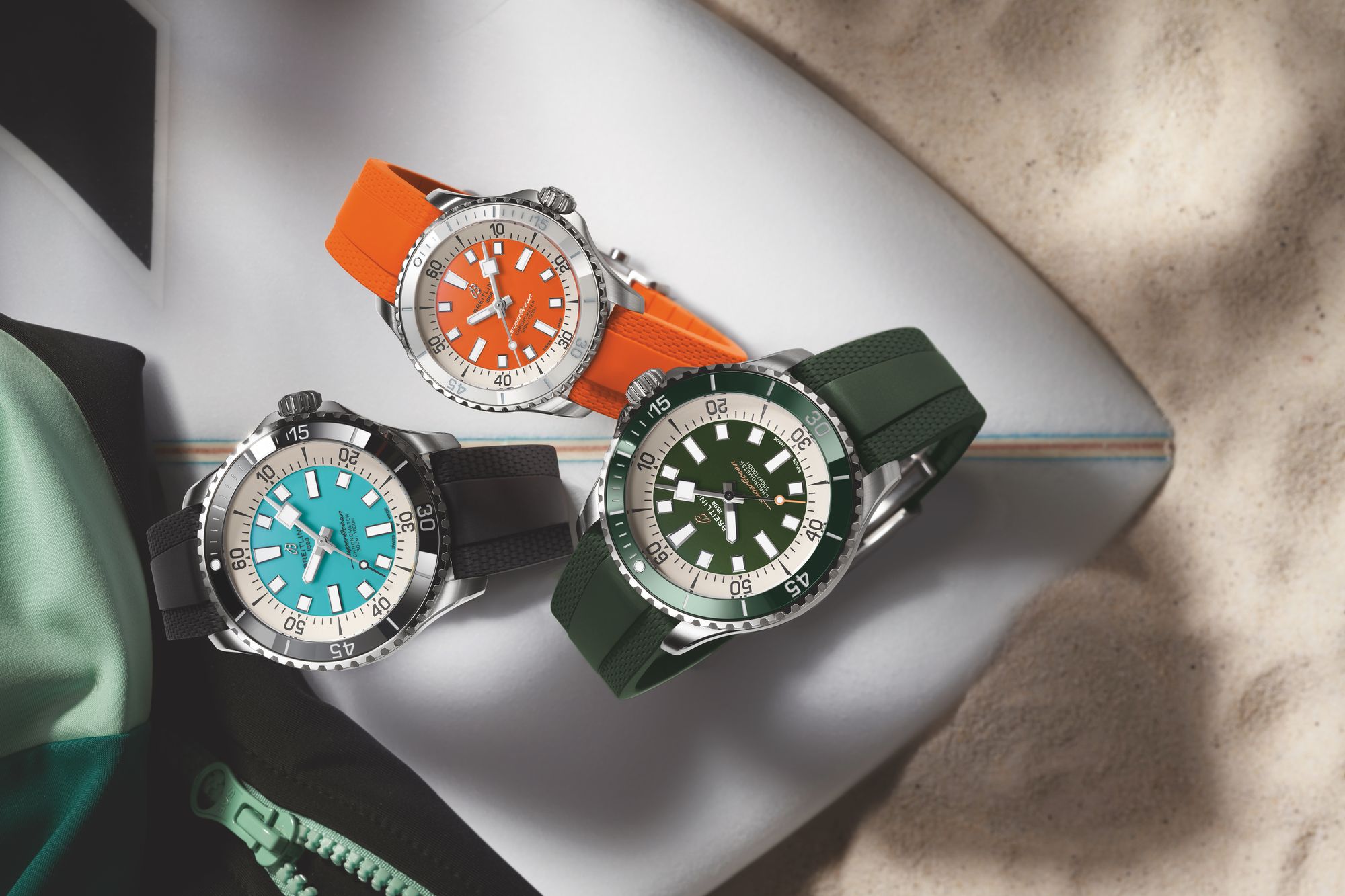 The dials match the cases with their chunkiness. Big square markers dominate the free space, while the lumed hands occupy even more space. The minute hand has a square lume setting to evoke more historic vibes. I like that this isn't a copy of or a tribute to a past model. It's picked some parts of the Superocean Slow Motion's design but added their own too.
Inside the watches is the Calibre 17, an ETA-based automatic movement. The 2824-2 is one of Breitling's go-to movements, despite producing some awesome in-house calibres. Its specifications are adequate, with a 4Hz beat rate and 38-hour power reserve. It's also a date-free movement which is good as there's no space on the dial for that.
A slew of colours are available, including black, green, blue, turquoise, silver, orange (36mm only), brown and white. They can come on colour-matched rubber straps or metal bracelets, although there are a couple of exceptions (see Breitling's website about this). Depending on your spec, these watches cost from $4600 to $6700, a bit higher than I was expecting but not too unreasonable. There is a clear design language with these, the range of colours is good too, and I think it would be hard to say that Breitling's made another run-of-the-mill diving watch when it looks so unique.
Visit Breitling here.