Before you get ahead of yourselves, I'm not going to make any jokes or jibes about Omega's enormous selection of limited edition watches over the years. There is a good reason for this, most of the frustration felt not just by journalists but also watch enthusiasts, in general, comes from the fact that the brand saturates the market with limited edition versions of everything, some of which don't seem to be particularly noteworthy. This one, however, is and I'll credit Omega for it right now, they've done a fantastic job.
The Apollo 11 50th Anniversary watch is undoubtedly a hit. The gentle introduction of two-tone colouring into the watch on the bezel and dial only make it seem a bit more luxurious, but restrained thanks to an all steel bracelet. The gold used on this watch is the same type of gold we saw on their solid gold special edition remake of the reference BA145.0220. from 1969. Omega names it Moonshine gold, it serves the same purpose as Omega's Sedna gold and Everose gold from Rolex, in that it introduces another metal into the blend to ensure that the rose colouration doesn't fade over time. In Moonshine gold the other metal is palladium. The steel and gold case measures 42mm in diameter.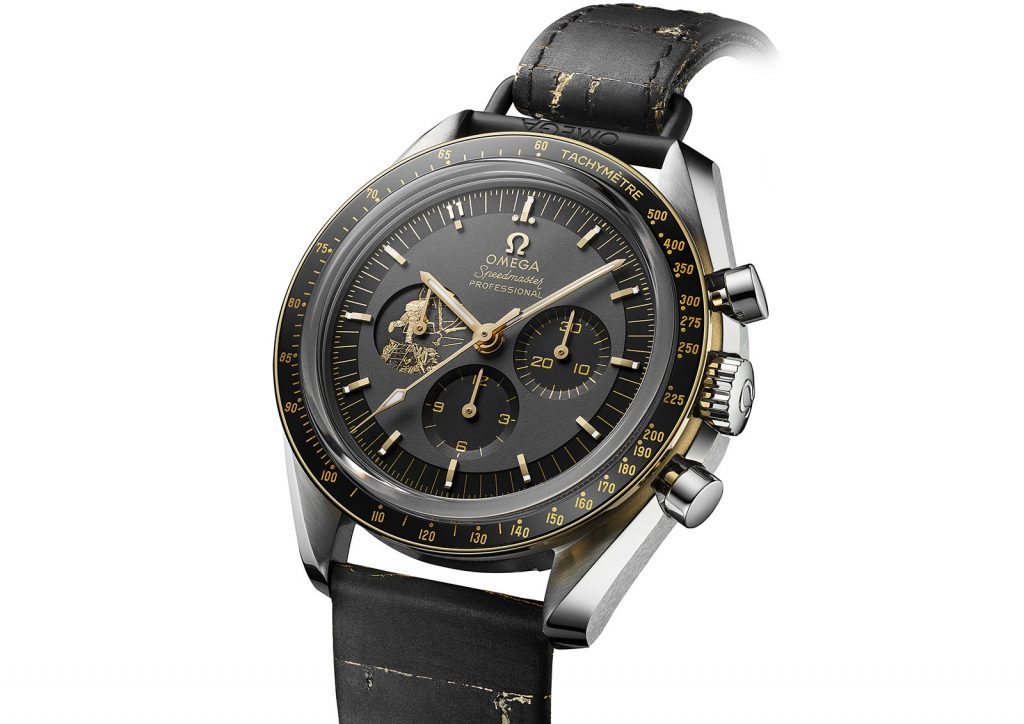 The dial of the watch features a black colouration with gold hands and markers, a very cool combination which works well on Omega's Planet Ocean Deep Black too. The vintage Omega logo has been reintroduced on this watch, for those wondering the main difference is that it's slightly narrower and taller than the current Omega logo, on this watch it's gold and applied to the dial. To further enhance the idea that this is a special edition, the '11' marker has been replaced with applied Arabic numerals.
The standout feature of this dial is the unmistakeably a depiction of a famous photo of Buzz Aldrin descending the ladder of the Lunar Lander to walk the surface, as captured by Neil Armstrong. If you'll recall, Armstrong's Speedmaster stayed in the lander as one of the timing devices had malfunctioned. For those with a sense of humour, you might find it amusing that Omega chose to use a photo of Aldrin's butt for this one, I liked it regardless.
Inside the watch is the in-house made calibre 3861, a brand new movement from Omega which is both a successor to the manually wound 1861 movement, but also is a Master Chronometer, too. So you can have the best of both worlds. It features a 50-hour power reserve.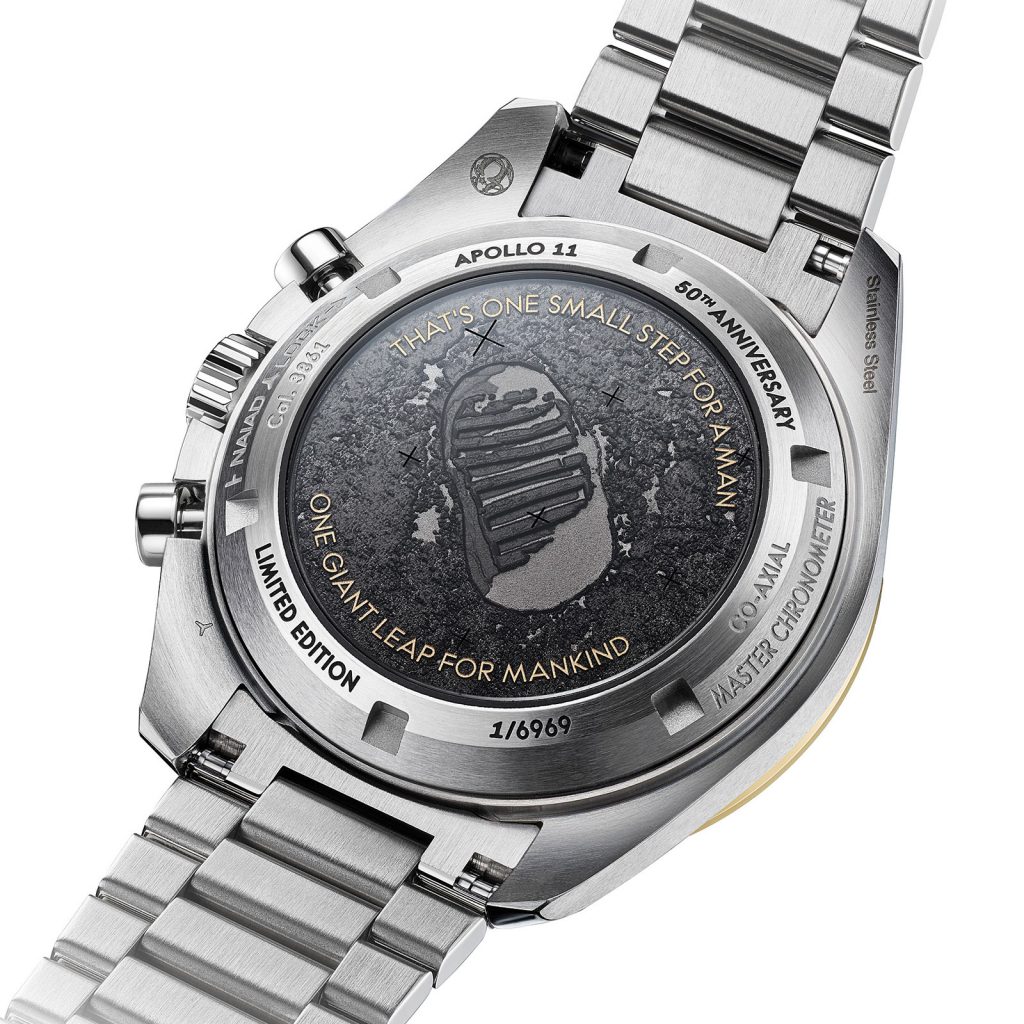 The back of the watch features no movement on display, unlike nearly every other Omega watch. The Naiad lock caseback instead features a laser relief of an astronaut's bootprint from the surface (no smooth shoe jokes please, we all know deep down this happened) surrounded by Armstrong's quite which was famously heard wrong. Armstrong claimed when on the surface he spoke "One small step for a man[…]" but what we forever heard was "One small step for man[…]", which is technically incorrect. Although Armstrong always claimed he included the erroneous 'a', he did admit that it couldn't be heard in any recordings.
Still, we'll always look up to the crew of Apollo 11 as the first to boldly go where no man has gone before (also technically wrong, but who even cares at this point). If you want to commemorate boldly going somewhere, even if it's just to the shops for some milk, you can get yourself one of these watches for the princely cost of $9650. You might imagine that there will only be 1969 of these available, but no, there will be 6969 made in total. Oh Omega, how you annoy us so. We love you, anyway.
Visit Omega here.