Back in January, we showed you a glimpse of the re-edition of the now-iconic Omega calibre 321 which has been brought back from the grave as a reworked version. At the time, we didn't know what it was going to be used for, Omega just showed us the movement and said to wait up. At the time, I questioned how relevant this remake was for the company. Omega's Master Co-Axial movement range is top class and would have worked in this watch, but it wouldn't have been the same. The 321 actually went to the moon and came back, it was the movement that outshone all others in NASA's tests, and so it returns in the next 50th Anniversary celebration.
In my article back in January, I called into question not only the relevance of this release but also the use of the movement itself. A high-end Omega range would be something cool and with naturally limited production thanks to the small team working on this project that could happen. We didn't quite see that in the way I was expecting. This is the new Moonwatch 321. The case is constructed not of stainless steel, but of platinum (technically, it's a platinum/gold alloy). Not only that, the three subdials of this watch are no ordinary subdials; they contain slices of lunar meteorite so that each pattern will be unique on each watch. 
They stand out against the onyx black dial, which can be interpreted as the night sky above us. All the hands, markers and even the applied logo have been crafted from 18K white gold and placed on the dial. To help keep up appearances over time, and add another technical twist, the bezel of the watch is made of black ceramic with white enamel making up the tachymeter scale.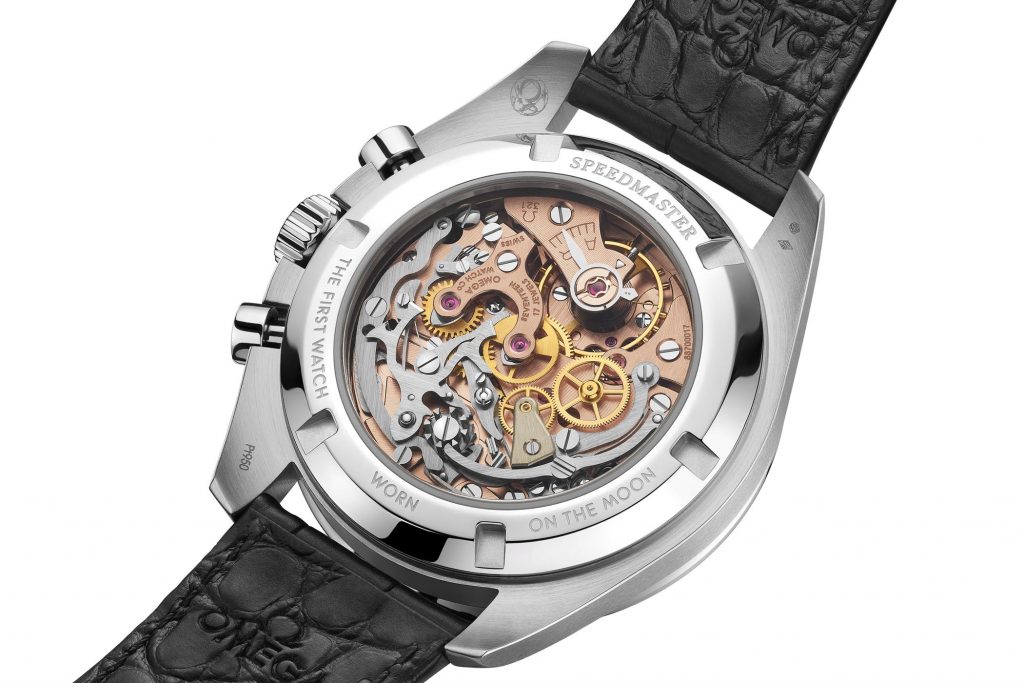 Around the back of the watch is the calibre 321 which has been put on display for us. Finished with gold plating for a nice contrast, the movement has been remade to the same dimensions and construction as the original, only now with the benefit of modern lubricants and so forth. It sits in the back of that 42mm case and looks marvellous.
One thing that Omega has made clear to us is that this watch is not the next in their notoriously long line of special editions. I feel like I should shout that, hang on *cups hands around mouth* "THIS IS NOT A LIMITED EDITION, FOLKS", at least, not at the moment. Though, this watch is restricted in how many will be made. Omega has said that they won't make more than two thousand watches a year with this movement, and with what I'm hoping will be a Bond watch of some kind most likely on the way, this will still be quite a rare item. It's fitting, actually. I love it.
Visit Omega here.