BY HARLAN CHAPMAN-GREEN
While the world of watches is generally on hold right now (unless you're Baselworld), Panerai has decided it's going to break the awkward silence following our previous article by revealing some new watches. The new watches, dubbed 'Mediterraneo', are a part of the Radiomir line and draw their inspiration from the colours of the Mediterranean, mostly the blue of the sea and the sky. With Panerai's history intertwined with the ocean, it's hardly surprising they used this as a base for their new watches.
The dials feature a vibrant blue that starts out bright in the centre and gets darker as it moves outwards, this is known as a degradé finish and features a sunburst polish as well to help it stand out on the wrist. The whole point of this watch is to be inspired by the colours of the big blue, so the addition of the polishing means it catches the light and reminds you of that beautiful Italian holiday from a few years ago (or is that just me? I miss Capri).
The classic Panerai cushion-shaped case makes a comeback here but lacks the wire lugs in this form, other Radiomir watches have these, and they add to the vintage feel that you'd expect from this line. However, I feel that the current lug setup works quite well, these watches seem to be a little more modern in their styling, and we all know that crisp-cut lines are en vogue right now. There are two sizes of case, depending on which reference you choose. PAM01144 is a 42mm watch with a case thickness of 11.2mm, and PAM01078 has a 45mm case that's 12.2mm thick, and the case is made of brushed titanium rather than 316L stainless steel.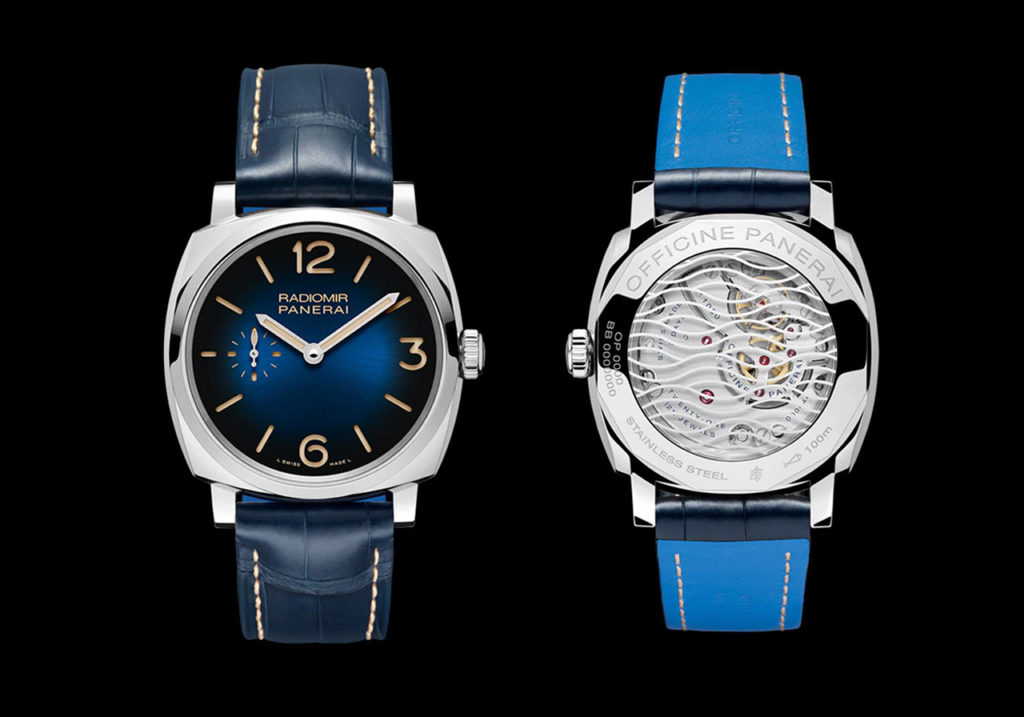 Inside the case of the PAM01144 is the P.1000 calibre, which has a Glucydur mainspring, 4HZ beat rate and an impressive 72-hour power reserve provided by two barrels. It's also a manual-wind watch, so you'll need to get into the habit of unscrewing the crown and winding it yourself. The PAM01078, however, has an automatically-wound P.4000 calibre which has the same specifications as the P.1000 as well as a micro-rotor. Also, both watches have an interesting wave motif printed onto the rear sapphire crystal, it's not my favourite place to add touches, I'd have rather seen an engraved movement, but that makes it more costly to produce.
Speaking of costs, the PAM01144 will retail for $7900 a piece, while PAM01078 will sell for $11,200, both watches are limited to just 288 examples each and are available exclusively through Panerai's boutique network.
Visit Panerai here.