Back in 2017, I went on a mission to see as much of the Panerai factory in Neuchâtel as I could. When I say I went on a mission I meant I RSVP'd yes to an invitation, it wasn't that dramatic. Anyway, when I visited their factory, one of the most exciting parts was seeing their materials development section. Being a journalist means I have most likely just touched the tip of the iceberg, but even then, I was amazed. As I've said in my article, Panerai's material research department is second to none and takes the ordinary materials of watchmaking and elevates them to a new level. Having conquered carbon, titanium and even glass, it only seemed fitting for Panerai to have a go at gold.
Panerai has long been known for making some of the best equipment around. Their history extends to more than just making and casing watches. However, their focus is undoubtedly more on the 'desk diver' segment. That's through no fault of their own, of course, a business needs income to survive, and a paying market is not something to be ignored. To whet that market's appetite for high end and expensive watches, Panerai presents its 42mm Submersible  with a case crafted from a proprietary blend of metals.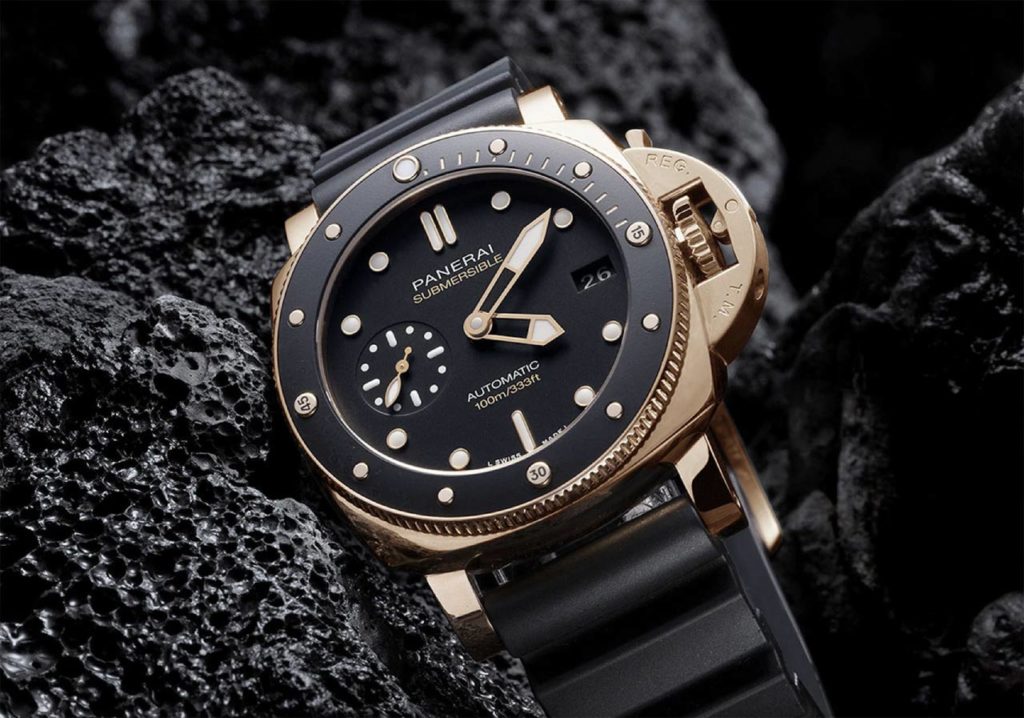 Named 'GoldTech', the blend of gold includes an unspecified percentage of copper in the alloy, which prevents the colour from fading from the watch. Therefore, we can view this as their version of Rolex' Everose Gold, or Omega's proprietary Sedna Gold. The difference is that unlike Everose, this appears to have a more pronounced hue, those who have seen Everose in person will know it's quite a subtle change. Perhaps the Panerai will look different in person.
The reference for this watch is the PAM00974; the case is 42mm in diameter and features a ceramic bezel. Inside is the automatic winding Calibre OP XXXIV, an automatic winding unit which uses an ebauche provided by ValFleurier, this is the same movement found in the titanium version. The movement offers 72 hours of autonomy and has a 4Hz beat rate. It's also in display around the back which is an unusual feature of a Panerai Sports watch. 
There is a downside to this, though, and it may be the decider for the PAM00974. Unlike the hardy stainless steel ref PAM00683, which is the same size as this one, the PAM00974 has 100m of water resistance, which is three times less than its steel brother. I'm unsure as to why this is, maybe Panerai feels like if you want a proper sports watch you should get one in a suitably durable case material, which is a valid point. Still, their biggest competitors do full gold divers that go the depth. Maybe Panerai realised that the owners of these are the aforementioned desk divers, and then realised that there is simply no need. Who's going to go to 100m anyway?
Excluding sales tax, the price of one of these is $26,700.
Visit Panerai here.