Lots of watchmakers are quite used to using advertising to hype up their products to extremes, I mean, it's what advertising is for right? But how many of those watches live up to expectations? How many watchmakers make real racing machines for your wrist? TAG Heuer & Chopard spring to mind immediately, the Rolex Daytona is a good one too, and how can we forget Porsche Design? Sure TAG Heuer makes Porsche special edition watches, but with Porsche Design you get that sympathetic harmony between designs, a feeling that the people who designed your newest whip also designed your newest bling. Of course, that may not be the case, but who's to know?
If you're a petrolhead (sorry, gearhead for our US readers), you'll undoubtedly know that Porsche released the new 718 Spyder RS and 718 Spyder RS with Weissach package. These new sporty little numbers are for the hardcore buyers of Porsches, they're not an everyday luxury but a weekend B-road barnstormer, so they deserve a watch to match. 
The Chronograph 718 Spyder RS is just such a watch. It comes with a 42mm x 15.33mm case made of blasted carbide-coated titanium. One of the main selling points of this watch is the customisation on offer, with a configurator like that on Porsche's website, allowing you to customise your watch. It's quite extensive, with options such as a black case, bezel, bezel graduation, hands, straps and more. It's interesting to see how many rotors are available for the movement, although I note that the price jumps quite quickly, just like for Porsche's cars I guess. The case is 50m water resistant.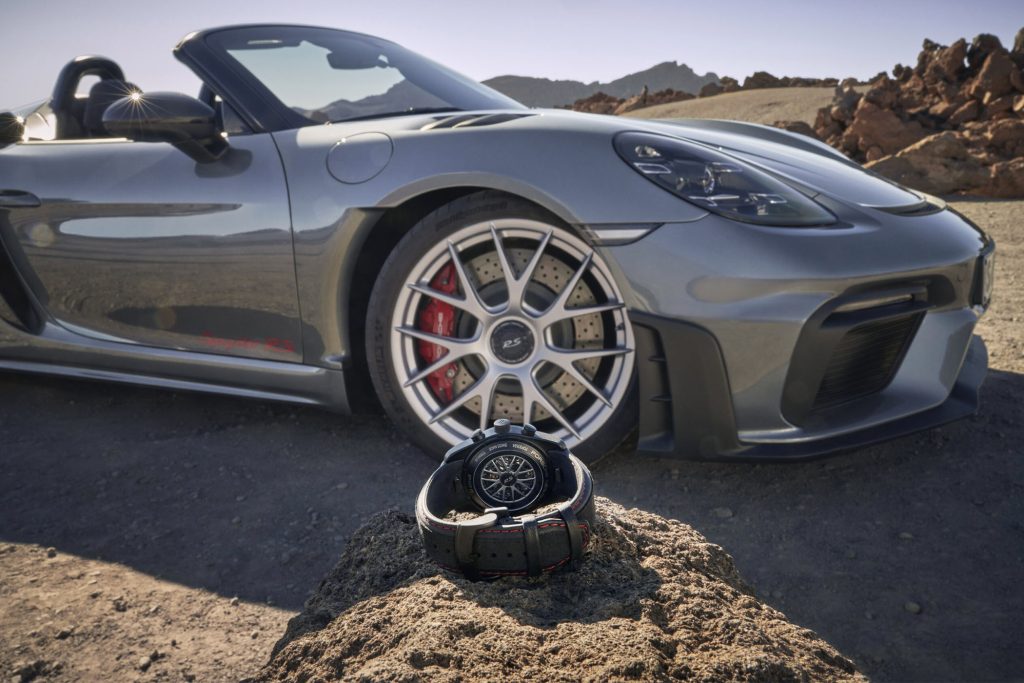 Powering the watch is the self-winding calibre WERK 01.200. This movement is a COSC-certified chronometer and is based on a Valjoux 7750 base but has been extensively decorated to fit the Porsche Design ethos, and it comes with a flyback chronograph which allows the chronograph to be reset without stopping it first. The movement and watch are assembled at Porsche Design's workshop in Solothurn, Switzerland.
So, are there any downsides? Well, the configurator should be taken with a pinch of salt as it presents the watch at some truly bizarre angles. Also, the price, as it starts at about $166,000 before options and taxes and so forth. Okay, pick your jaw up from the floor because that was deliberately misleading of me. You see, the watch starts at $5,500 before taxes and optional golden rotors and whatnot. But, in order to get one you need to be invited to buy one, and to do that you need to buy a Porsche 718 Spyder RS, which starts at around $161,000 before tax. I think that makes the configurator largely irrelevant for the majority of us who consider $5,500 splashing out and $160k+ a far-off pipe dream. Still, maybe we will see more of this customisability from Porsche Design in watches that we can, you know, buy.