Richard Mille is a giant when it comes to showcasing bizarre and outlandish complications wrapped up in an even more curious presentation. This newest release was produced in part with Hollywood action movie superstar Sylvester Stallone. This will be quite an exclusive watch, its price tag alone fetches near one million, and only 20 of this watch will be made available to the public only through Richard Mille boutiques.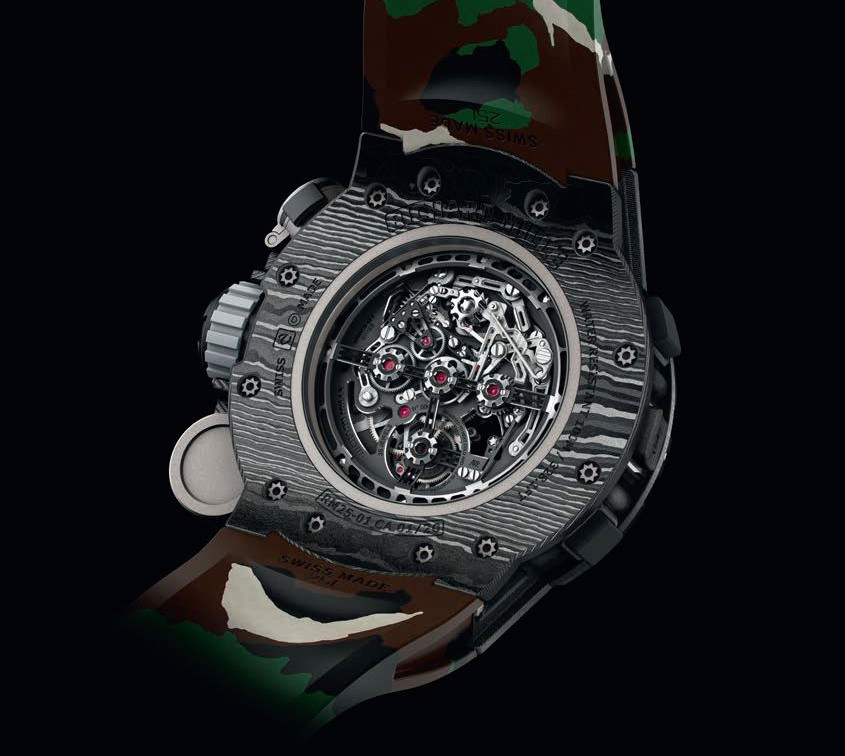 Stallone has been a watch enthusiast for many years and has even been able to help Panerai garner some attention back in the 90's. He got to help come up with this watch, bold and imposing, with one of the world's most extreme watchmakers. This was designed for rugged conditions to be kept in mind as the case is constructed of grade 5 titanium. The movement combines both a tourbillion and a chronograph built into the bridges. The engineers were responsible for being able to reduce the overall weight of the watch while still being able to preserve its chronometric validity, quite a feat to accomplish. The movement beats at 3Hz, boasts a 70 hour power reserve (that is visible through a uniquely designed indicator), and is water resistant to 100 meters.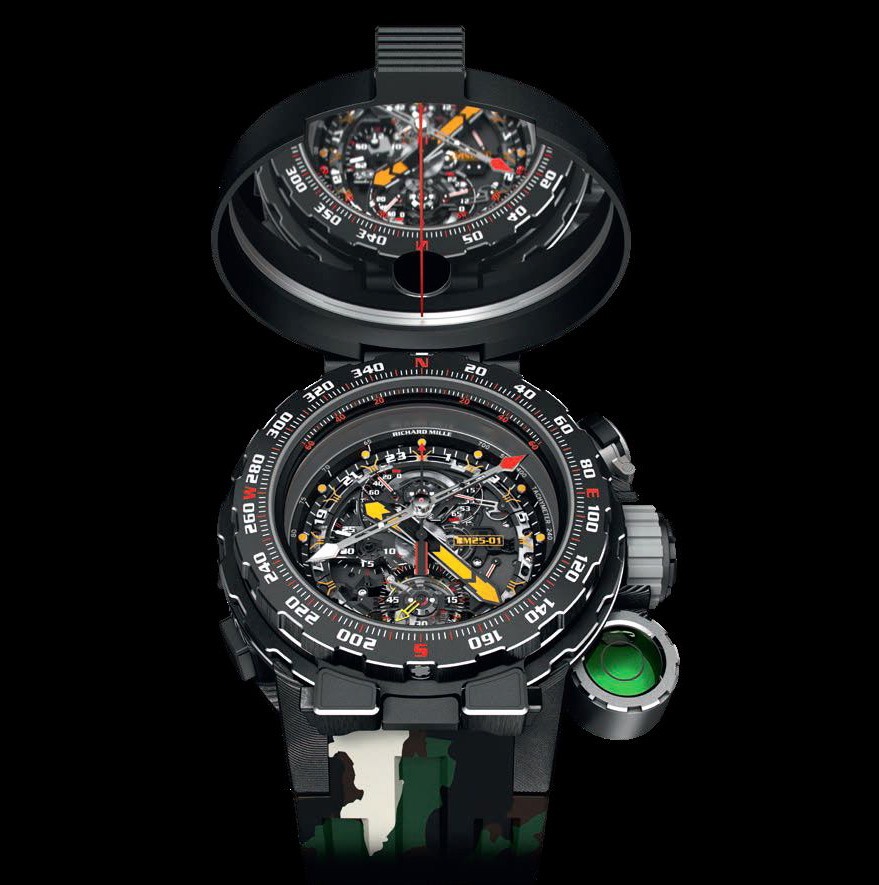 Another feature to discuss is the inclusion of two interchangeable bezels. One of them is a compass – also in grade 5 titanium. A level is also included around the four o'clock position to increase accuracy in the readings made from the compass bezel. It is held in place with a bayonet fixture that provides for quick and easy removal and installation of the compass. It can also be used the traditional way when removed from the watch.
The second bezel is a 24 hour bezel with a 360 degree graduated disc that includes the cardinal directions. Fairly basic design if you are one to consider that Richard Mille could make something, well, basic. Another feature incorporated for the adventurer, at the two o'clock position there is a hermetic chamber that can store water purification tablets. This is some heavy duty horology packed into a bulletproof housing, creating one of the most overbuilt adventure watches in existence.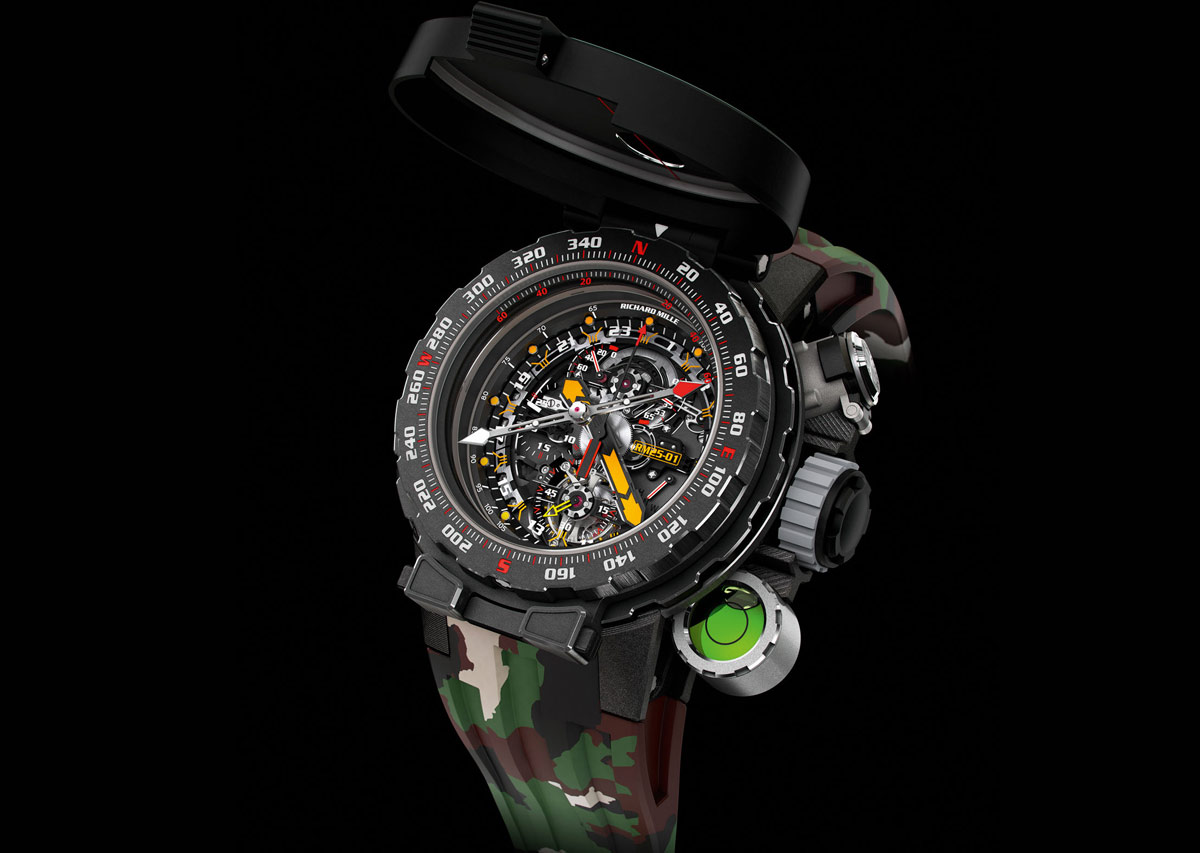 The strap is made of natural rubber and utilizes a camouflage pattern to further cement the explorer theme. Richard Mille has created quite a monstrous watch, no details are out yet about the dimensions, but just looking at the photos and seeing the amount of extra baggage put into the case, one can understand that this isn't going to fit every wrist.
The Richard Mille RM 25-01 Tourbillion Adventure Sylvester Stallone will retail at $980,000 USD, making it the most expensive G-Shock ever made. All jokes aside, this is a magnificent display of horological prowess from a watchmaker that is capable of creating tiny miracles that can be worn on your wrist (even if you don't have the wrist to suit one). Visit Richard Mille here.