Of all the sports, Formula 1 is undoubtedly the most glamorous with big shows, celebrities, endorsements and tons of champagne. Some of the most highly respected athletes are Formula One drivers. There's also an enormous amount of nostalgia associated with it as well. The likes of Jim Clark and Ayrton Senna spring to mind as legends of the past. One of the best things about Formula One, though, is that we get to see new legends in action. One driver that's sure to go down in history as an all-time great is Finnish driver Kimi Räikkönen who has now partnered with Richard Mille.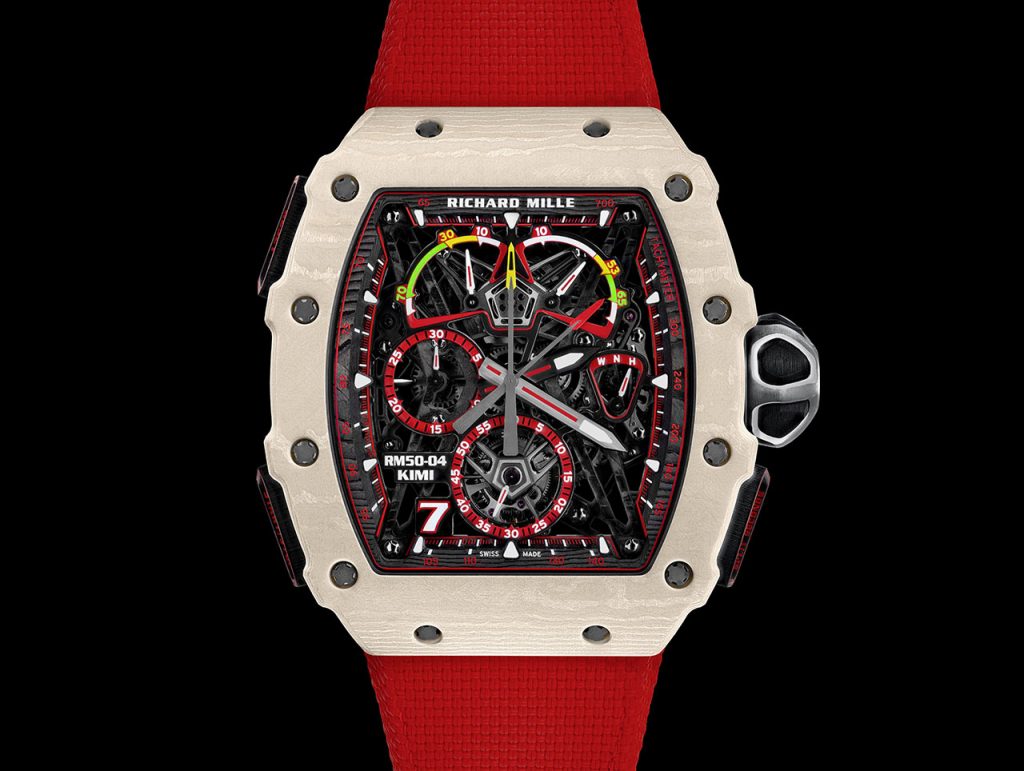 Kimi Räikkönen is currently racing for Alfa Romeo, a team which we wouldn't normally associate with Formula One. Alfa Romeo has been racing in Formula One races on and off since the 50s. It's a brand that conjures up nostalgia of Italy, classic motor racing and most of all: breakdowns. The former Top Gear host and current presented of Amazon Prime's The Grand Tour, Jeremy Clarkson, is a firm believer that to be a petrolhead you need to have owned an Alfa Romeo at some point. Racing for them undoubtedly makes Kimi Räikkönen a major petrolhead, as if racing in Formula One isn't enough, so he needs a watch to go along with it.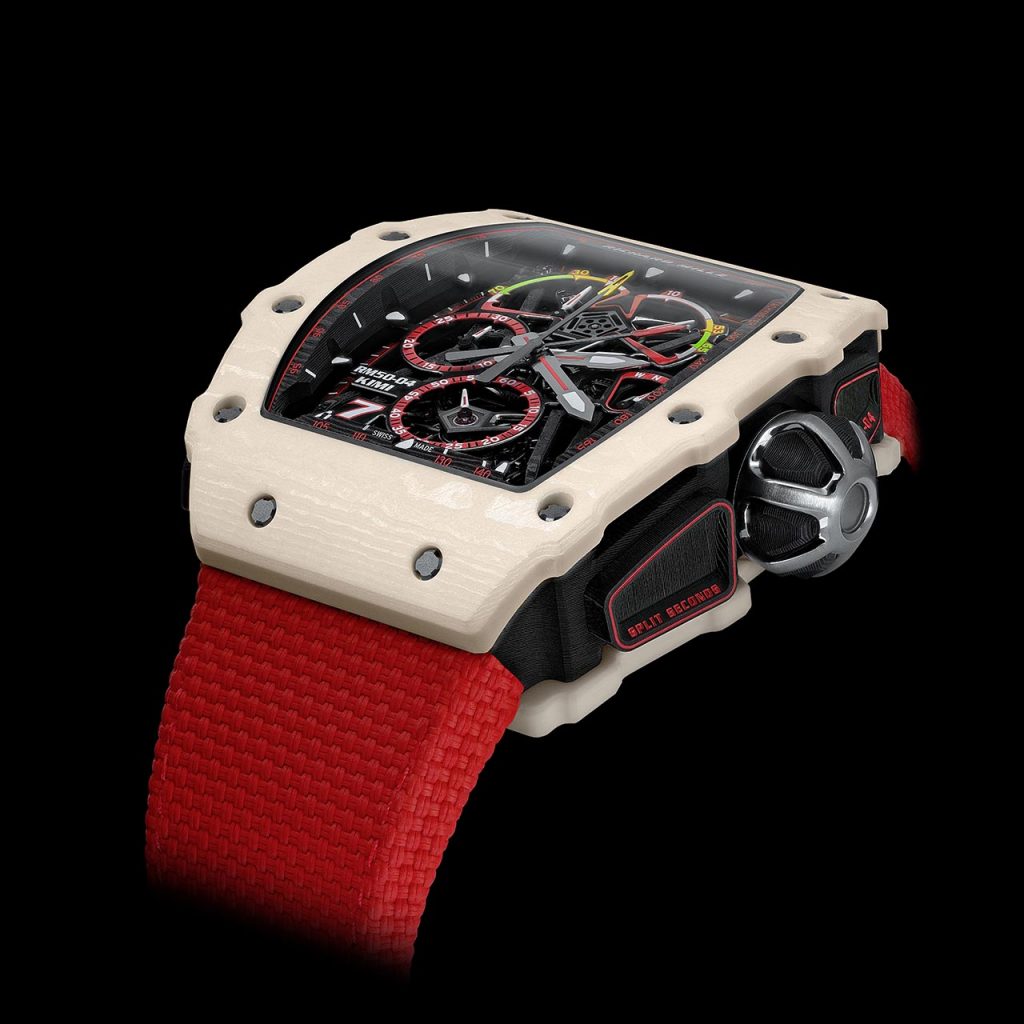 Luckily, Richard Mille specialises in such watches, and their new creation for Kimi is another example. His watch features a split-seconds chronograph and a tourbillon which on the face of it sounds a little more mundane compared to watches they've done for other racing drivers in the past such as World Rally legend Sébastien Loeb whose RM 36-01 watch features a G-Force meter, or the weird bendy looking RM 70-01 for Formula One legend Alain Prost. But, make no mistake, despite this not having crazy new complications that doesn't mean it hasn't improved on the existing ones.
The column wheel, for example, has been re-engineered with fewer columns to guarantee flawless performance, thanks to reduced friction in the new components the designers have been able to reduce the power consumption of the chronograph by 50%. The balance wheel inside the tourbillon is free-sprung like in Rolex watches to improve resistance to shocks; it uses a KIF Elastor KE 160 B28 shock protector. The spring barrel winds faster, so now one revolution of the barrel equates to six hours instead of seven and a half, we've seen this before in a few other watches of theirs. The winding teeth of the barrel that connect to the third pinion have been improved as well, which give a better angle of contact between the teeth to ensure smoother motion. The dial shows both a power reserve indicator and a mainspring torque indicator, which indicates whether the spring is within its optimal boundaries for torque delivery, thus making the watch more accurate.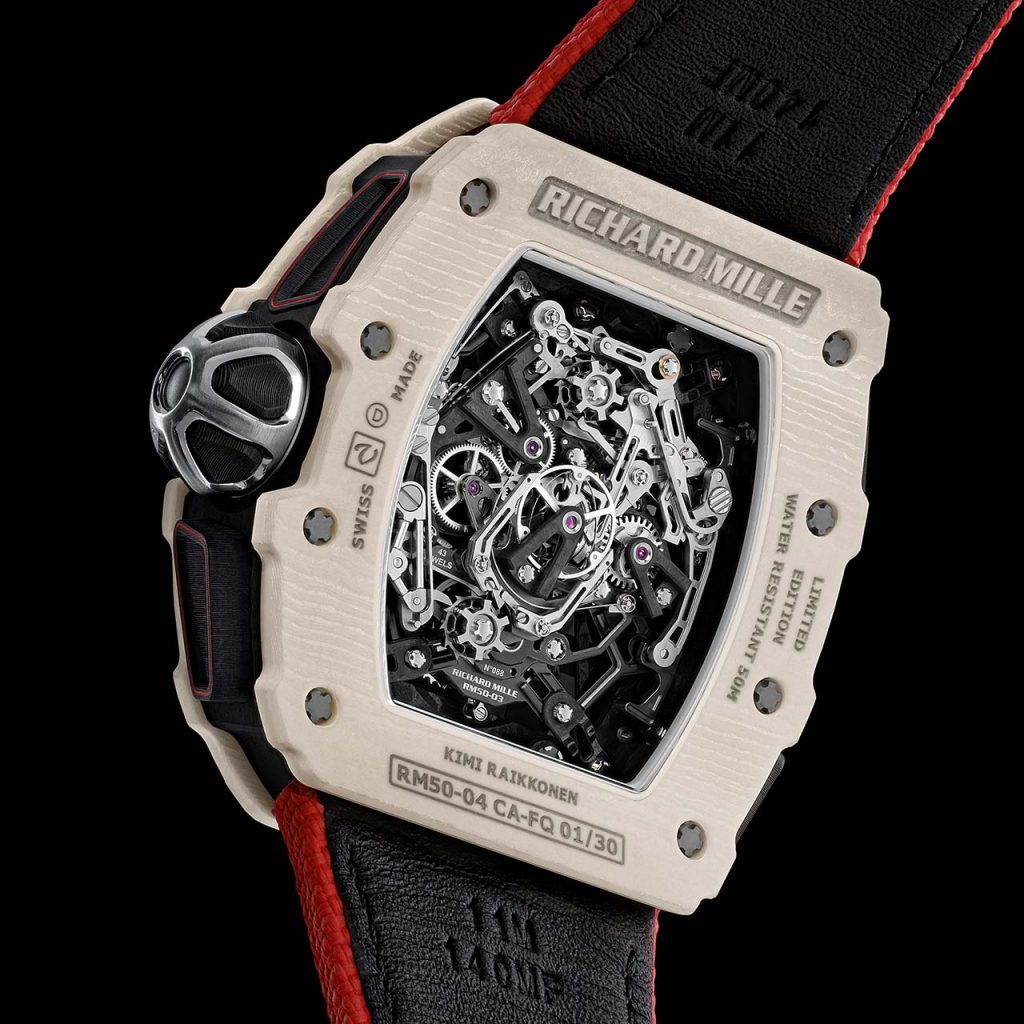 The most impressive feat of this movement, though, is the selection of materials used. The baseplate and a selection of some of the bridges are made from grade 5 titanium, while the bridges of the split-seconds chronograph and the carriage that supports the movement are made of something called Carbon TPT®. This use of materials means the entire movement weighs just seven grams.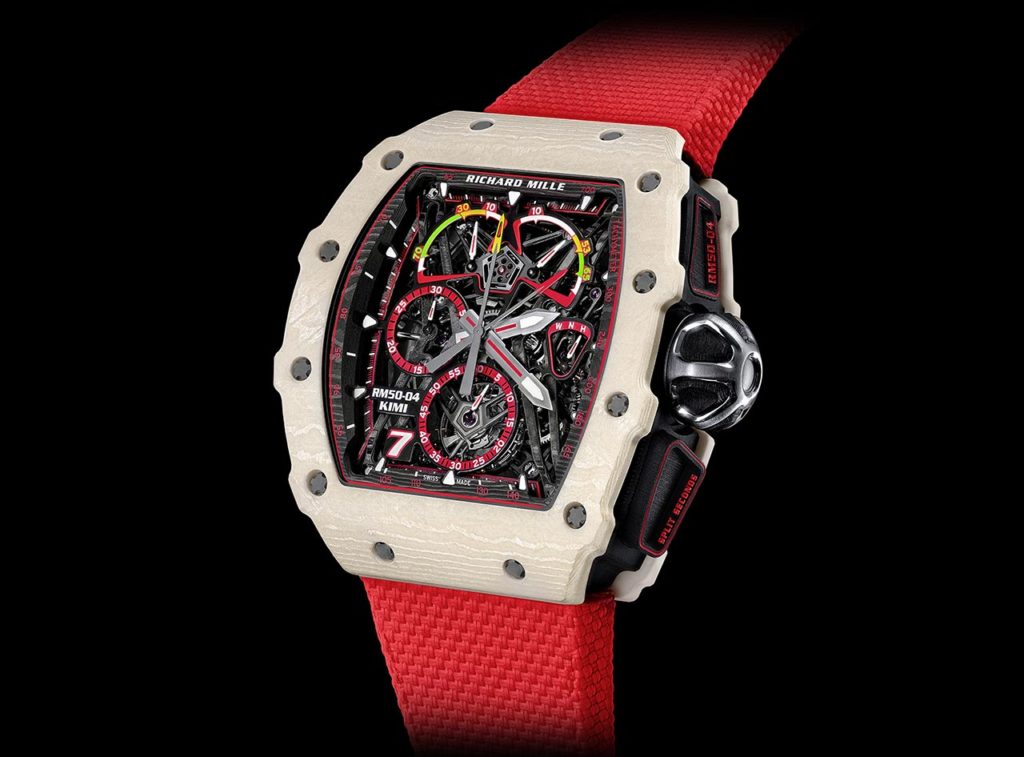 The 49.65mm x 44.50mm x 16.10mm case is made of Quartz TPT®, developed by North Thin Ply Technology, which is 600 layers of silicone, each with a thickness of 45 microns. These layers are impregnated with a white matrix which gives the case its colour and then put into an autoclave which subjects them to high temperature and pressure. Carbon TPT® is made in the same way, but with carbon instead of silicone, it features in the movement and the caseband. Two Nitril O-ring seals give this watch a water resistance of 50m, which essentially means don't submerge it unless you want the repair costs. The price of one of these is €1,120,570.
Visit Richard Mille here.