Earlier this year Vacheron Constantin did something quite remarkable, at least, impressive for a top tier watchmaker: it released a collection of 'beginner' watches which are aimed at a younger market. Young horology clientele has different tastes, they like their watches bigger and snazzier with more functions and high tech materials. For companies like Hublot and VC's top tier competitors at Audemars Piguet, this is great, even Patek Philippe's been getting in on the action. Vacheron Constantin, though, is a bit more tricky. Most of the young watch nerds probably aren't aware of any collections from the company, and that's partly because they're costly, rare and aimed at an altogether more senior market. Someone at the company realised this, prompting them to make the FiftySix collection which is lower priced and aimed at those who may not already have a watch of this calibre. So what on Earth are they doing putting a tourbillon in it?

This isn't exactly a 'my first tourbillon' watch either, far from it, at €118,000 it's very expensive. It's also only available from boutiques and quite conservatively sized at 41mm in diameter. However, before I get too bogged down in the confusion this watch generates, I should mention the build quality, which is phenomenal. Putting aside the bewildering collection planning leaves us to examine it for what it is physically, and what it is is remarkable.

Inside the solid 18k pink gold case is one of the most beautiful calibres in production today. The VC calibre 2160 is 31mm in diameter, and 5.65mm thick, that slim profile comes from the 22k gold automatic rotor which has been pushed to the edge like on a Breguet tourbillon. Instead of covering most of the movement it silently glides around the edge, so it's barely noticeable. The movement has also been awarded the prestigious Geneva Seal, which ensures that it's accurate, visually perfect and technically accurate too. I won't go into substantial detail about that here, but you can always check out our guide to the Geneva Seal which I wrote about in the Jargon Buster series.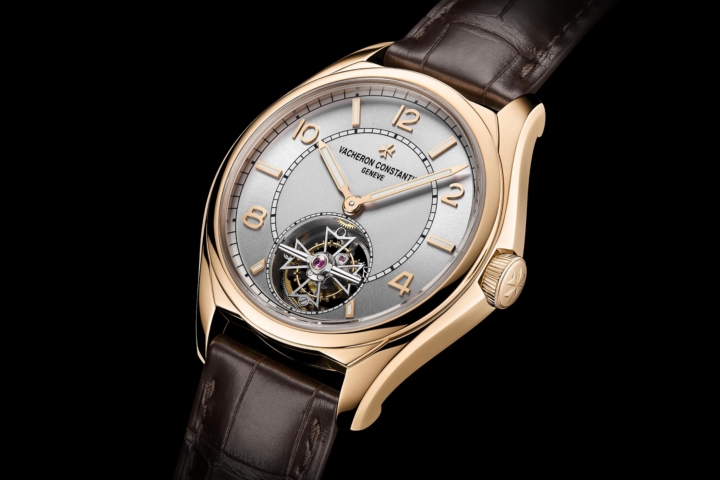 For those who are obsessed by techy things and want to know the specifications, the movement is made of 188 components, most of which are in the one-minute tourbillon. There are thirty jewels, and the operating frequency of the balance wheel is a steady 2.5Hz or 18,000 VPH meaning the power reserve of the timepiece is a hearty 80 hours. The 18k gold case will keep the watch water resistant to 30m and is presented on a Mississippiensis alligator leather strap which has VC's logo, the Maltese Cross, on the buckle. The watch is 10.9mm thick, but let's call it 11mm shall we?

The confusion that I'm getting from this watch stems from what it represents as a member of the FiftySix collection. This particular collection signifies Vacheron Constantin extending the olive branch to new money collectors who may have never heard of the brand; it's supposed to be their more affordable collection. While it is true that those who already have a FiftySix might want to stretch their horological wings and go for something a little more haute, but VC has such an extensive collection of exquisite and exotic watches, including tourbillon watches, that the collector probably won't want another FiftySix when there's so much else to choose from. You could say it's for wealthy beginners, but that brings me back to where we started, would you really want to begin on a new brand with an expensive timepiece which you might not like? Not to mention your resale value will definitely not equal what you spent buying it from the boutique.

I like this watch for what it is physically, but it's where it sits in the VC lineup that causes the gears to seize up in confusion. Nevertheless, I hope to take this out on a 2-week test drive and come to some sort of conclusion about it, fingers crossed.Visit Vacheron Constantin here.